Want to check out some Defenders comics to prepare for the Netflix series? You won't have much luck.
In Marvel comics, the Defenders team began with Hulk, Namor, and Doctor Strange. Since then, it's cycled through a lineup of random characters that bears little resemblance to the noir crime-fighting unit of the Netflix franchise.
To see where Netflix's Defenders come from, you need to look further afield. That means navigating the web of crossovers between Luke Cage, Iron Fist, Daredevil, and later Jessica Jones. To make things easier, we've selected some of the best comics that feature this cast of characters, from the 1970s to the present day.
Shadowland (2010)
This crossover definitely influenced the Netflix franchise, starring Daredevil and the ninja cult known as the Hand. Taking place in Hell's Kitchen, it includes Luke Cage, Iron Fist, Elektra, Foggy Nelson, and Kingpin, along with other Marvel characters like Spider-Man and Moon Knight.
The main story follows Daredevil becoming the leader of his old enemies the Hand (plot twist!), and using their army to take control of Hell's Kitchen. Several supporting characters get tie-in comics, so if you liked Colleen Wing in Netflix's Iron Fist, you should check out the three-issue miniseries Daughters of the Shadow.

It's an elaborate urban warfare story with supernatural themes, combining gritty characters like the Punisher with fantasy elements like demons and the mysticism of the Hand. If you have a Marvel Unlimited account, it's pretty easy to dip in and out of individual parts of the crossover. Otherwise, you can buy collected volumes of Shadowland: Daredevil, Shadowland: Power Man, or the miniseries Shadowland: Blood on the Streets, which co-stars Misty Knight. (For Misty fans, you can then continue her story in the team comic Heroes for Hire.)
Luke Cage and Iron Fist
These guys are a classic double act, appearing together since the '70s. The original Power Man and Iron Fist combined Luke Cage's blaxploitation-influenced crimefighting with Iron Fist's kung fu hijinks. The earlier comics can give you a fun look at the characters' vintage origins, but the recent Power Man and Iron Fist is easier to get into.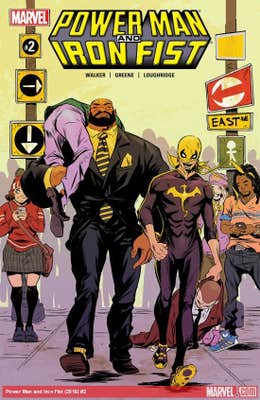 Sanford Greene's art is characterful and fittingly exaggerated for such a goofy partnership, bringing life to their street-level superhero adventures. Also, if you've only met Danny Rand through Netflix's Iron Fist, this comic shows how he can be a likable and entertaining character in a modern setting. You know, instead of being a grim Batman wannabe.
Daredevil #178
For a quick, one-shot crossover, look no further than this 1982 crossover by Frank Miller. Luke Cage, Iron Fist, Elektra, and Kingpin, all in the same Daredevil comic! Foggy Nelson—who at this point has no idea his blind partner Matt Murdock is Daredevil—hires Power Man and Iron Fist to act as Matt's bodyguards.
It goes about as smoothly as you'd expect.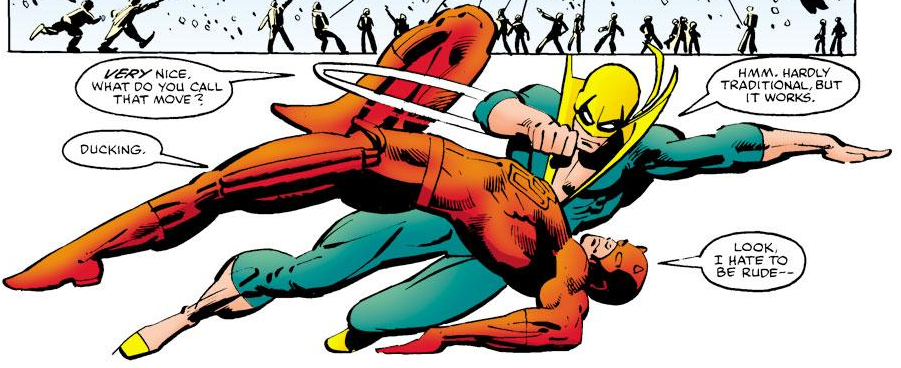 Luke Cage and Jessica Jones
Luke Cage and Jessica Jones are married in the comics, although they're a long way from romantic bliss in the Netflix franchise.
Fortunately, we already have extensive recommendations for both characters. Jessica Jones is perhaps the easiest Netflix character to catch up with, because she's relatively new. While she does appear in some team comics alongside Luke Cage and others, her main storylines are collected in the graphic novel series Alias, The Pulse, and the recent Jessica Jones. They're all noir dramas, strongly reminiscent of the Netflix series, and they include some of Luke Cage's more mature storylines—albeit as a supporting character.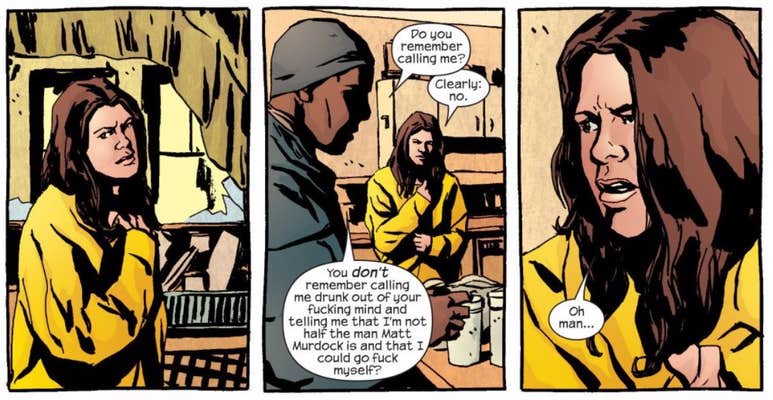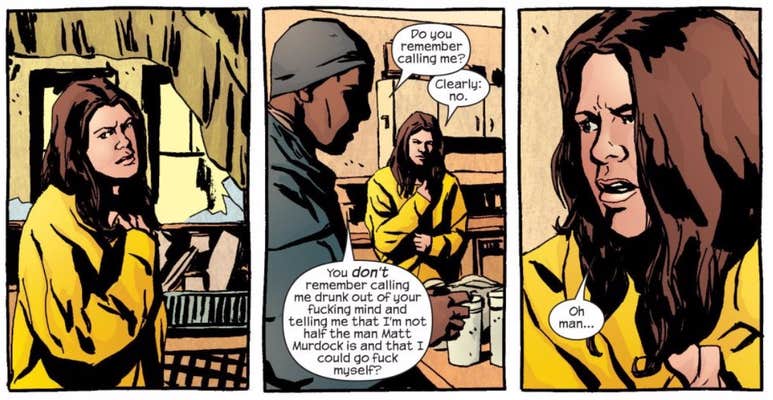 For Luke Cage as a solo character, we've put together a timeline of his main comics through Marvel history. They all have something different to offer, although we strongly recommend not reading the adult-rated 2002 miniseries, Cage.
The Defenders
Just in time for the Netflix series, Marvel has launched an actual Defenders comic starring Luke, Matt, Jessica, and Danny as a team. Better late than never! It's not directly linked to the Netflix franchise, but if you like the idea of these four characters together, this comic is the No. 1 place to go. The first issue came out in June, so it won't take long to catch up.