Opinion
Benedict Cumberbatch is a talented actor with worldwide name recognition—so why does he choose so many bad roles as a leading man?
When an actor gets famous from one specific role, they risk getting typecast. In Cumberbatch's case that meant a transition from Sherlock to other "troubled genius" characters on the big screen: Julian Assange (The Fifth Estate), Alan Turing (The Imitation Game), and now Thomas Edison (The Current War).
While The Imitation Game made bank as an Oscar-friendly biopic, The Fifth Estate was a mess and The Current War is earning disparaging reviews at early screenings. The Current War's newly released trailer looks like a confused mashup of other Cumberbatch projects—and it wasn't the only awkward moment for Cumberbatch this weekend. Variety announced his upcoming role as a Romani man in a movie called Gypsy Boy, immediately inspiring criticism as an example of whitewashed casting. (Romani people are consistently miscast and stereotyped as an ethnic group in popular culture, and the word "gypsy" is often regarded as a racial slur when used by outsiders.)
Oddly enough, the Gypsy Boy controversy also follows a trend in Cumberbatch's career. In fact, most of his high-profile work falls into one of two categories: Troubled geniuses, and projects accused of making racially insensitive creative choices.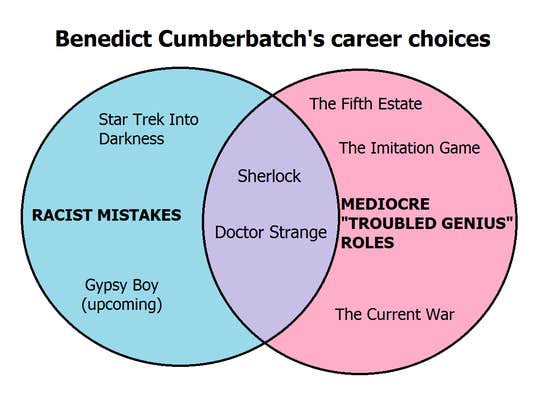 His most interesting movie work often comes from smaller character parts like the predatory aristocrat in Atonement or his sensitive role in Tinker Tailor Soldier Spy. (Post-Sherlock, he also had supporting parts in 12 Years a Slave and the Hobbit trilogy.) But as a leading man, he either plays Sherlock-tinged geniuses or trips into another debate about racism In Hollywood. Khan in Star Trek Into Darkness was the first misstep in that regard, but Doctor Strange is now the most famous example.
Cumberbatch has a lot of devoted fans out there—and a lot of haters. A lot more than Tom Hiddleston, who is arguably more famous but has avoided Cumberbatch's level of backlash. Obviously there are many factors at play here, but the above diagram helps to explain why Cumberbatch rubs so many people the wrong way.
Through his own career choices, Cumberbatch has come to represent two toxic influences in Hollywood: whitewashed casting, and the ubiquity of white male genius roles. While actresses of color wait their entire lives for a movie like Hidden Figures to come along, Cumberbatch has made three "troubled genius" biopics since 2013. So while he didn't personally cause the systemic racism and sexism in Hollywood, he's come to symbolize their effects. Combine this with his roles in Star Trek and Gypsy Boy, and the coverage of Doctor Strange's anti-Asian subtext, and you can see the political reasoning behind the Cumber-backlash.