Just in case it wasn't already clear, the BBC's upcoming Discworld TV series, The Watch, is very different from the books. The initial casting announcements revealed some unexpected (and promisingly diverse) choices for the main characters, including Anna Chancellor playing Lord Vetinari. Now, photos from the show suggest it's making radical changes to the setting, adding a contemporary feel.
Most of the Discworld books take place in a quasi-European historical setting, and The Watch draws from the stories about the Ankh-Morpork city police force. Terry Pratchett's fantasy worldbuilding takes inspiration from a wide variety of sources, but Ankh-Morpork mostly feels like 18th century London. The Watch members wear armor and carry swords, the city is run by aristocrats and guild leaders, and there's no electricity or "modern" technology—although there's an industrial revolution in later volumes. The first photos from the new BBC show tell a very different story, however.
BBC America's photos introduce several main characters, including Watch Captain Sam Vimes (Richard Dormer), Constable Carrot (Adam Hugill), Corporal Angua (Marama Corlett), and Constable Cheery (Jo Eaton-Kent). Here's Angua and Cheery, sporting a pair of very contemporary looks. Angua (a werewolf) has a kind of punk style with smoky eyeshadow, while Cheery sports an interesting mix of modern makeup and an armor-inspired tunic. (While Cheery is a female dwarf in the books, they've been rewritten as a nonbinary—and apparently human—character for the show, played by a nonbinary actor.)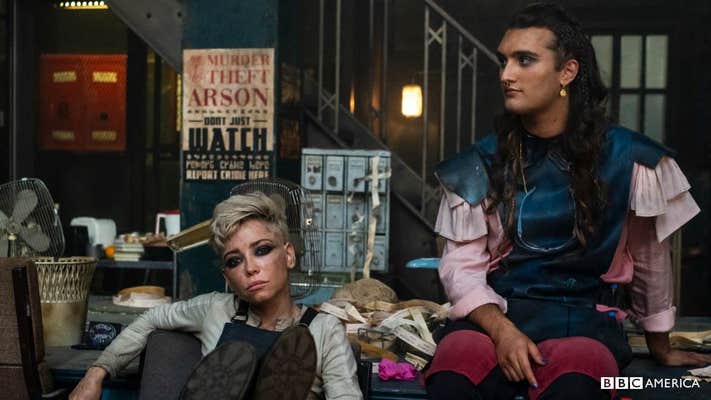 Angua is also pictured with Carrot, who wears some kind of chainmail over his jacket. The show's costumes were designed by South African costume designer Dihantus Engelbrecht, who is also working on the BBC's adaptation of Noughts and Crosses, an acclaimed British young adult novel.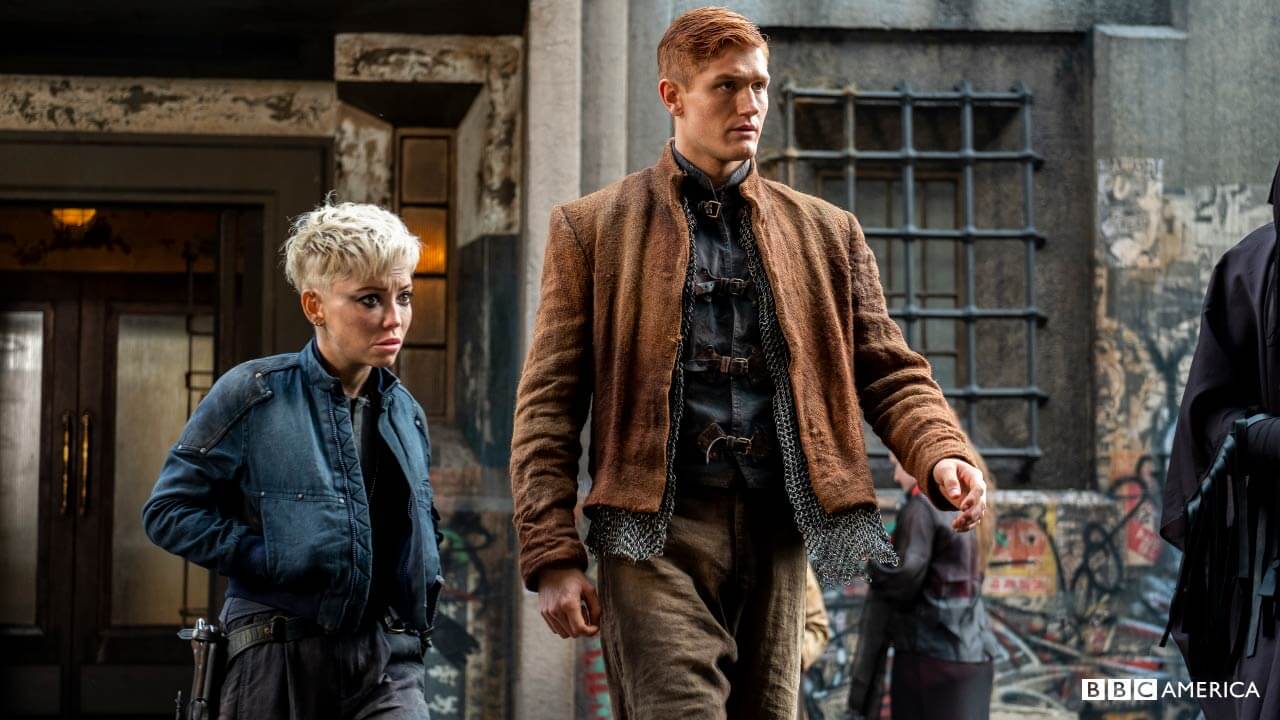 Lara Rossi plays Lady Sybil Ramkin, Sam Vimes' wife (or possibly future wife, at this point in the story), an aristocrat who keeps dragons as pets. She'll have a much more active role in the TV series, described as a "chaotic vigilante." There's already some controversy over the choice to cast a slim actress, because Sybil Ramkin is one of the few fat female heroes in a popular fantasy series.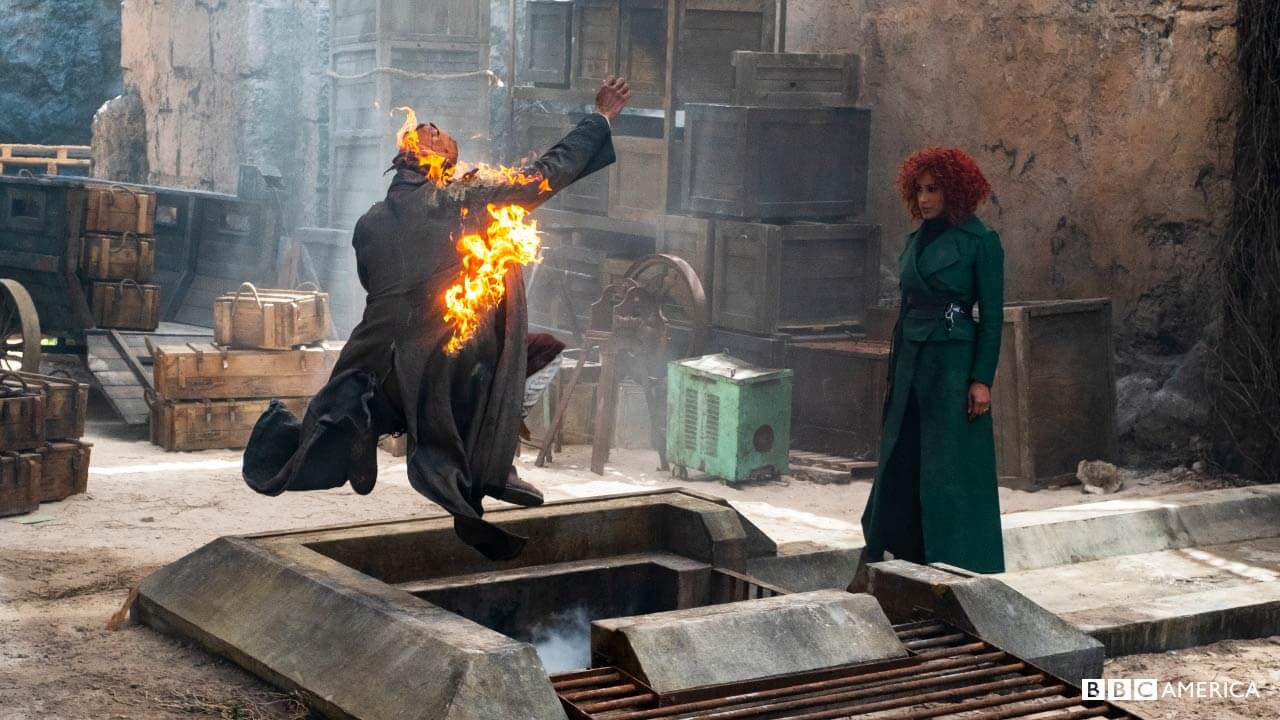 Finally, we have Carcer Dun (Sam Adewunmi), the villain from one of the best books in the series, Night Watch. The Watch isn't a direct adaptation of any one Discworld novel, but Carcer is the closest thing Vimes has to a nemesis, so it's possible that he'll be the main villain of the series. This photo is certainly intriguing, picturing him in front of two crossbow-toting figures in reinforced armor. Are they the Discworld version of riot police? Are they his followers in some kind of criminal enterprise? They certainly look cool, anyway.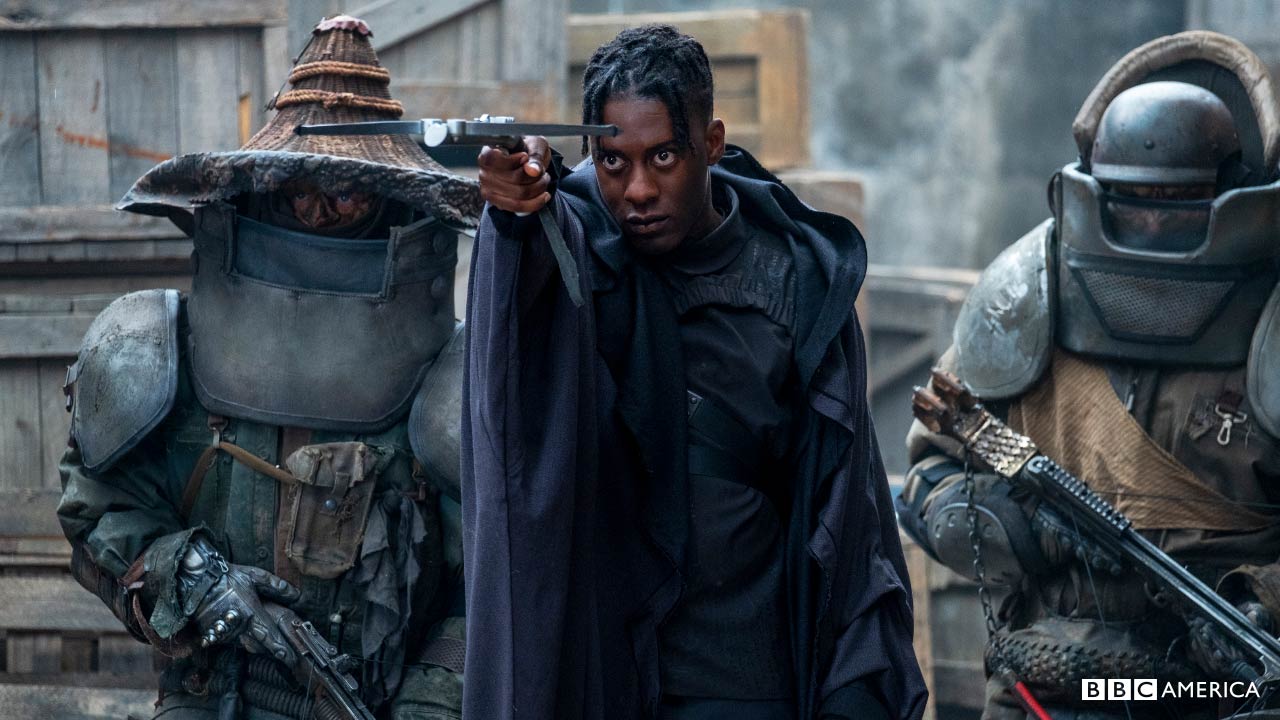 Considering the legendary status of the Discworld novels, it's surprising to see such a radical adaptation get greenlit by the BBC. A lot of Discworld fans will automatically distrust the idea of a modern-looking reboot, but it's worth remembering that adaptations don't have to be obsessively accurate to be good. The previous Discworld TV movies followed a traditional Victorian-inspired fantasy aesthetic, but they were generally forgettable light-comedy films that barely scratched the surface of Pratchett's political themes and social satire. Now it's time to do something different.
READ MORE: