In the wake of Justice League, Warner Bros. is spotlighting one of the oldest and most underrated members of its lineup. Aquaman finally gets his shot at a solo film in 2018 with Jason Momoa starring as Arthur Curry. Fans hope his burly appearance will revitalize the reputation of a character who had until recently become something of a joke.
Courtesy of New York Comic Con, Aquaman now has a five-minute trailer of suitably epic proportions.
Here's everything else we know about the Aquaman movie.
READ MORE:
Aquaman plot
Aquaman comics have never been adapted into a major film since publication began in 1941, so there's a lot of stories to choose from.
From the new Aquaman movie website, here's the official plot summary:
"The film reveals the origin story of half-human, half-Atlantean Arthur Curry and takes him on the journey of his lifetime — one that will not only force him to face who he really is, but to discover if he is worthy of who he was born to be … a king."
Cast interviews suggest a conflict between Arthur Curry and his half-brother Orm, with Orm wanting to declare war on the outside world because humans polluted the oceans. It sounds a lot like Black Panther's feud between T'Challa and Killmonger, except underwater.
READ MORE:
Aquaman cast
Momoa made a big splash when he appeared as a surprisingly charming barbarian named Khal Drogo in the first season of Game of Thrones, though he'd been working long before that. Fans quickly gravitated to the native Hawaiian for both his charm and good looks. It also didn't hurt that he spent a lot of time shirtless. Warner Bros. producers tapped Momoa back in 2014 to bring the world a refreshed, badass-looking Arthur Curry.
Momoa's castmates include Nicole Kidman as Atlanna, Willem Dafoe as Nuidis Vulko, Yahya Abdul-Mateen II as villain Black Manta, Temuera Morrison as Thomas Curry, and Patrick Wilson as Orm Marius, aka the Ocean Master.
Amber Heard has been training hard to prepare for her role as Aquaman's wife, Mera. If her workout routine is any indication, she has no plans to sit on the sidelines when the fighting begins.
For those not familiar with the comics, Arthur Curry's Atlantean mother, Atlanna, conceived him with land-dwelling human Thomas Curry. It's believed that Atlanna told Thomas of her aquatic abilities after giving birth to their son. She then drifted off into the sea to never be seen again (sort of). Any comic that's been around as long as Aquaman is bound to have a twisting and often contradictory timeline.
When Arthur grows up and eventually finds his way to Atlantis, he deals with the kinds of conflicts you'd expect for the "rightful heir" to the kingdom. He falls in love with an Atlantean woman (Mera) and makes an enemy out of his pureblood half-brother, Orm Marius.
Dafoe has fans especially excited for his role as Nuidis Vulko, an advisor to Arthur Curry as he takes on the challenge of being king. Dafoe has reportedly just joined the cast in Australia to begin filming.
Ahead of Aquaman, Dafoe and Heard made their debut in Justice League.
In a photo from the Aquaman set, James Wan revealed that Fresh of the Boat actor Randall Park will play Dr. Shin, a friend of Aquaman's human father. It looks like this character may have been added during reshoots.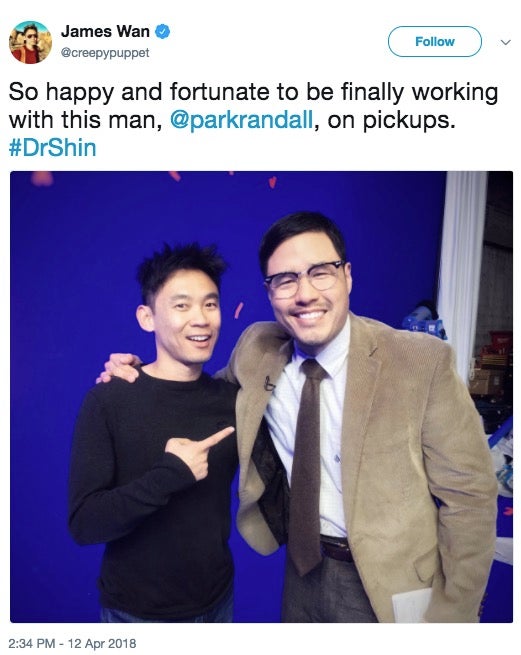 READ MORE:
Aquaman news
Ahead of San Diego Comic-Con, Warner Bros. released the first poster for Aquaman on July 16, which features Momoa's character crouched on a rock with a trident in hand with Atlantis in the background. Surrounding him are an army of sharks, whales, turtles, dolphins, and other sea creatures ready to answer Aquaman's call.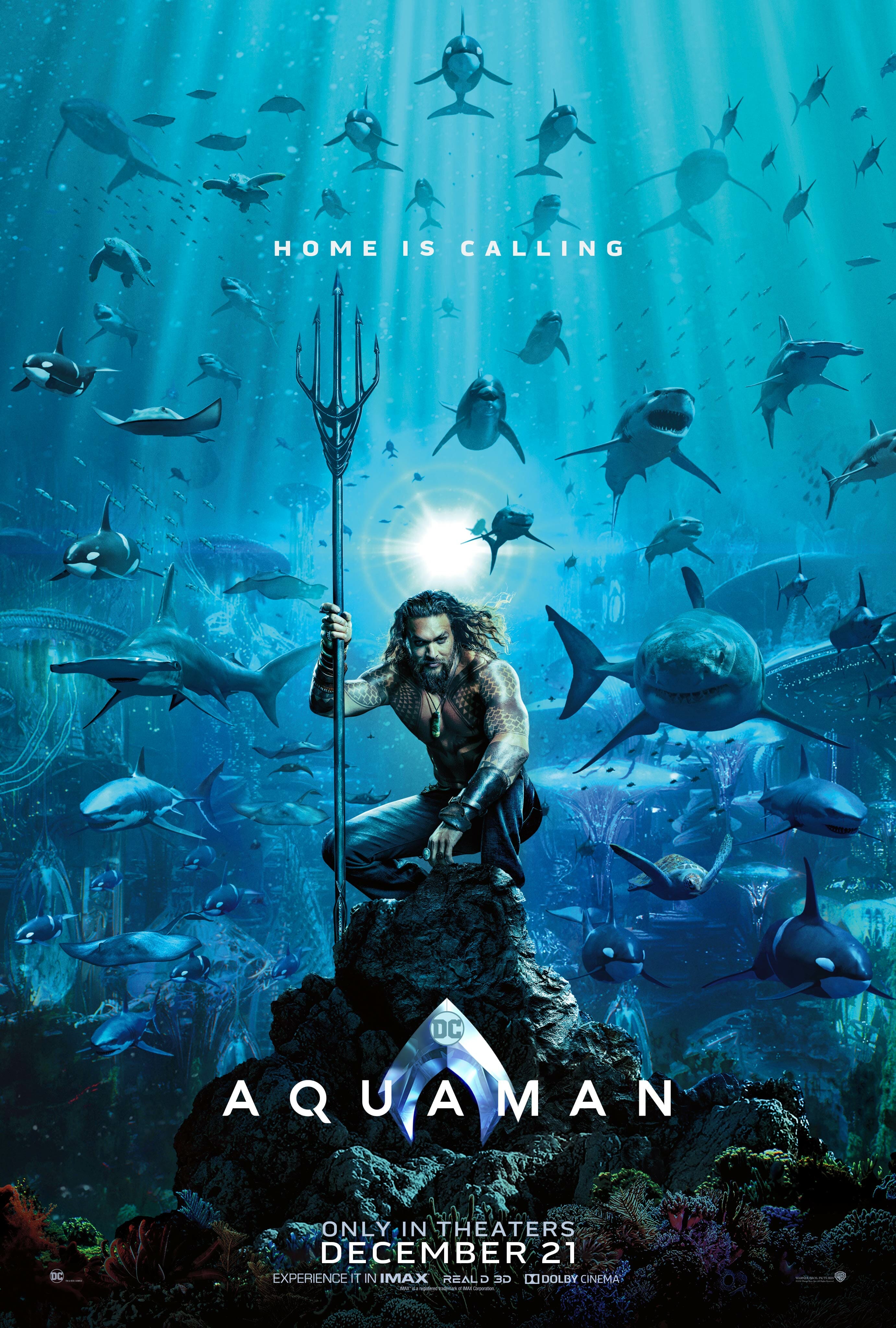 Entertainment Weekly's June 15 cover story introduces us to the main cast of Aquaman, including Amber Heard as Mera, Nicole Kidman as Queen Atlana, and Yahya Abdul-Mateen II as Black Manta.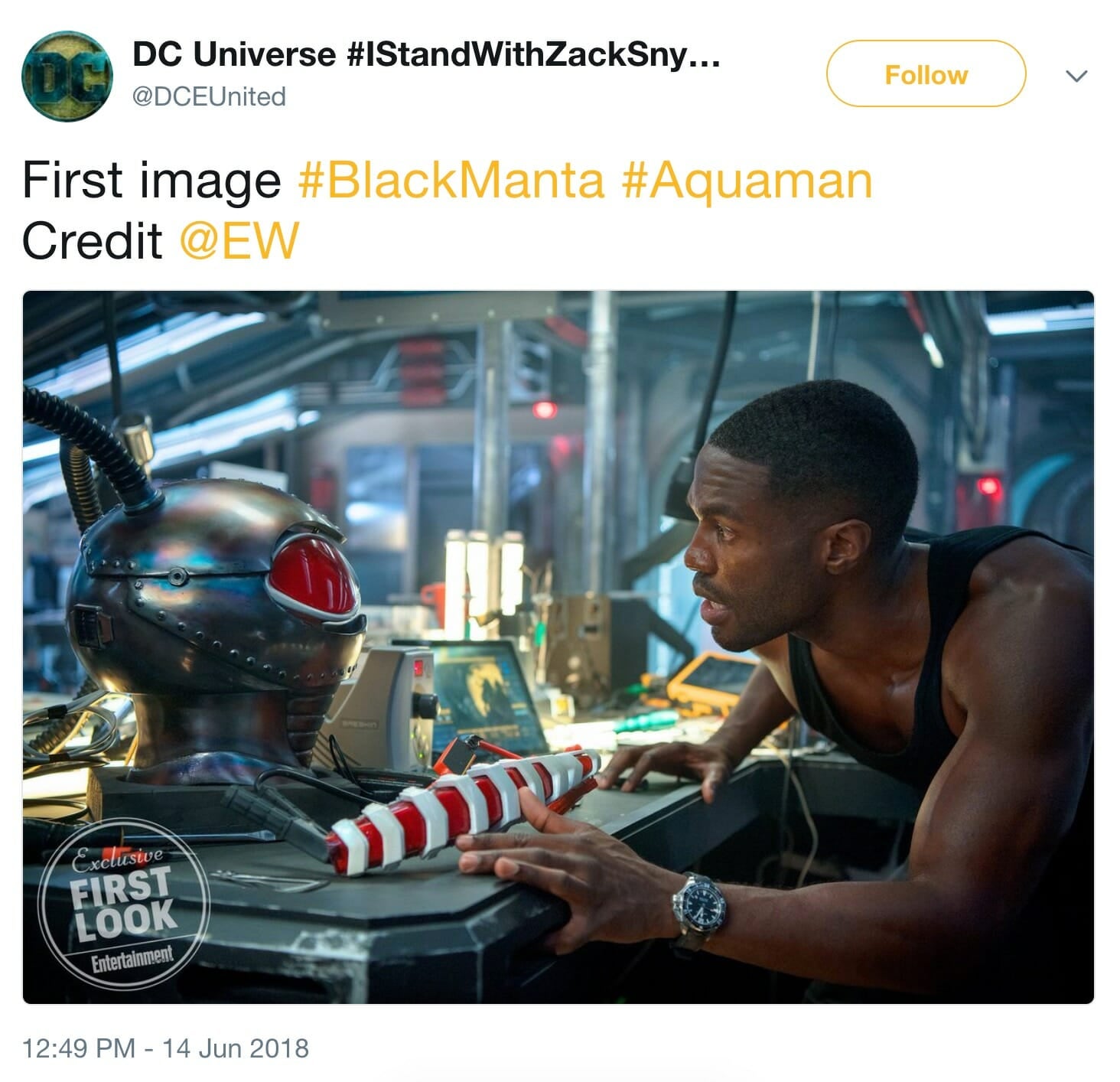 You can pick up the #JasonMomoa cover on newsstands starting 6/15, and the group cover exclusively at @BNBuzz starting 6/19. You can purchase both #Aquaman covers here: https://t.co/xdubWvhoyP pic.twitter.com/6L5pWDfnSQ

— Entertainment Weekly (@EW) June 14, 2018
Den of Geek's SDCC magazine cover gives us our best look yet at the full Aquaman cast in costume.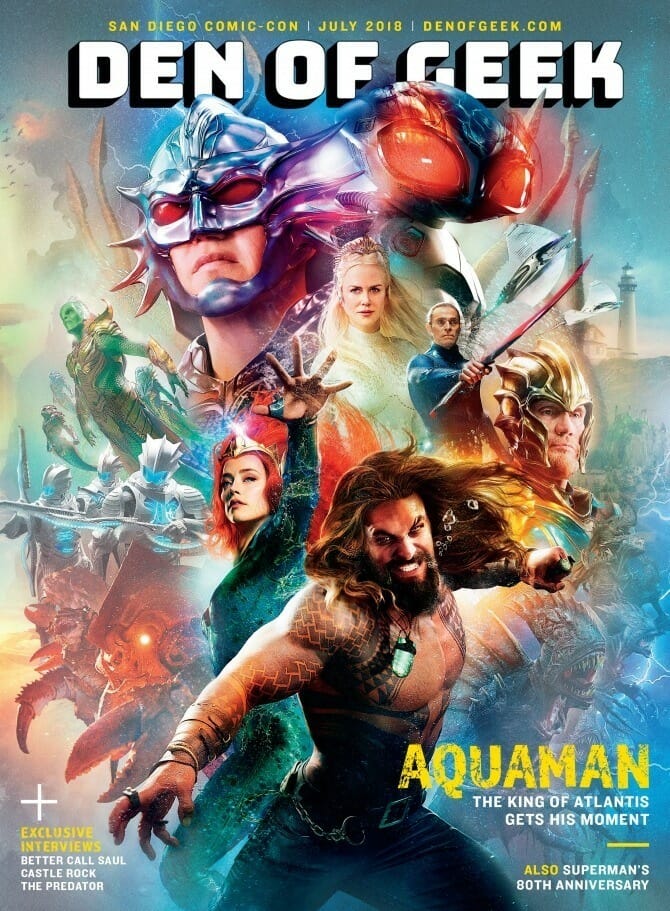 Aquaman trailer
On June 22 at Comic-Con, the long-awaited trailer—which Nerdist called "a totally epic trailer that left us gasping for air"—was finally released.
Aquaman rumors
There are about as many rumors about Aquaman as there are confirmed facts at this point. The most important so far is that Aquaman is going to have so many villains. Black Manta, Ocean Master, and King Nereus are all confirmed, but ComicBookMovie reports the Trench (an antagonistic underwater race) could also appear. That would provide Aquaman with plenty of the alien-like sea dwellers to use as cannon fodder as he puts his super strength and bulletproof skin on display.
READ MORE:
Sadly, one popular rumor has already been debunked. Fans had speculated this would be a great opportunity to introduce Kaldur'ahm—especially considering that he's Black Manta's son. Director James Wan (Saw, Furious 7), however, took to Twitter to clarify that it's not happening. If the first Aquaman proves to be successful, fans can still hope for a Kaldur'ahm appearance in a potential sequel. 
Aquaman release date
Aquaman is scheduled to premiere Dec. 21, 2018.