Popular Twitch streamer Alinity Divine previously sold one of her bras to a fan, a streaming slip-up revealed on Wednesday. She responded to the revelation in a chat on Discord, a channel aimed at gamers.
The alleged sale was revealed when Alinity accidentally pulled up her email in the middle of a stream. She quickly closed the page, but fans were able to read the opening text of a number of emails. In one, titled "I want to bue (sic)," a fan wrote "Hey Alinity, I hope you remember you sold me a leopard bra many years ago. I offered you very good money then and I wanted to ask if you like to," with the remainder of the text unreadable from the inbox.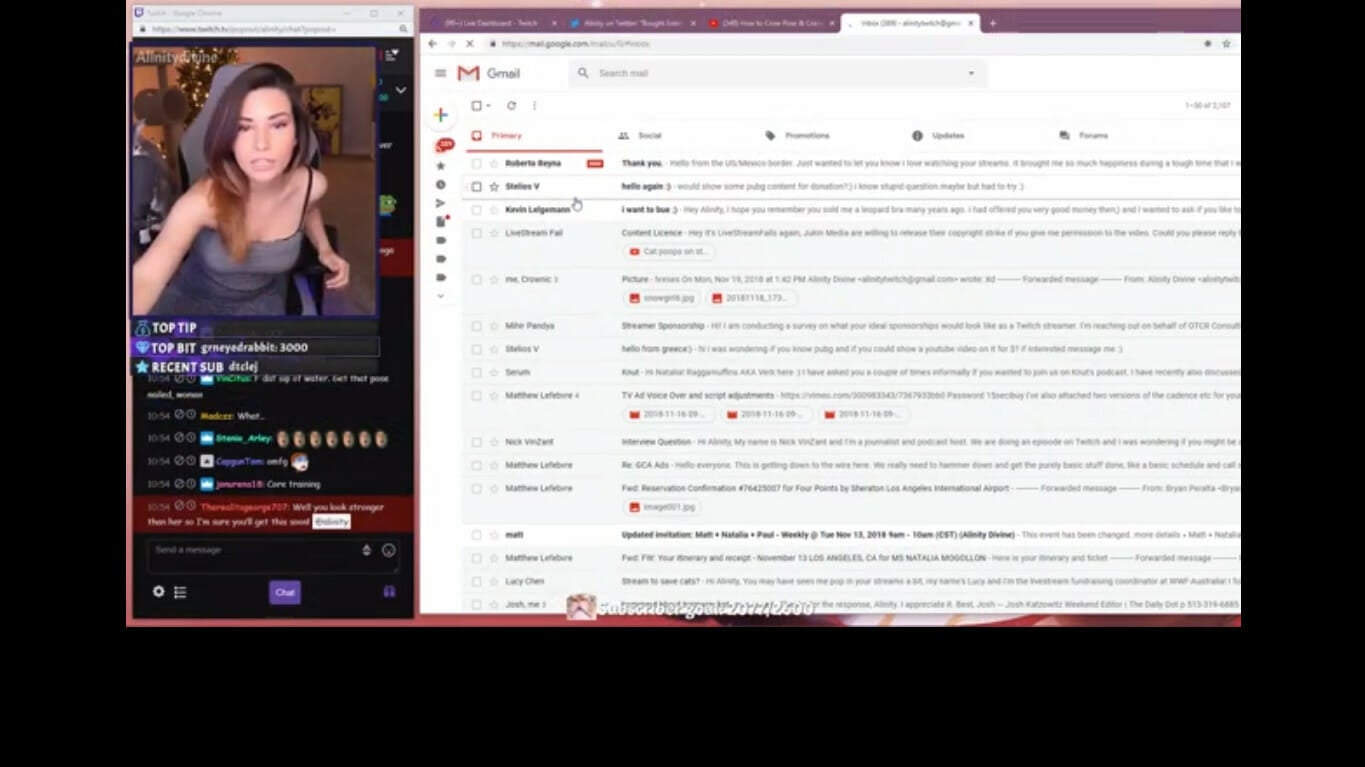 Fans immediately dissected the clip and upon discovering the email demanded a response from Alinity. She responded to the incident in a chat, and fellow streamer Daniel Keem posted an image of the chat log. "It was a long time ago," Alinity wrote. "Its really fucking embarrassing but I was a broke college student.
"This was 5 years ago," she continued. "Its not something I would ever do again."
https://twitter.com/KEEMSTAR/status/1065471173767700481
Keem complained that Alinity's Twitch privileges remain intact while his partnership on Twitch was removed following a Twitter argument with another streamer. "She has broken so many rules on twitch if it was a guy they would have been banned years ago," he wrote of Alinity.
Commenters on Reddit channel r/LivestreamFail immediately criticized Alinity, with several accusing her of doxing the people in her emails. Doxing is the practice of revealing personal details of a person online, typically with malicious intent, something that Alinity doesn't seem to be guilty of in this instance.
"Twitchthots get special treatment, they've already been breaking all the site-wide rules and no-one gave a shit," MelodicBrush wrote. "Is the 'modest clothing' rule, still in place lol? Or did they decide to vacate it after never enforcing it on Twitchthots."
Twitch's community guidelines prohibit "sexually explicit content and activities" or providing "sexual services, including prostitution, escort services, sexual massages, and filmed sexual activity." The platform also has rules against "unsolicited offers, solicitation, demands, bribes, or blackmail for sexual content and services."
As for its dress code, Twitch's guidelines state that "streaming is a public activity, therefore we recommend creators wear attire that is appropriate public attire for a given context, intent, or activity."
Alinity is in the midst of legal proceedings with fellow Twitch streamer TrainwrecksTV, whose real name is Tyler Niknam. Alinity spoke out in a stream in early November, claiming Niknam threatened to rape her in the comment section of one of her videos. She also said he told her to "watch out" at an event. "I'm terrified of him, honestly," she said in the stream. "He's tried to hit me—he's just been very aggressive toward me."
Niknam has denied the allegations, and when urged by fans to pursue legal action against Alinity, he responded with "already in the process."
Alinity also made headlines in May when she and mega-popular YouTuber PewDiePie engaged in a public feud over a video in which PewDiePie, whose real name is Felix Kjellberg, called Alinity and other female streamers "stupid Twitch thots."
READ MORE:
H/T Dexerto