What all started with peas pulled from an Irish garden could be a remarkable breakthrough in combating a global food crisis. 
That garden belonged to then 15-year-old Émer Hickey, one of a trio of ninth-grade girls who decided to explore the possibilities of increasing crop yields without using synthetic fertilizer.
More than 10,000 seeds, 120,000 manually run experiments, and a year later, the mini-microbiologists have taken the top prize in Google's 2014 Science Fair.
Hickey, Ciara Judge, and Sophie Healy-Thow first became interested in finding a workable solution to the impending global food crisis in 2011 while studying the horn of Africa famine. At the time the girls were only in seventh grade, but they were already behaving like world-class scientists: Their resumes come with a string of national and international prizes in science competitions across Europe.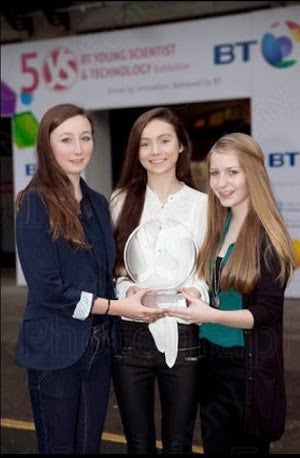 Photo via Google Science Fair
When Hickey pulled the peas from her garden, she noticed strange nodules growing on the peas. The girls quickly identified the nodules as home to a naturally occurring bacteria that helps boost the growth of peas and other members of the legume family.
The idea for the grand prize-winning project is incredibly simple. The girls decided to see if they could take the pea-boosting bacteria, known as rhizobium, and introduce it to other types of crops for a similar effect.
The result, as detailed in their project, "Combating the Global Food Crisis: Diazotroph Bacteria as a Cereal Crop Growth Promoter," was astonishing. The bacteria induced the important chemical process of nitrogen fixation, thereby acting as a kind of high-intensity natural fertilizer for the plants.
Not only did pairing the bacteria with cereal crops like oat and wheat reduce the germination time, between 13 and 50 percent depending on the type of grain; but the overall crop yield increased by a staggering amount—as much as 75 percent of the dry mass of the crops.
"Such a cereal crop performance improvement could significantly assist combatting the growing global food poverty challenge and reduce the environmental footprint of agriculture by reducing fertilizer use," the girls wrote in their proposal.
They also noted they were not placing intellectual property restrictions around their research, so that it could be used and implemented freely by scientists and farmers around the world.
The girls took the top prize out of thousands of entrants between the ages of 13-18 in the competition, beating out such marvels as a flying robot and wearable tech for Alzheimer's patients.
For their research efforts, Judge, Hickey, and Healey-Thow will each receive a $50,000 scholarship from Google, along with a 10-day visit to Galapogos sponsored by National Geographic.
"Winning the Google Science Fair would be brilliant, amazing, incredible!! :)" The girls wrote on their project proposal.
We have to agree.
Photo via Google Science Fair