For some, the pot at the end of the rainbow isn't filled with gold, it's filled with all kinds of top-quality porn. While it's nice to have whole studios dedicated to niche porn themes and fetishes, sometimes you just don't want to have to choose! For porn fans looking for a site with a bit of everything, captured in Ultra HD and performed by today's hottest stars, Zero Tolerance for you. 
What is Zero Tolerance?
Zero Tolerance is the last line of defense against subpar porn. After 19 years of streaming, this site's goal remains the same: to have zero tolerance when it comes to bad porn! Here you'll be able to find hot performers and wild scenes of all types.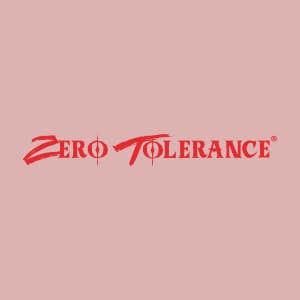 | | |
| --- | --- |
| 3 Days | $1.00 |
| 1 Month | $14.95 |
| 1 Year | $95.40 |
---
Zero Tolerance cost
Zero Tolerance has a great deal set for prospective members. Five dollars will get you unlimited streaming access for the whole first month, and the greatness doesn't stop there. The super affordable monthly membership includes both streaming and downloads, and yearly membership follows suit price-wise. All in all, they do a great job of giving members an affordable avenue for porn. 
Zero Tolerance membership pros
1) Access to over 2000 videos and 400 full movies
The minds at Zero Tolerance have come together to present its members with enough content to constantly please. The majority of its videos have been shot in 4k HD, and are spread across so many categories, members will always be entertained.
Its movies deliver full-length porn films for those looking for a little bit of a commitment. It's clear the content works for its members, as it's quite common to come across sequels like "Lesbian Ass Eaters 3", or "Oiled in Lingerie 2". Continuations of the same series mean that the studio is listening to its community and giving them more of what they want.
Whether you want hot scenes or full porn films, Zero Tolerance will meet your needs.
2) Comprehensive homepage 
I love a site that lays it all out from the get-go. As soon as you enter into the world of Zero Tolerance, you're greeted with all it's got. The slideshow of new and hot titles draws you in with explicit images and tantalizing titles, and as you scroll, you're greeted with all of the site's newest and hottest videos.
The site's latest movies, updates, trending videos, content coming soon, and more are all organized and waiting for you to enjoy. It's easy to get a little lost in all this content, but they've done a great job of helping you find your way. 
3) Great collection of content
It's almost the norm for porn site memberships nowadays to be a package deal. With Zero Tolerance what you see is what you get. There are no other bonus sites that come along with this membership, but you know what? It doesn't seem to matter.
What they've done is create a site with so many content options and themes, that one is all you need! Photo sets, movies, and scenes fill so many needs across categories that you'll find yourself wanting for nothing. 
4) Roku Accessibility
This is such a cool place for potential members looking for a quality site to frequent! The Zero Tolerance app is available on your Roku device today. Adding it as a hidden channel is quick and easy, and will have you hooked in no time.
In order to activate the channel, visit this site on your phone or computer, and turn on your Roku device. Once the app appears on the screen, you'll have to link your subscription via the activation code. Finally, a safe, secure, and easy way to connect your porn to your personal life. No more living on the phone!
Zero Tolerance membership cons
None
The Zero Tolerance site has done what it set out to do: create a site full of great porn. Grading it by those standards, we'd have to give it 100%! Now, it's important to keep in mind that this is not a specialty site or a site with a focus on sensual erotic porn. This is classic, semi-hardcore porn at its best. 
Is it worth it?
Zero Tolerance has nailed the mega-site porn experience. It provides high-quality porn, spanning around 100 categories from A to Z, and delivers member favorites. Even though the site has been around for two decades, it's clear that it's been hustling to bring its members the highest quality available in porn.
New videos are all shot in 4k HD, and feature some of the best established and up-and-coming performers around. Additionally, the cost of membership is what we can only call a blessing. If you've been looking for an all-encompassing porn site to devote your time to, Zero Tolerance is a great contender.