There's nothing worse than a porn site popping up on your web browser when someone is behind you. That's partly why we love the subtler charms of YouGoggle, the free VR porn site whose name doesn't scream PORN! Of course, its name isn't all that makes YouGoggle special. Users will also find a massive collection of full-length VR scenes, thousands of samples, and more awaiting. Is YouGoggle worth your time? Here's what you need to know.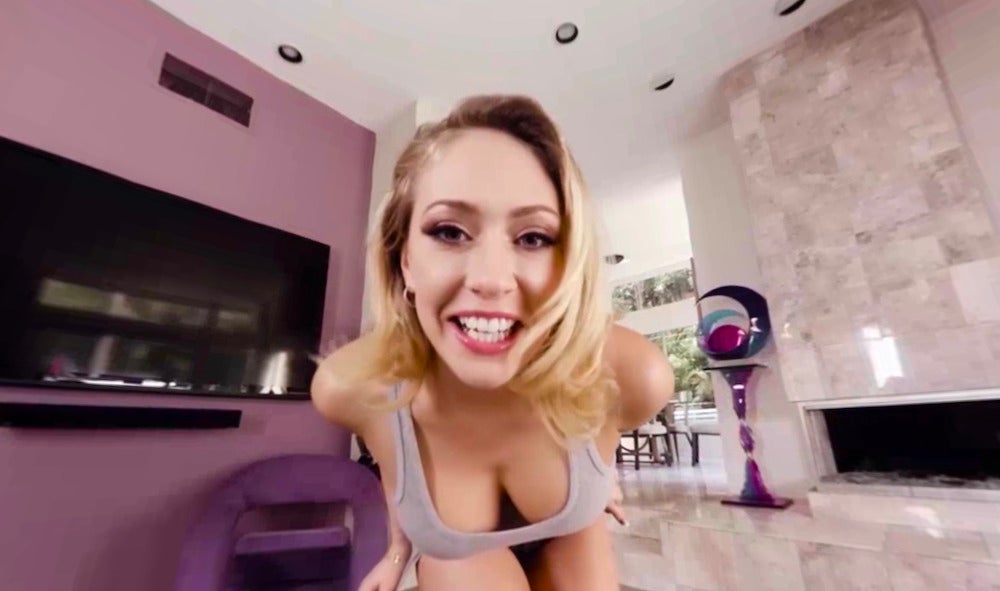 How much does YouGoggle cost?
---
YouGoogle is free to use, with no upselling or membership necessary. Users won't even need to give their email to use this service. If you enjoy a scene, YouGoggle offers links to join those sites directly from the video page. However, just because you like one site you preview doesn't mean the rest is up to snuff. Make sure to check out our reviews and our ranking of the best VR porn sites around before you put in your credit card information.
What's included with your YouGoggle membership?
1) Almost 90 full-length free VR porn scenes to try
YouGoggle has the largest collection of free full-length VR porn scenes anywhere online. Featuring 89 scenes spanning companies like Naughty America VR, 18VR, there is no better place online to see what's out there. From the in-depth high-end glamour fantasies of Naughty America to Eastern European beauties of Czech VR, YouGoggle doesn't just give you samples. It lets you try a truly incredible amount of full-length free VR porn scenes.
2) Great explanation of how to get different devices to work on the site
There aren't enough VR porn sites that include explainers of how to make their content work with your particular set up. YouGoggle features in-depth explainers of how to watch its content on Oculus Quest, Oculus Go, Google Cardboard, Gear VR, Daydream View, Oculus Rift, HTC Vive, PlayStation VR, and more. This is a wonderful place to get your start watching VR porn.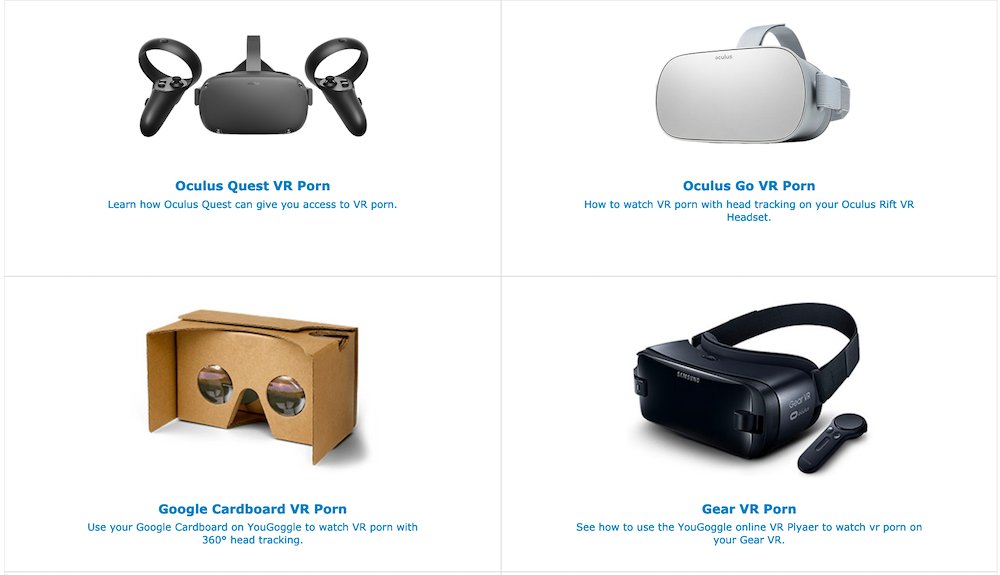 3) Stream scenes in HD up to 1440p
While YouGoggle doesn't allow users to download scenes for offline viewing, it has great streaming quality. Viewers can choose between 1080p and 1440p video, which is not quite true 4K but is still better than standard HD. At first, this may seem like a downside, but given the streaming-only nature of YouGoggle, it's an advantage. You'll never have to worry about your WiFi or 4G signal being too weak to catch up to your scene.
4) Features everything from traditional porn to hardcore CGI hentai
While the full-length VR porn scenes featured on YouGoggle are almost entirely traditional porn, the site features much more than that. You'll find an extensive video game and hentai section, public sex, squirting, and other hardcore kinks. The digital hentai section in particular has to be seen to be believed. YouGoggle is perfect for anyone with a tentacle fantasy or who's wished to bone in their favorite video game. Of course, you don't need to have demon dreams to have a good time. There's a world of other kinks here to explore.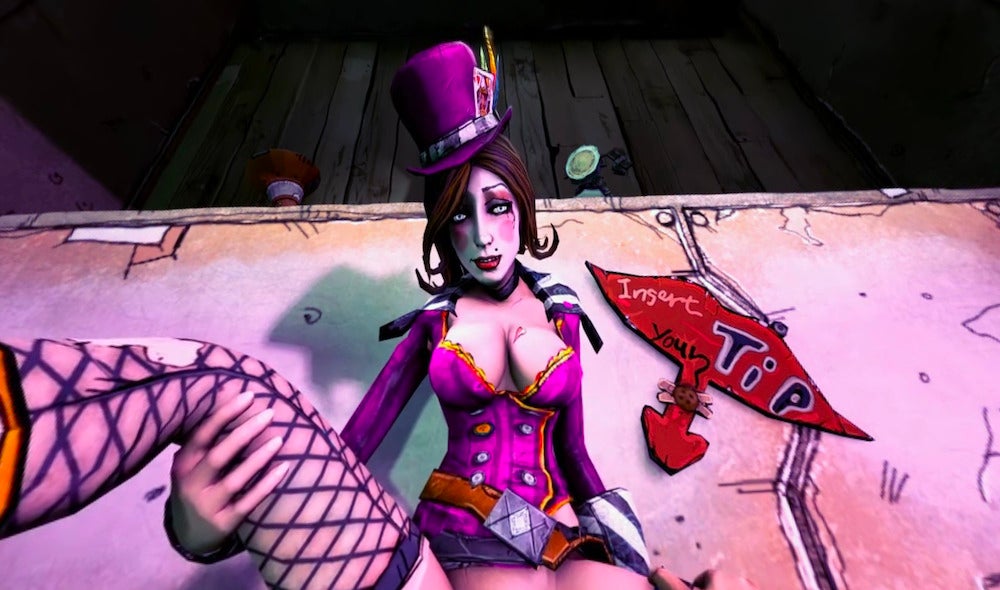 5) Tons of categories
All of the variety YouGoggle offers would be overwhelming if it wasn't for its extensive use of categories. By selecting a specific category you can quickly narrow down YouGoggle's often intimidating amount of content to something more reasonable.
What are the drawbacks of a YouGoggle account?
1) Can't sort clips by length
With thousands of clips to sort through spanning two minutes to half an hour, it's frustrating you can't sort clips by length. We understand that this is probably to keep people from only watching the longer scenes. However, since the site allows you to jump directly to the full-length content, the lack of a length sorting option sometimes keeps you from checking out the clips.
2) Sneaky pop-up ads
This is the only major problem with YouGoggle, a site we otherwise really like. When you click certain links on YouGoggle the site opens multiple pop-ups at once. What makes it worse is these pop-ups are for the sites YouGoggle is already advertising with free scenes. You're already selling us, YouGoggle. Why risk making a bad impression by getting greedy forcing pop-ups on the user?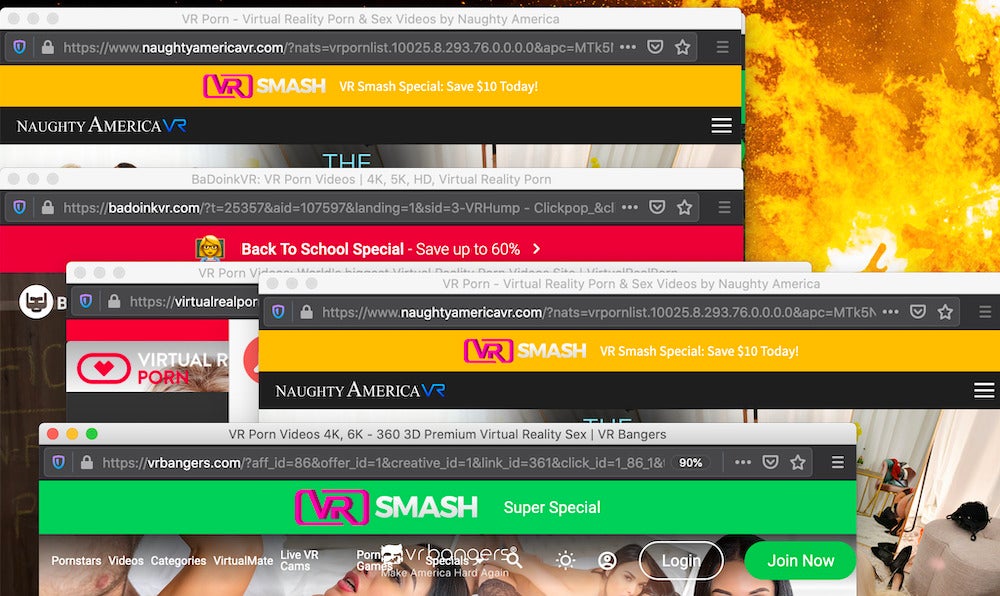 3) Says you can download clips, but you can't
At the bottom of YouGoggle's home page, you'll find a notice claiming you can download scenes in different resolutions from 4K to 6K. This is simply not true. You can download the scenes you'll sample here in Ultra HD once you sign up for a membership to a specific site. However, that's not the same as downloading on YouGoggle itself. There's a ton of free content here. We just wish YouGoggle didn't make a false claim when it's doing so well.
Is YouGoggle worth it?
YouGoggle is an incredible site that offers the largest collection of free full-length VR porn scenes online. 89 scenes are more than enough to help you make up your mind about where to spend your porn dollars, especially if you're double-checking with our reviews. Some users will not like that YouGoggle is streaming only, but honestly, we like the simplicity. You still get above standard HD definition on the videos, but you won't blow up your data plan on your phone. The site is also welcoming to new VR users. No matter what equipment you have, they'll help you use it to watch porn.
There are problems, but they're mostly minor ones. Pop-up ads in the second decade of the 21st century are inexcusable unless you're the kind of person looking for free VR porn scenes. But beggars can't be choosers. If this was a paysite, it would be a bigger problem, but free porn sometimes comes with pop-ups. We also wish YouGoggle didn't advertise that you can download scenes in 4K and 6K when there aren't currently downloads. But when you want to watch great VR porn for free, YouGoggle is there for you.