Sexuality is a spectrum, from the types of sex people enjoy to the kinds of pornography they prefer. For some people, the implication of sex is just as ( if not more) erotic than seeing full-on penetration. While magazines and the internet will always be a gold mine of still erotic photography, it wasn't until recently that softcore erotica found its way to VR. StasyQ VR is a sensuality-focused porn site that brings stunning, writhing models into your virtual space.
Is it worth your money? Here's everything you need to about StasyQ VR.
How much does StasyQ VR cost?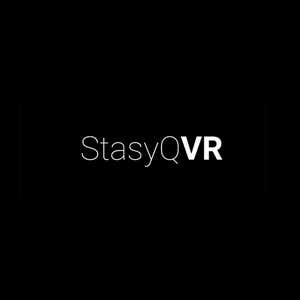 | | |
| --- | --- |
| 1 month | $14.99 |
| 3 months | $34.99 |
| 1 year | $74.98 |
| Life | $199 |
---
At first StasyQ VR's price point may seem low for a standard porn site, but that's because it isn't a standard porn site. Focusing more on sensuality and absurdly hot women in solo scenes, StasyQ VR is more like Playboy than Hustler. Accordingly, you'll pay a little less for access. Single months start at just $9.99 per month, with three months available for $24.49 and a full year for just $49.99. Depending on your kinks, StasyQ VR is an incredible deal.
What's included with your StasyQ VR membership?
1) Sensual softcore VR porn featuring gorgeous women frolicking for your pleasure
StasyQ VR is less of a porn site than a virtual reality Playboy subscription that presumes you don't care about articles. Each month you get four new scenes featuring Bunny-worthy models stripping seductively for your pleasure. While standard VR porn rushes to sex, StasyQ VR focuses on sensuality and the beauty of its subjects. You won't find sex, even in the scenes featuring two women. In fact, there's not even any traditional masturbation on StasyQ VR, which is fine. This isn't that kind of porn. It's something slower yet equally valid. While not for everyone, StasyQ VR's content is deeply erotic. 
2) Four updates each month with over 150 scenes already waiting
StasyQ VR makes sure you get your money's worth each month with a new update each week. Individual scenes average around 11 to 15 minutes, each filmed in a beautiful studio, apartment, or home. This gives StasyQ VR scenes a sense that you're watching these women in the space they live in, frolicking freely as they strip down. Once you've worked your way through the new scenes, over 150 more are waiting in the library. StasyQ VR offers users plenty of content, both old and new. For softcore fans, this site is a VR godsend. 
3) Wide range of supported devices
StasyQ VR plays nice with almost everyone, so don't worry about whether your favorite VR device is covered. You'll find support for Gear VR, Daydream, Oculus Go, Google Cardboard, Oculus, Vive, PlayStation VR, and more. It also includes a host of different resolutions, so if you don't have a 4K device, you don't have to waste storage on content you can't get the most out of. 
4) Stunning 4K video
It's hard to overstate just how well StasyQ VR takes advantage of 4K video. Rather than blindingly lit sets, these scenes take place in naturally lit apartments and homes. The shadows, light through windows, and gradients of colors you see make you feel as if you're witnessing an erotic fantasy play out in real life instead of on set. 
What are the drawbacks of a StasyQ VR membership?
1) Too tame for hardcore fans
The content might be incredible, but if you want hardcore action will find this site too tame for your needs. There's no sex here, even in the scenes featuring multiple performers. You'll see beautiful women kiss a little, but don't expect anything resembling sex. This is closer to Playboy than it is Penthouse.
2) Weak tagging and search
Given there are no specific sex acts to search, we understand why there isn't tagging or search on StasyQ Vr. However, it would be nice to be able to find scenes starring redheads or blondes, or performers with tattoos. If you're going to be a site focused on niche content, make sure you offer an easy way for people to explore that niche.
3) Almost no diversity
If you enjoy skinny white women with small or large breasts, StasyQ models will thrill you because they all fit the bill. It feels strange to find just limited racial and bodily variety on a site that doesn't even feature hardcore action. The world is full of stunningly beautiful models of all races, sizes, and dimensions. We hope in the future it expands what sorts of models it hires. 
Is StasyqVR worth it?
How much mileage you get out of StasyQ VR will largely depend on how you fantasize. Each video is about ten to fifteen minutes of stunningly beautiful women being playful, sexy, and stripping. It's like a Playboy magazine come to life right before your eyes. Not everyone reaches for hardcore pornography when they want to masturbate. Sometimes the build up to the fantasy is enough.
Users who love softcore, fantasy, and traditional pinup are going to lose their minds over StasyQ VR. From the supermodel-inspired performers to the genuine sense of intimacy and sensuality imbrued in each clip, this is a VR porn site unlike any other. Stasyq VR isn't for everyone, but the niche audience it caters to can't find a better site to join.
---
---
---