Bellesa is a well-known name in the "porn for women" category. Starting with steamy free clips and sex-positive content, the site has now grown into a large collective with its own studio and a streaming service.
There's a subscription option for every budget, so you know you can afford it. But is Bellesa worth all the hype?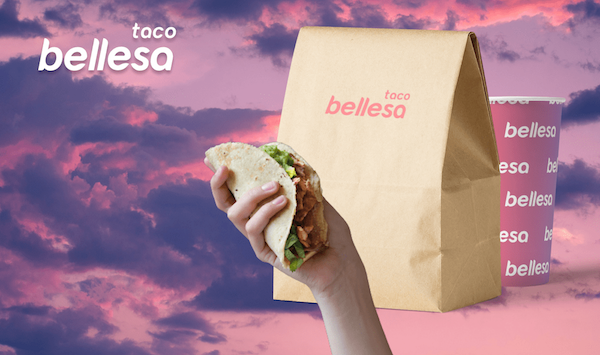 What is Bellesa?
While the crew over at Bellesa aren't actually opening up a taco franchise, the site does offer a lot of goodies. But each service functions a little differently, and it's helpful to know your way around.
Bellesa.co
Bellesa.co collective is the site's original platform. An inviting community preaching sex positivity, health, and girl power, the collective also has its own free porn offerings! Users can indulge in erotic porn clips from contributing partners like Vixen, Sweet Sinner, Deeplush, and more.
Members submit steamy erotica and feature articles about powerful women influencing the industry, sex education, politics, culture, and episodes of Bellesa's sex comedy podcast.
The collective will have plenty of content to make you want to reach for a sex toy. Fortunately, the Bellesa Boutique has a toy for every body. If you want a more interactive experience, the collective also hosts live cams.
The road to Bellesa's partnerships was a rocky one; when the collective first began, porn stars called out the site for hosting stolen videos. In response, the site not only reworked how it posted clips to the site, but created its own studio.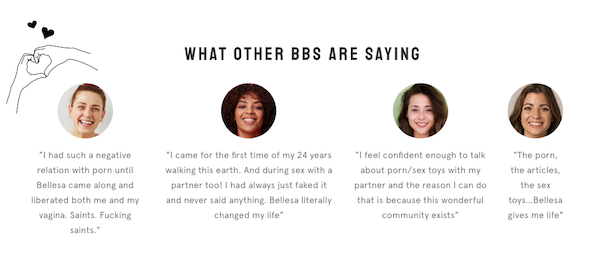 Bellesa Films
All of Bellesa's films are written, directed, and produced by women. Some of the videos are even submitted by members of the collective, stories that are "shifting portrayals of women from ​objects of conquest​ to the subjects of their own pleasure".
Like other ethical porn producers, Bellesa Films prioritizes fair pay, safe sets, and consent. The collective's motto "no fake orgasms" is the founding principal of every scene. Bellesa Films' puts female pleasure at the forefront, featuring plenty of content in categories like "pussy licking" and "fingering".
Bellesa+
Perhaps the easiest way to access everything Bellesa has to offer is with the streaming service. With contributing videos from over 50 premium channels, the Netflix-model site that features content from more than 100 popular porn studios. You'll also get early access to Bellesa Films content and it's way cheaper than most monthly subscription services at only $10/month.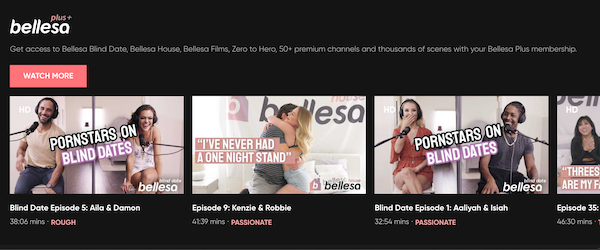 ---
Bellesa porn positives
1. Real, authentic sex
Bellesa prides itself on real orgasms. Stars have a generous say in their scenes, so "you're watching sex the way these performers want to have it". The sex is authentic, raw, and much hotter for it.
The Bellesa House series features performer-requested matchings, and then gives us the sensuous, uncut results of their get-together. These videos are particularly charming, letting the audience feel the stars' organic chemistry. And the Bellesa Blind Date series is every bit as fun and exciting as it sounds.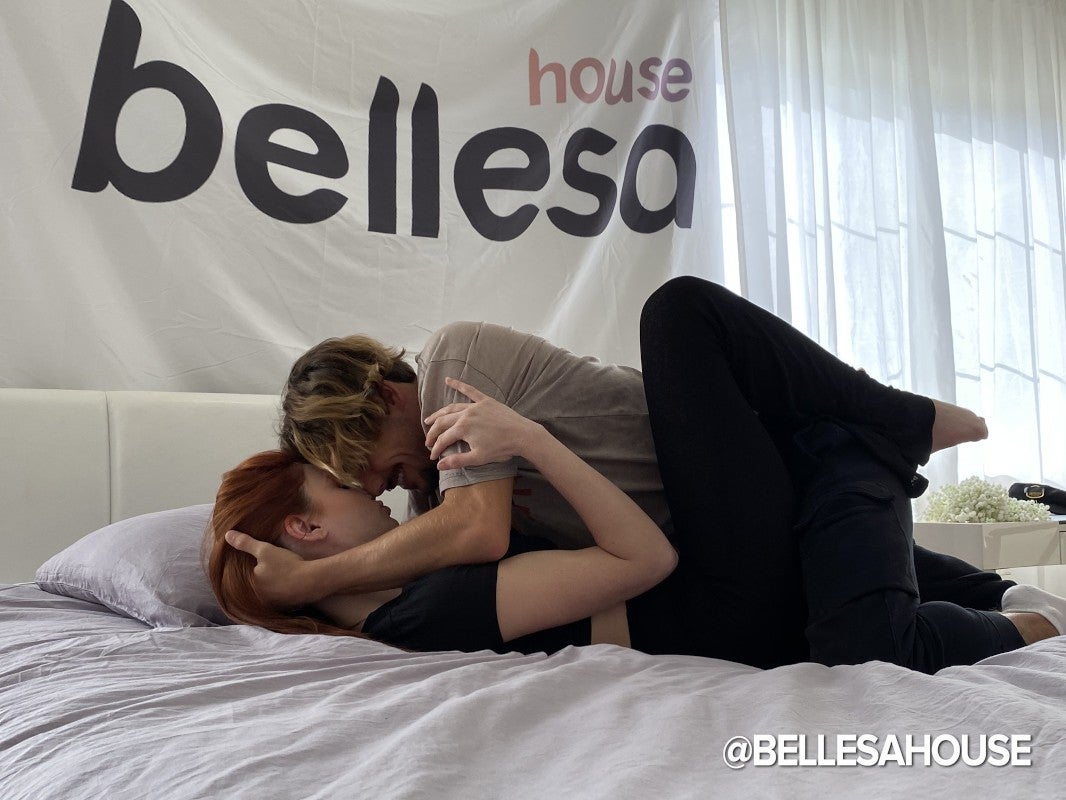 2. Big name stars having sex their way
Bellesa and its partnering studios feature some of porn's top billed stars. Viewers will see up-and-cummers like XBIZ's 2021 Best New Performer winner Scarlit Scandal or fan favorite Abella Danger heating up the site's film catalogue. You may be able to find your favorite stars on a number of other porn sites, but a Bellesa scene just feels a little more intimate.
The star power isn't just on screen, either. Super star performer and director Jackie St. James takes charge of the Bellesa House series, asking questions and interacting with stars during the interviews. This adult entertainment veteran knows how to nurture a flirtatious tension between her subjects, and it makes for grade-A viewing.
3. Easy to nagivate, even easier to watch
Bellesa may host dirty films, but it's platforms are clean and easy to navigate. You can search Bellesa Films by star, category, or just browsing the main page for new releases. The streaming service is ad-free and you can even stream it using a Smart TV! You can also bookmark favorites, and the site uploads 2 new videos every day.
Everything Bellesa offers is shot in HD, and downloads are available. Neither download nor stream take up an outrageous amount of bandwidth. Thankfully you don't need the world's strongest internet connection or a big budget to get your jollies from Bellesa.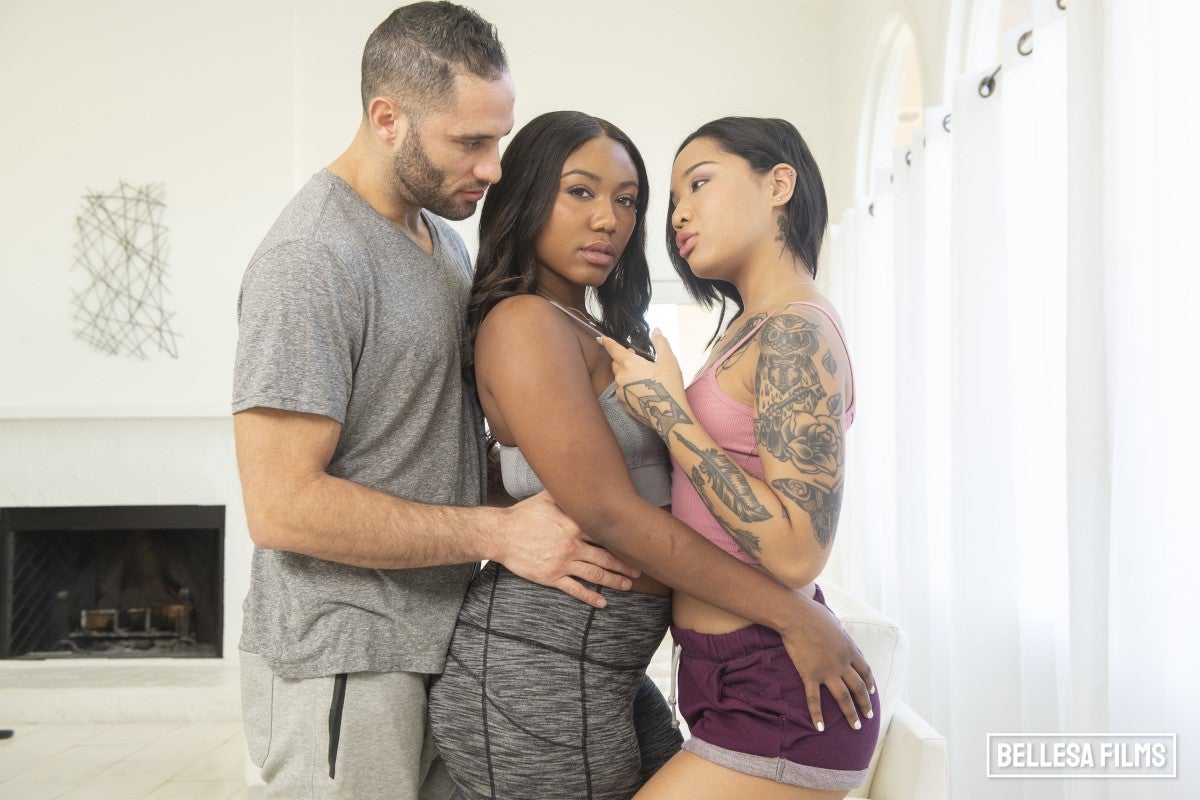 Bellesa "but"s and opportunities
1. The original content is occasionally problematic
Some Bellesa Films originals have some cringeworthy plot lines. Problematic relationship dynamics are common in BF storylines, like in the story "Rules are Made to be Broken".
In the middle of a pre-negotiated threesome, a guy questions his girlfriend's boundaries. When she tries to reestablish those boundaries, he argues with her – and the narrative rewards him for it. Yikes.
Now, porn is fiction. Studios shouldn't be held up as moral guideposts or educational tools. However the sexual entertainment we consume can influence us, and ironically, Bellesa's mission statement directly addresses this:
At Bellesa, we believe that the porn we watch has real societal implications. It's why Bellesa Films eaves critical concepts thoughtfully into its scenes- notions like equal pleasure, consent and navigating power dynamics. By integrating these things into our content, we hope to open larger conversations about sex, consent, and real pleasure. We unwaveringly believe that if we can change the kind of sex that people are watching, we can change a whole lot more.

– About Bellesa Films page
Okay, great – now tell it to your problematic plot-lines. For viewers who have experienced these and other problematic dynamics IRL, these stories aren't risque or taboo, they're just uncomfortable. In some stories, there's an empowerment gap between the orgasms and the narrative.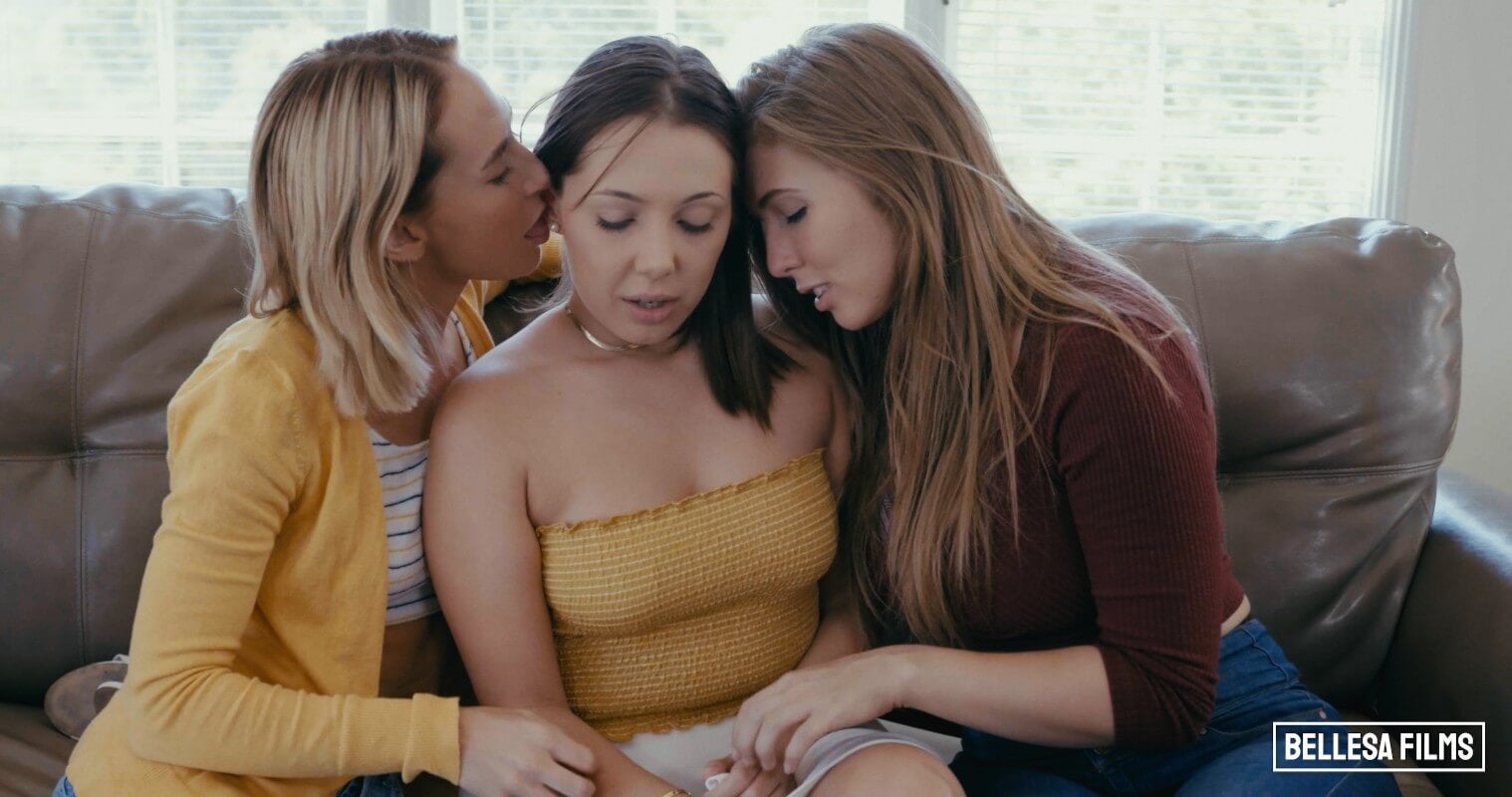 2. Bellesa isn't porn made for all women
The studio doesn't claim to make porn "for" women. Instead, Bellesa favors porn made "with women's pleasure in mind." If the site's female friendly porn is supposed to represent women's sexuality, then womanhood is characterized as thin, cis-gendered, and able-bodied.
The collective's "women's bathroom energy" celebrates women whose pleasure has been excluded from the body politic. The film studio's body of work, however, could benefit from embracing that perspective.
---
Verdict: Is Bellesa a worthwhile investment?
Look, "porn for women" isn't a real thing. Expecting one of the best sex sites to serve all women is impossible; there are all different kinds of women. Bellesa says it "grows and changes as its community does," and encourages members to help shape its content. And in a kind of sexy symbiosis, you can join the many site members who credit Bellesa for helping them discover their own pleasure.
If you want quality and quantity feminist porn that's convenient and affordable, it's hard to beat Bellesa. You can stream these sensual films, find community, buy sex toys, and so much more. Overall, we recommend giving yourself the Bellesa treatment.
---
Sites Like Bellesa
The Daily Dot may receive a payment in connection with purchases of products or services featured in this article. Click here to learn more.