Snapchat has changed the way people connect with adult film stars and sex workers, giving us the illusion we're looking into the lives of our favorite sex workers. The downside is that porn on Snapchat can be hard to find—if you don't know where to look.
If you're searching for a roadmap to the hidden world of Snapchat porn, here's everything you need to know to find the best porn Snapcodes, the best free and paid nude Snapchat accounts, and the best porn snaps.
---
Exclusive Pornsite Deals: Join now for $1
---
How to find porn on Snapchat
Snapchat's official guidelines prohibit the distribution or promotion of pornographic content. That's part of why you'll have a hard time finding free porn on Snapchat. But where there's a will—and money to be made—there's a way, especially when it comes to the porn industry.
Finding the best nude Snapchat accounts
Snapchat is an ideal platform for adult content. It allows you to make private posts that are designed to disappear, and it notifies whoever posts if someone screenshots their content.
Not only can you find most of your favorite porn stars on Snapchat, but thanks to the rise of services like FanCentro, there's a whole world of DIY Snapchat porn to be discovered.
Many porn stars run their own premium Snapchat accounts, which you can pay for using PayPal or Venmo. Sometimes they accept Amazon gift cards. Prices differ dramatically from performer to performer, with some charging $10 per month while others cost as much $30 a month. There's also variation in the type of content and frequency of their porn snaps.
Adding them is as easy as finding their porn Snapcodes on social media, though most porn stars have both a public and private Snapchat. It's the latter that will cost you. You can find stars' Premium Snapchat names on their websites and social media, but we've compiled 30 of the best nude Snapchat accounts of pornstars to get you started.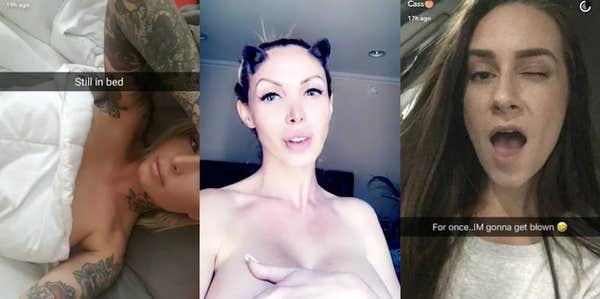 READ MORE:
2. Discovering porn stars' Snapchat profiles on Twitter
Twitter is one of the best places to discover adult content on Snapchat, thanks to the service's laissez-faire approach to adult content. There are a host of Twitter accounts, like xxxsnapchatters, that compile screenshots, promotions, and Snapchat names from adult performers.
But you don't need to monitor a specific account to discover new models to follow. Just searching "premium Snapchat" will offer riches, from amateurs to the biggest names in porn sharing their porn Snapcodes. If you're looking for a flat-rate lifetime membership to someone's sexy Snapchat, Twitter is your best bet.
3. Browsing nude Snapchat accounts on Fancentro
While there are plenty of DIY porn stars, there are just as many who don't want to handle their own subscription processing. FanCentro allows you to browse listings of today's hottest adult performers and amateurs to find the best nude Snapchat accounts that are right for you.
Pricing is set on a variable scale, with models able to set their own sales and perks. Sometimes that means getting a collection of downloadable scenes, a lifetime membership to a Snapchat and porn Snapcodes, and some nude pictures for $35.
Another model might charge $10 a month for access to her Snapchat and Instagram. You can expect as much variety in the pricing as you can the performers.
READ MORE:
4. Getting soft-core porn on Snapchat with Ghostcodes
Ghostcodes is one of the largest databases of Snapchat users available, providing a searchable listing of users' porn Snapcodes. To subscribe using a Snapcode, open the Snapchat app, activate the camera, and take a Snap of the porn Snapcode on your computer screen. Snapchat will ask you if you'd like to add the user to your friends.
The models on Ghostcodes are significantly more tame than those found on other services, but there's nudity for those who search. If you're looking for soft-core, Ghostcodes is your best bet for finding the best nude Snapchat accounts of that genre.
5. Finding a world of Snapchat porn on Reddit
Reddit has fully embraced adult content from around the internet. The r/NSFW_Snapchat subreddit has 313,000 subscribers, with models and users posting screenshots side-by-side with usernames. Snapchat porn seldom gives you a chance to try before you buy, and this subreddit works as a sampling menu.
For the most part, the models posting on r/NSFW_Snapchat are amateurs, but don't mistake that for lack of talent. These accounts are just as hardcore, if not more so, than many porn star accounts.
Just be careful about making payments for content one on one, and use a secure service like Venmo. (For more, check out our full Reddit NSFW list and our list of the best porn subreddits.)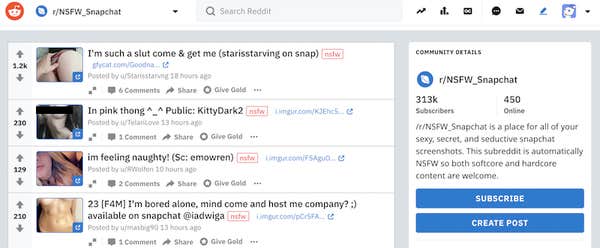 READ MORE:
Finding the best free porn on Snapchat
If you want to find the best porn on this app, you'll need to pay for to follow a porn star's premium account or be willing to tip. But there are some workarounds to accessing free porn on Snapchat.
Browse Pornhub and other porn sites for free Snapchat content
Due to Snapchat's restrictions, it's rare to see official porn sites with accounts anymore. But you can still find free porn on Snapchat by sleuthing major porn sites like Pornhub. Just plug in a search for "free Snapchat" on Pornhub or your favorite tube porn site and you'll find plenty of users to follow.
Still not sure where to find exactly what you want? Here's your guide to the best porn GIFs, high-quality VR porn, the best porn search engines, everything you need to know about BDSM, and the hottest porn stars you should follow on Instagram. Plus, everything you need to know about watching porn safely in your browser.
Editor's note: This article is regularly updated for relevance.