You may have seen gimp suits portrayed as something scary on American Horror Story, but they're a healthy part of many people's sex life. A study published in The Journal of Sexual Medicine reported that 69 percent of people say they've either performed or fantasized about BDSM.
You might be in that 69 percent of people looking to start or further your journey into BDSM. If you are, we've got a comprehensive guide to the best gimp suits to get you started.
What are gimp suits?
A gimp suit is a bondage device designed to completely cover the wearer's body. These suite are commonly made of PVC, leather, latex, rubber, darelexx, and spandex, and often have anchor points for bondage play.
Zippers and openings are often strategically placed around the breast or genitalia area for fun and easy access. These suits are designed for submissives who have consensually submitted themselves to a dominant partner.. The submissive fully gives themselves over to please their dominant's agreed upon sexual desires. Even when submitting in a gimp suit, it's important to have established safe words and gestures to stop a scene if it becomes too intense.
How to shop for the best gimp suit
The key to getting the most out of your bondage/gimp suit shopping experience is understanding the different options available. Gimp suits come in all kinds of silhouettes and materials, as mentioned above. Figuring out exactly what kind of play you'll be doing will help to determine the suit that's right for you.
Here's a breakdown of the different materials gimp suits are made out of and the advantages each brings.
Rubber and latex suits
The rubber gimp suit is one of the most popular choices of them all. The glossy shine and tight fit of the fabric are its top selling points. Wearers of the rubber suit should be ready to be completely encased in a "second skin" of sorts, that will reveal every curve of the sub's body.
Latex suits are similar to rubber suits in terms of appearance and fit, and are another popular option for play. However, as latex is a common irritant for people with sensitive skin, it's best to steer clear if you've had any reactions to latex before.
Spandex suits
Spandex suits are perfect for the submissive that needs a little bit of breathing room. These suits normally have a woven fabric that is quite breathable and easy to move in. As well, these suits are often found with zippered openings for play, and for an easy on/off experience. While they won't have the same body-hugging effect as the rubber and latex suits, spandex suits still provide the desired effect of reducing the submissive to an object meant for play.
Darlexx
This is a fun one, as the darelexx material provides its wearer with a waterproof suit. This material can be commonly found in sporting goods like boots and wetsuits. While it is a breathable fabric, it is quite restrictive in terms of mobility. It's quite a common choice for gimp suit lovers who like to feel totally enclosed and limited in their movements.
PVC and leather suit
The PVC and leather suit options are really more suited for experienced bondage and BDSM lovers. The fit and flexibility of these suits is quite different from the above options. Unlike the materials listed above, PVC and leather suits are so tight fitting, many have to be custom made. Lack of mobility, coupled with the overall cost and effort needed to produce and purchase one of these suits, makes them a bondage lover's wet dream.
However, they also provide safety risks for beginners. Even if you have the money to make a custom suit, we suggest starting somewhere else, at least until you've learned the ropes.
The best gimp suits for every level
This custom gimp suit for men from Etsy is a change of pace from what we would normally recommend. The material is clearly labeled as faux leather, which isn't on the above list. However, we've made an exception based on the hundreds of positive reviews from happy buyers.
What's great is that this set offers a wide range of sizes and all the accessories you could want. Sizes range from small to triple extra-large, and there's even a custom size option as well. If you're interested in what kind of bells and whistles come along with the suit, you won't be disappointed. Each gimp suit also comes with one matching hood, a pair of socks, and a pair of gloves.
The suit itself comes equipped with zippers in all the fun places for easy access. From reading the reviews left behind by satisfied customers, this suit runs quite small. However, users have said that the right fit feels great and is surprisingly affordable for the quality of the product. If you've been wanting to introduce a bondage or gimp suit into your nighttime play but haven't wanted to splurge, this gimp suit from etsy is perfect for you.
2) Best custom leather gimp suit with quick delivery: Mens Bondage jumpsuit
The Leather Line Co shop on Etsy has quite a reputation. With over a thousand positive reviews for its assortment of leather bondage goods, this specific black cow leather gimp suit is worth each and every penny. This design includes multiple D-rings attached throughout, allowing for other kits to be attached.
You can expect a full zipper back, removable breast flaps, full cotton lining, and full lace detail throughout for custom tightness. As this leather is quite tight and restrictive, the sizing for this custom suit is a little different than you might be used to. This shop asks for bust, hip, and inner leg measurements, so be prepared and get it right!
Unfortunately, this suit comes by itself with no extras. However, if you're looking for more quality leather attachments or bondage toys, The Leather Line Co offers a great collection of highly praised beauties.
This latex gimp suit from BodysuitHub on Etsy says it's for men, but according to the buyer reviews, it seems to be unisex. While there aren't as many reviews as the above options, the few reviews that have been given include images of the suit on reviewers' bodies.
Both users who submitted reviews and images were female and very pleased with the overall product and fit. For a handmade latex suit that fits the way it's supposed to, the price is more than reasonable. If latex with a personal touch is the way you want to go, I suggested visiting this shop as soon as possible before they all sell out.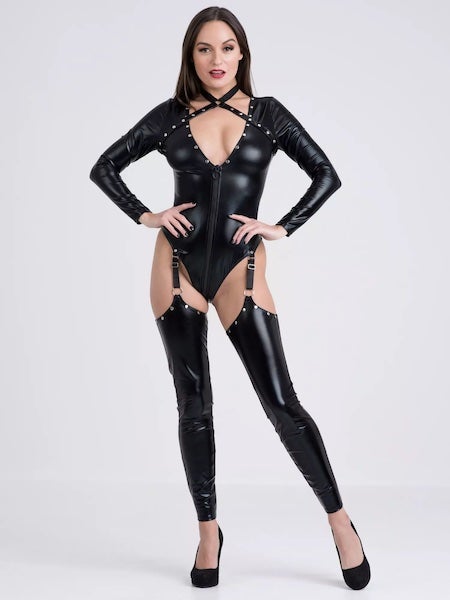 We're switching it up a little with this sexy offering from Love Honey. It's not exactly a full gimp suit, but it's still in the vein of bondage clothing. This number features a long-sleeve studded leotard with detachable footless stockings for a versatile look.
There's also an eye-catching studded harness and collar included, and a zipper that leads from your breasts to just above your booty. All in all, it's a highly provocative look with a lot of potential for fun. My only con is in the specifications. Love Honey labels the fabric as "wet look" which, in all honesty, is quite confusing.
Not knowing if this suit is made from latex, rubber, spandex, or PVC is a problem, as many individuals have sensitive skin and suffer from fabric allergies. I would recommend LoveHoney clarify exactly what material is being used.
Another interesting take on the gimp suit aesthetic is this latex underwear with penis sheath. As the site says, these latex briefs have a molded sheath for the penis and testicles that stretches with you to fit perfectly. This allows you to experiment with super-sleek penetration play during wear.
The sheath provides restrictive sensations to the penis, while the molded pouch gives the wearer comfortable room for their balls. It's recommended to use a silicon-based lubricant for safety and shine. While the reviews are overwhelmingly positive, there are a lot of constructive comments mixed in.
Given everyone's junk is different, I would recommend giving the reviews a quick once over before selecting your size.
This spandex option from amazon is a fun alternative for wearers looking for something a little less bondage and a lot more silly. For one, as the suit is made from spandex, the wearer won't be restricted in terms of movement. However, with only one zipper in the back you'll have limited direct access to erogenous zones while in the suit.
This option comes in ten different colors, including a flesh nude, and bright pink. For the kid at heart just wanting to introduce a little fun into the bedroom, this is a great affordable option.
Essentially the same as the above option, the only difference is this model has an included hood that allows for full-body coverage from head to toe. This suit is made from spandex, so the wearer won't be restricted in terms of movement.
However, as there is only one zipper placed in the back, access to any of the erogenous zones is off-limits by traditional means while in the suit. For some that challenge will be part of the thrill, but if you need openings take note. This option comes in ten different colors, including a flesh nude and bright pink. For beginners wanting to introduce a little fun into the bedroom, this is a great affordable option.