As we approach another official end to summer, I'm reminded that once again that beach sex did not happen. This summer was monumentally different than any other I've ever experienced thanks to the pandemic. And, like many of you, I've been questioning where the time went. I'm lucky that all I lost were opportunities, and I don't want to sound ungrateful. But as a Virgo, baby, I'm sentimental this time of year. And I can't help but feel the weight of every missed adventure and nude beach.
If you're fortunate enough to still be experiencing beach-worthy weather, here's a quick walkthrough on how to do what I couldn't and have amazing, end-of-summer worthy beach sex. But if you're in New York, or dealing with the return of autumn weather, you may want to wait until next year (unless you're okay with ending up naked, shivering in the sand). Until then, get your last licks of summer with the best beach porn sites.
Beach sex tips and tricks
Thinking of trying beach sex out for yourself? Well, you're going to want to proceed with caution. Public sex is still illegal in most states. Taking this into consideration, nighttime sex on the beach is probably your best course of action. That is unless you have access to a private beach or if there's literally no one aroud for miles.
Once you and your partner(s) have a place in mind, you must remember that movie sex is not real-life sex. That amazing scene where the couple is laying on the shore and the waves are softly lapping at their naked, intertwined bodies? Yeah, that doesn't happen.
The ocean doesn't care what's going on on its shore. And more likely than not, you and your partner will definitely get rocked by its waves. Even if you get lucky and show up on a night where the water is calm. Also, sand is the enemy! No matter what, you do not want to end up with sand crotch. It's like a one-way ticket to possible infection and definite discomfort. Take a blanket or towel to lay on and pick a nice, secluded place where you both feel comfortable. While part of the fun is the idea of getting caught, paranoia is a surefire way to kill the vibe. Thanks to your new sand barrier, you and your partner should feel free to explore some positions!
I find that spooning or sitting facing each other are great ways to maximize comfort and pleasure. Neither of these positions sacrifices discretion, either. In the event of a passerby or wandering eye, you're still in control of what they see (or don't see).
Possibly one of the most enjoyable parts of beach sex is the clean up (or lack thereof). No need to run to the shower or reach for wet wipes. You've got the ocean right in front of you! Take this time to slow-motion run into the water with your partner and unlock pure bliss. Or you could opt to use baby powder to shake some of the sand out of your nooks and crannies. Note: If you used protection, please discard it like a responsible human. Toss it in a bin on your way off the beach. Definitely do not bury it in the sand for an unsuspecting stranger or sea turtle to find.
Best beach porn sites
Adult Time is basically the Netflix of beach porn movies. With a robust list of over 200 channels, 50,000 episodes, daily uploads and updates, and over 30 awards won in 2020 alone, Adult Time snags the coveted "ultimate subscription platform" award from us. Expect to find fantastic, award-winning original content, as well as popular titles from studios like Vixen, xConfessions, FemJoy, and more. Want to spice it up? There's a category for that. Want to slow it down to something a bit softer? There's also a category for that. The possibilities are endless and so are the films!
This site is completely dedicated to alternative style and tattooed models and was founded by performer Joanna Angel. Inside, you'll find all the tattooed goths, punks, emos, skaters, and beach porn you can imagine.
If you're familiar with the major porn streaming service AdultTime, then you'll be happy to know that it acquired the Burning Angel studio. So along with your Burning Angel membership, you'll have access to all 55,000+ videos in the AdultTime library! The Burning Angel site alone, however, is home to over 2000 videos. And not just any videos, it has been the recipient of multiple awards, including the 2020 winner for best action/thriller and best comedy sex scene. The site also offers over 70 categories and over 100 models to choose from. Recognize the names likes Abella Danger or Bree Daniels? You'll want to join Burning Angel. If you've been looking for true alt porn, what better place to go than the site that ushered in the movement?!
---
PinkLabel has established itself as one of the heavy hitters in public beach porn content. Founded by Shine Louise Houston, PinkLabel hosts over 50 different indie porn studios (including Erica Lust, Pink and White Productions, and many more). Comprised of queer, trans, POC, seniors, and actors with disabilities, PinkLabel clearly understands porn markets go beyond the stereotypes. PinkLabel's effort to include largely underrepresented groups in the adult film industry mustn't be overlooked.
This ethical porn site is free to peruse but to access the content you'll need to become a member. The premium membership includes a curated collection of hundreds of titles, unlimited access, and a permanent streaming library. All memberships help support PinkLabel's own featured independent directors and studios. If you're looking to whet your appetite with various high-quality and diverse films made by and for the communities they feature, PinkLabel is your best bet.
---
Lustery is the only site on this list that hosts real, couple-submitted amateur beach sex and nude beach porn. I know what you're thinking: "I don't want to spend hours searching through poorly lit, shaky camera videos." Don't worry. While couples do film their own videos, they're all in HD and most have surprisingly great camera work.
The real upside to this site is getting to see real couples at work in their own environment. These videos are all so unique in the sense that there's no set, no film crew, and tons of personality. These real-life couples have an intimacy on screen that no standard porn site has been able to imitate.
Perks to being a member are….well, everything! Membership gets you access to the videos, couple bios, your own personalized hub, and the ability to submit your own videos and join the couples club. The site presents itself like no other porn site, with a fresh color palette, sweet font, and easy to navigate tabs that will leave no video unturned. For the porn watcher who's been searching for the most real of the real, or simply looking for completely different videos, Lustery is a must.
---
Evil Angel's motto is "life is too short for soft porn." If that doesn't tell you what to expect from this site, nothing will. This site's specialty is hardcore public beach porn and Gonzo porn. And, let me tell you, Evil Angel does it well. If you don't believe me, maybe browsing through its list of award-winning movies will sway you. Or the perhaps fact that they've enlisted star directors like Rocco Sifredi, Jonni Darkko, and Proxy Paige will pique your interest. With Evil Angel's library of over 18,000 hardcore videos, it seems like the best place to satisfy your NSFW cravings.
---
Oh wow, xConfessions. Created by the boss director in porn herself, Erika Lust, this site is everything nudist beach voyeur videos should be. Membership includes full access to all the content on the site, including other confessions. Members will also be able to anonymously post their own fantasies to an online wall. Lucky users will win the chance for Erika herself will to develop their confessions into an erotic short film. Other membership perks include unlimited streaming of over 150 films and 10 free downloads per month. If you've been searching for quality films that showcase women's pleasure in a sex-positive and sexually intelligent narrative created from relatable fantasies, look no further.
---
With a name like "Naughty America", this site owes it to you to host nothing but the best beach porn movies.
If you can overlook Naughty America's poor take on diversity, what you're left with is a tried-and-true adult entertainment site. Naughty America is focused on delivering the highest quality porn imaginable. We're talking over 60 channels, virtual sex, and VR and Hologram capabilities. So it seems like the producers might actually know a little bit about what its audience wants after all.
When you think about all the quality content that you'll be getting for as little at $7.95 a month, you'll realize this membership practically pays for itself. Don't believe me? For less than $2 you can get the sweetest appetizer you've ever had: a three-day trial to the site and all its goodies!
---
Let's be real: with over 42 billion site visits in 2019, 90% of you porn viewers out there have probably reached orgasm on Pornhub at least once. You're familiar with the layout and product offering, and you might be happy with it, but what if there was a way to get a lot more out of the experience? That's what Pornhub Premium reaches for, and in my opinion, achieves. The best selling point right now is the site's free trial membership (with the option to add Brazzers access for $1 per day). The homepage's thumbnails offer sneak previews of thousands of HD, full-length videos from renowned studios like Vixen, Team Skeet, Nubile Films, Hentai.xxx, and more. On top of that, you'll get access to Pornhub's library of 30,000 full-length original films. Offering the widest variety of parody porn on the internet, its premium subscription does not disappoint.
---
If you know Brazzers, you know the site's unofficial motto is "go big or go home," so obviously it went hard on the nude beach videos. When you enter the site's main page, you're greeted with banners of spotlight models and videos organized by the most recent additions to the oldest, what's popular this week, and upcoming videos. Some of the best features on this site are the "watch later" tab in the home bar, the promo tab for great deals on other websites you may not know exist, and the abundance of categories offered. All the models on site are exactly as described, too. So you'll have a near-exact idea of what to expect before you even press play.
---
Reality Kings has become a household name in online porn for years, and the multitude of sex beach videos certainly lives up to the hype.
With over 20,000 videos, and over 50 sites featured, RK has got some of the best adult content on the web. The homepage is organized by three generalizations: "Viral Scenes," "New Porn," and "Top Rated," it also showcases the most recently active models, in case you're one of those people who needs to stay up-to-date on who's producing what. Another great feature of the site is the ability to see how many videos are included in each category, so if the options aren't vast enough you can easily browse elsewhere. Users can preview each video with a rollover thumbnail gallery and take advantage of the site's advanced search bar to get exactly what they're looking for, and then some. When it comes to porn, Reality Kings nails it every time.
---
CockyBoys is your one-stop-shop for everything gay beach sex. If you want to see two boys rolling around on the beach, pay CockyBoys a visit and you might never leave. This family operated porn site is no mom and pop shop, in fact, Cockyboys has put out some of the best scenes in porn, period! Browse the fiery collection of feature-length films and scenes via the homepage, or filter through the models' tab for a special treat featuring your favorite Cockyboy. Our number one feature on the site comes by way of the mini-series tab–a collection of short series with themes like "Hollywood and Vine" and "Love Lost and Found."
---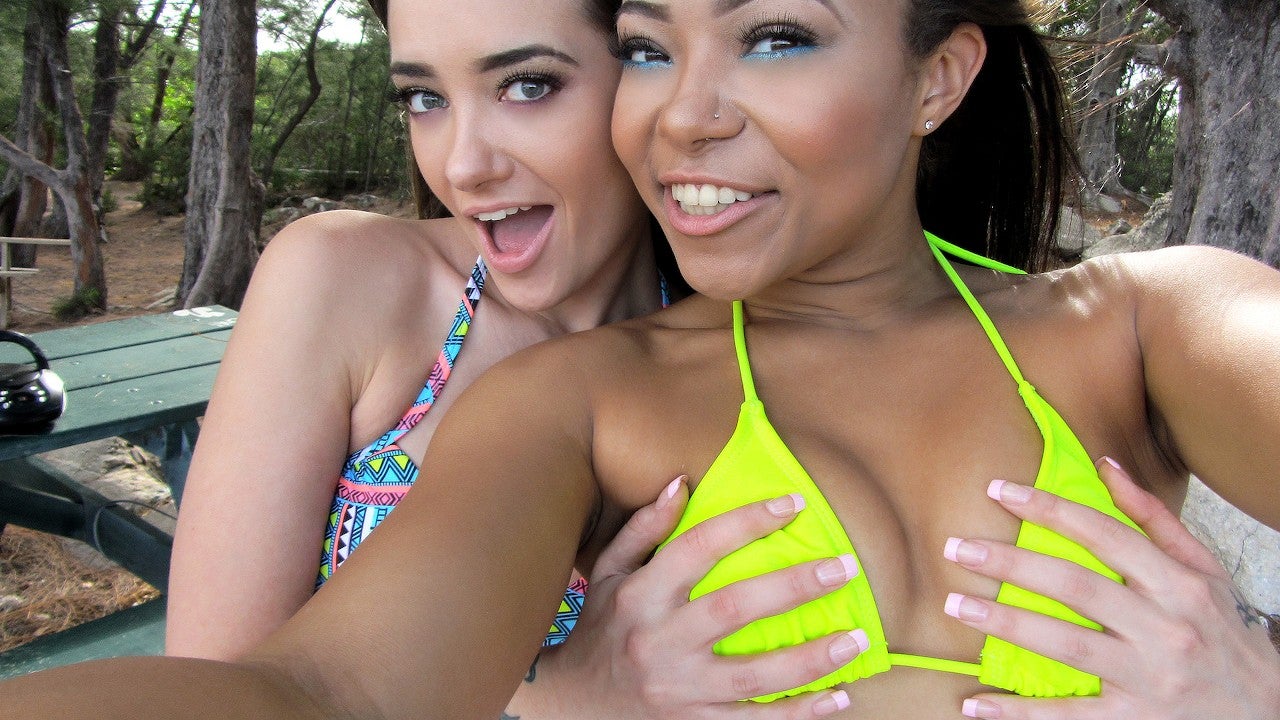 While Mofos site seems to be modeled after other amateur porn sites, it's the content that really seals the deal. Its unique library lands it a spot on this list. If you love beach porn, look no further. The models on Mofos are so gorgeous and exciting, it'll feel like any scene you watch is your first. One of the biggest draws is the partner sites members get access to.
The advanced search bar is one of my favorite features. It's beyond accurate and pulls up some of the most tantalizing video clips I've ever seen. If you're into nude beaches porn, this is definitely the site for you.
---
You don't have to wonder what you're getting with this site, it's all in the name. For the hottest names in public beach porn right now, look no further than Babes.com. Catch Abella Danger in Bella of the Ball, or spend your afternoon in a high rise apartment with Milana Ricci in High Rise Exhibitionist. For guaranteed pleasure, enjoy any of the many nude beach videos available on the site. My personal favorite feature on the site is the "Top-Rated This Year" tab. Which is full of home run scenes and films. It's hard to go wrong with this high-quality site packed with diverse performers and breathtaking videos.
---
---
---