YouTube updates thumbnails and adds the ability to hide items in your subscription feed, but many users still aren't happy with the "Highlights" feature.
If you weren't sure if the folks at YouTube heard your complaints about previous updates, they certainly have now.
However, some YouTubers are still not satisfied with the newest updates introduced to the YouTube homepage on Wednesday.
"Today we're rolling out some updates to your homepage feed to provide an even better viewing experience," YouTube Production Manager Kurt Wilms wrote on the YouTube Creators Blog. "Most of these changes are a result of the feedback you've given us."
The biggest change you'll notice on the YouTube homepage—quite literally—is the thumbnails under your Subscriptions.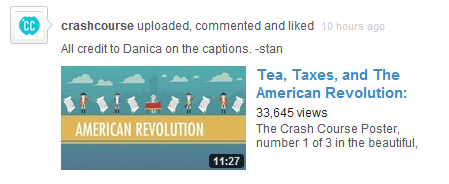 The thumbnails now have a higher quality, and if you weren't sure what the latest DeStorm video was about just from the title and image, thumbnails now include a small description from the video.
If your subscription feed is clogged by likes, favorites and comments, you also have the option to hide that activity—a feature that should be familiar to anyone with a Facebook account. If you hover on the page a gray arrow will appear. Once you click it you can hide that specific activity, choose to only view uploads or unsubscribe from that person entirely.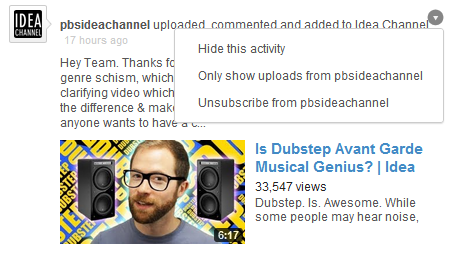 If you're trying to watch every episode of a web series or video blog but can't keep track of what you've watched, YouTube has made that easier. Videos you've watched will appear grayed in your feed and will have a bar on the top of the thumbnail that says "watched."

The only downside is that if you click on that video and end up not watching it, YouTube will still mark that video as though you watched it.
Many YouTubers have complained about the Highlights feature in the past, but Wilms explained that the amount of views on the site have actually improved since it was implemented and suggested that you can switch the view on a channel to "Everything."
"We are continuing to build features to make it easy to know when your subscriptions have new content, so watch out for more improvements in the future," Wilms explained.
Many don't like the update, and while some maintain a "if it ain't broke, don't fix it" philosophy, others still aren't thrilled with the Highlights section.
"An improvement on rubbish is hardly an improvement at all," L.Saul wrote. "We want the old layout back where you can actually see what your subscriptions have uploaded over the past few weeks."
"I recommend you get rid of the highlight option overall so people can view the homepage for everything automatically," Callum Thorpe said.
As a content creator, Olli Hull is happy that YouTube is constantly trying to improve their homepage.
"I would love to see things made easier for the users," he said. "They shouldn't have to go looking for my last three videos."
Only time will tell how well viewers take the updates as they're rolled out to more accounts, but no matter what update is implemented, it won't please everyone.
Photo by Spencer E Holtaway
Pure, uncut internet. Straight to your inbox.