Coming off the adrenaline rush of its CES road show, Yahoo is wasting no time implementing its new wave of Tumblr advertising schemes.
Now when you log into Tumblr, you'll see that there are two options in the search bar: you can search Tumblr, or you can search the Web. Tumblr used to just keep you within the confines of Tumblr because, you know, you went through all the trouble to put tumblr.com into your search bar or hit your bookmarks tab. It was thusly assumed that you wanted to go to Tumblr and not one of the many search options the Internet provides.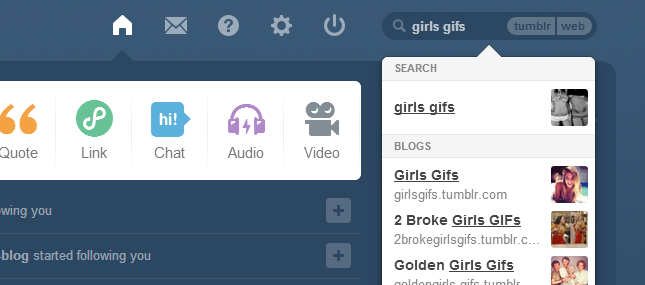 But no harm no foul, right? What's the problem with having more options? In the spirit of trying new things, I'm going to try to search for something I would normally look for on Tumblr: Girls GIFs.
These are the Tumblr results, which you're probably familiar with (that now come with that ad in the lower right-hand corner; not a surprise post Yahoo acquisition, of course).
Now these are the Web results.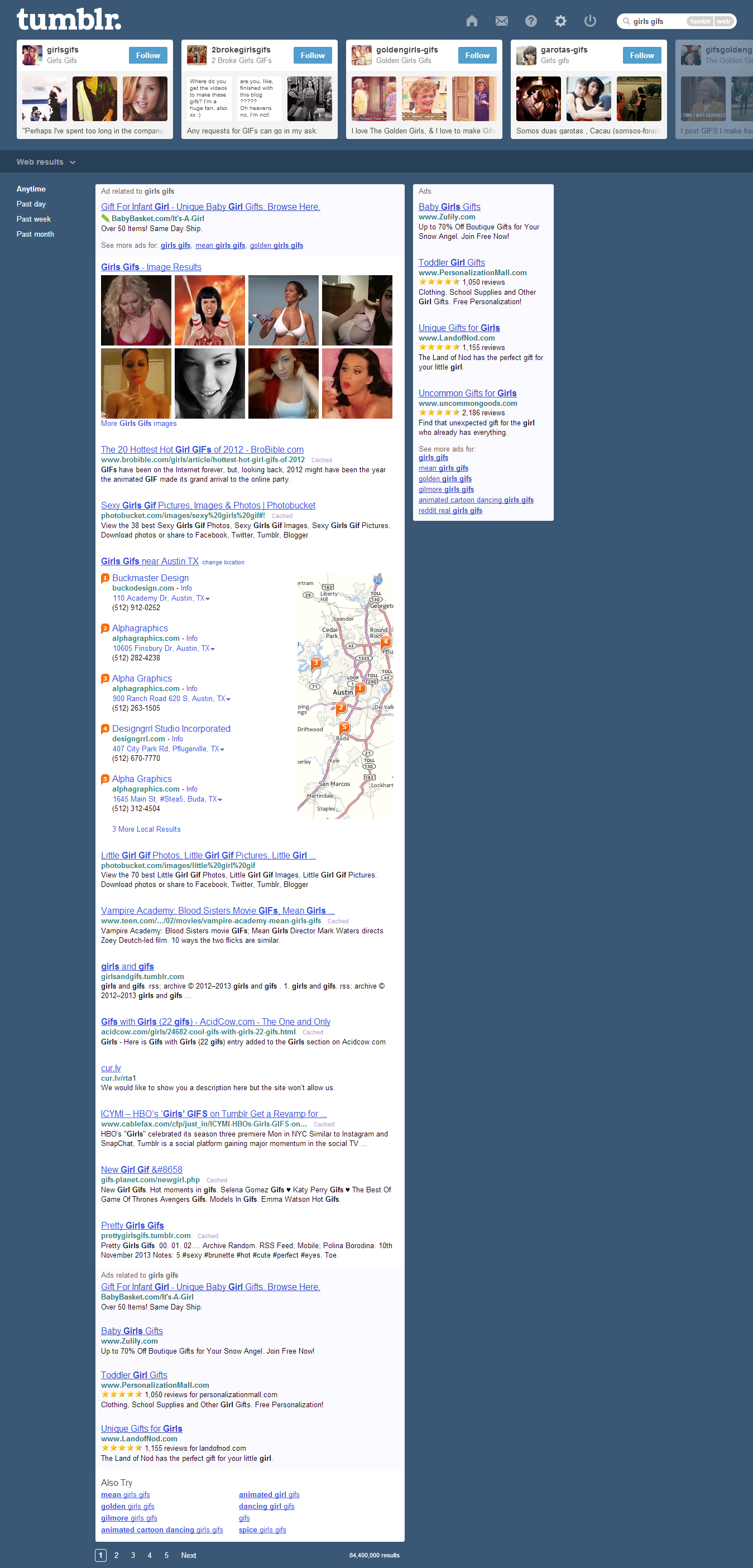 Welcome to Marketing Mecca!
A full right-hand sidebar, a top banner placement, a maps-generated in-column space (which directs you to Yahoo's maps feature, though without bouncing you outside Tumblr), some ratings for business you were perhaps looking for, and a couple more in-bar ads.
The Web search is provided by Bing, but also heavily promotes Yahoo products, like Maps and Local. In response to my questions about the new feature and what service it's providing, a Tumblr rep tells me that "Related keyword ads in Tumblr search is another step we're taking to continue to grow our business within our search product offering."
None of the results provide the thing I was actually looking for, of course. I would never go into the search ether with something as vague as "Girls GIFs," because I know the Tumblr community is so tailored that I can type this specific phrase and find Lena Dunham in all her wide-eyed glory. With the Web component, I get what you're looking at above.
No, Tumblr Web search. I was not looking for a Gift For Infant Girl. No one on Tumblr is ever searching for that. 

Photo via ETC-USC/Flickr