Wendy's recently teamed up with DoorDash to create the "Biggie Power Hour" allowing customers to get a massive discount when they place an order through the delivery service app between 6 to 7pm ET.
Customers had to spend at least $12 and use the promo code "BIGGIE" when placing their orders and they'd receive up to $30 off of their meal. This meant that customers could get up to $30 in free food and DoorDash fees: all patrons had to front were taxes and driver tips.
This, unsurprisingly, led to pandemonium at some Wendy's restaurants, with TikTokers recording some of the chaos that ensued as a result of the promotion.
Now, a Wendy's customer says that they followed all of the stipulations of the promotion, but ultimately had her order canceled despite placing her order at almost exactly 6pm.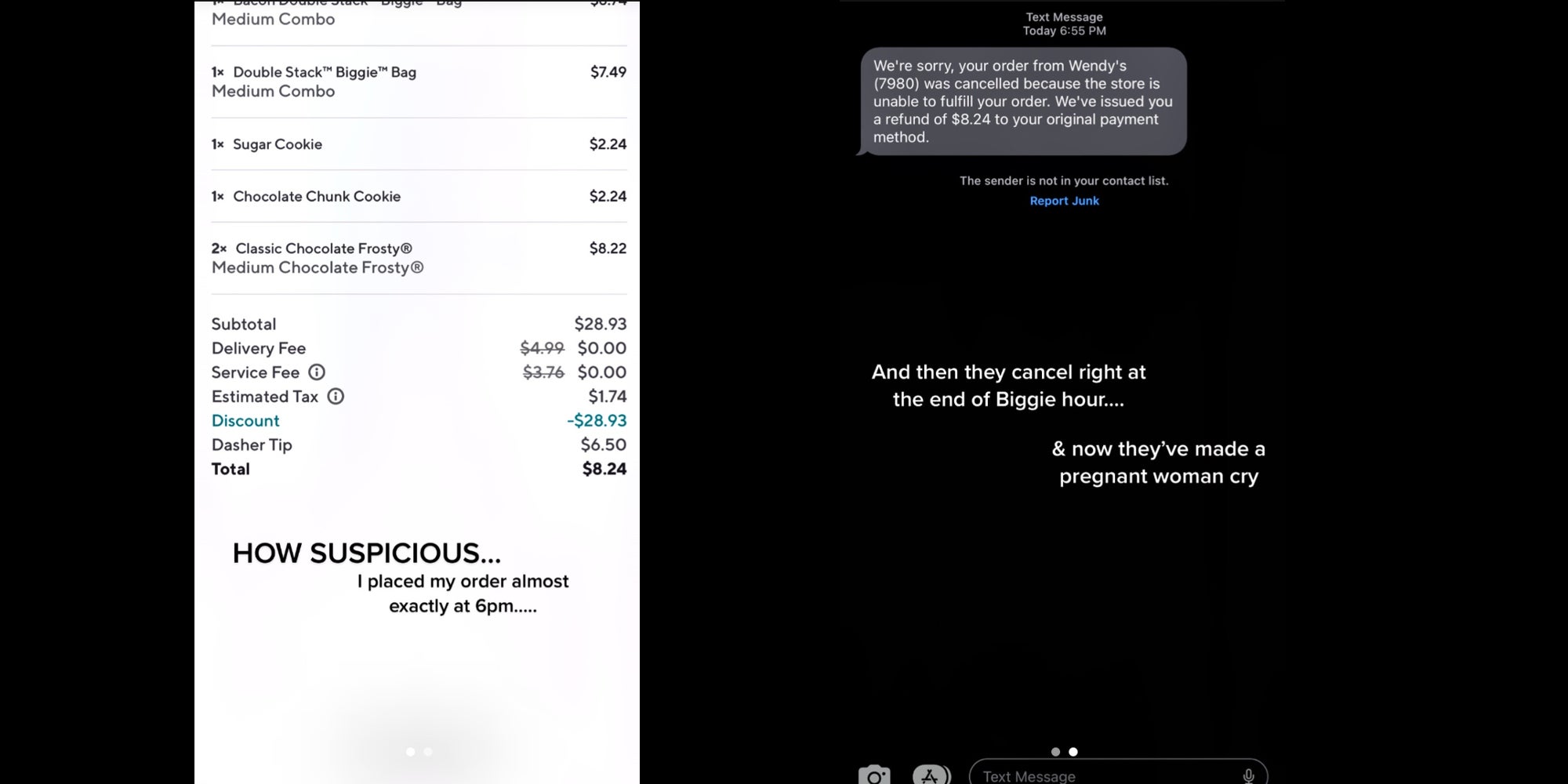 In the clip, Jacque (@jacilyque) provides two screenshots: one is of the Wendy's order that she placed through the DoorDash app that shows her order has been successfully completed. She orders two Biggie Bags, one with a bacon double cheeseburger and the other with a double cheeseburger. She also added two medium chocolate Frosties, a sugar cookie, and a chocolate chip cookie.
Jacque showed off the $28.93 discount that was taken off of her order, so all she was on the hook for was $1.74, along with the $6.50 tip she left for the DoorDash delivery driver.
However, the second image in Jacque's video reads that the restaurant ended up canceling her order "right at the end of Biggie hour."
The TikToker says she was experiencing a pregnancy craving and seeing that her discounted home-delivered food order was canceled "made her cry," while adding in a caption for the clip that the Biggie Bag promotion "is a scam."
Users who responded to her video had different experiences with the Biggie Bag promotion. One user wrote, "I got mine."
Another said they had an identical experience to Jacque's, sharing, "same I tried like 2000 times and when it finally went through my wendys also canceled," before adding, "lol I don't blame them."
The latter part of her comment was a sentiment that other users on the platform commiserated with. Chaotic footage online showed Wendy's workers struggling to fulfill the deluge of Biggie Bag DoorDash orders. The videos highlighted just a snippet of the amount of food they were trying to make and send out in such a narrow window of time.
"You should see the videos from inside wendys when the deal was out," one TikToker wrote.
Another penned, "It's not a scam lmao. Everyone was ordering it. Too many orders."
The Daily Dot reached out to DoorDash for further comment on this customer's experience, and a rep stated in an email that the Biggie promotion received a tremendous response from customers.
They attributed the cancellation to a temporary issue with the DoorDash application on Friday, Mar. 31, but that the issue has since been resolved.
"Due to an overwhelming interest in a Wendy's promotion in partnership with DoorDash, we briefly experienced issues with the DoorDash platform on Friday," the statement read. "We resolved this as quickly as possible and are taking steps to ensure this does not happen again. We sincerely apologize for any inconvenience caused by this. Customers who placed an order and paid the full amount because the promo did not successfully apply will receive a refund for the amount they were overcharged."
The Daily Dot has also reached out to Jacque and Wendy's via email for further comment.

We crawl the web so you don't have to.
Sign up for the Daily Dot newsletter to get the best and worst of the internet in your inbox every day.