The eruption of Mt. Tavurvur in Papua New Guinea on Aug. 29 went unnoticed by most of us at the time; after all, as one of the most active volcanoes in Papua New Guinea, it's erupted three times since 1994.
But these tourists found out that an active volcano is as terrifying as one that can lie dormant for centuries. YouTuber Phil McNamara shot this remarkable video just off the coast of New Britain, where Tavurvur holds its fiery domain.
From their vantage point in the Bismarck Sea, the astonished tourists watch as the top half of Tavurvur completely implodes—with an enormous sonic boom following seconds later.
Though Tavurvur may seem like little more than an amazing spectacle when viewed from the relative safety of a boat and a camera lens, this volcano is nothing to mock. Formed out of the collapsed crater of an even bigger volcano, it killed hundreds of people in an eruption in 1937, and almost wiped out the nearby town of Rabaul in 1994, when its infrastructure collapsed under the weight of volcanic ash. Check out the Daily Mail for a series of stunning photos of life in Rabaul post-eruption.
NASA showed just how intense the ash from the most recent eruption was with a side-by-side comparison of what the area around Rabaul looked like before and after last week's eruption.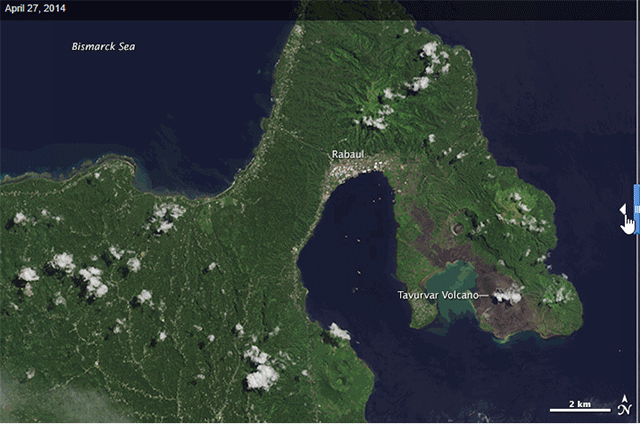 GIF via NASA
What makes all of this even more sobering is that Tavurvur isn't even a particularly large volcano. But don't worry—no one was hurt in the eruption, though residents of some nearby communities were evacuated.
McNamara, a taxi driver from Townsville, Australia, told the Brisbane Times that he and his touring party had "absolutely crapped themselves" when the sonic boom hit.
Sounds about right to us.
Screengrab via bacobjee/YouTube