Aside from an occasional delay in sharing Vines to Twitter, Vine has worked swimmingly for many of its users so far. But the video-sharing app appeared to be struggling midday Tuesday.
Instead of being able to flick through Vines and catch up on all the porn and weed the world is sharing, many users experienced a service outage.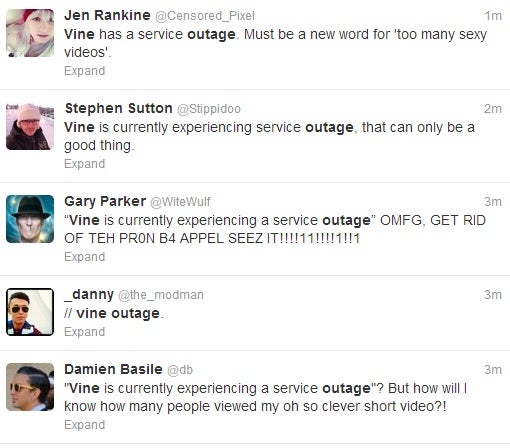 While the top post section was still viewable, a message noted that "most functionality will be disabled until service is restored."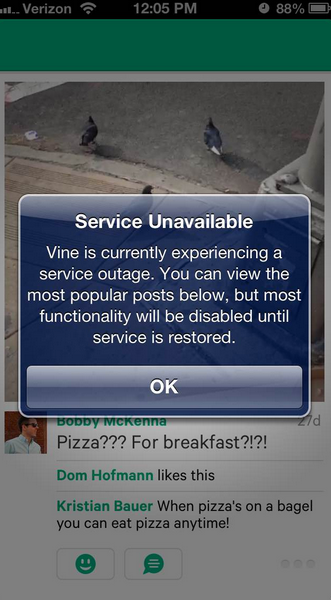 That's hardly as cute as Twitter's Fail Whale, is it?
As fascinating as Vine is, it hasn't had its troubles to seek as it emerges from the seed state to a massive botanic entity (forgive that metaphor). It has several functional issues to address before it can really sing, while a porn clip showed up in the Editor's Picks section.
If Vine is down for you and you're panicking for something to do in the meantime, relax. Here are five things you can do to pass the time:
1) Watch these astonishing YouTube videos from concernedmom420.
2) Get hypnotized by this real-time visualization of tweets from around the world.
3) Make your voice heard if you're pissed about Tumblr's design changes.
4) Get some work/studying done. The sensible option isn't always the funnest, mind.
5) Go back to Instagram for a while. It's OK, people are still sharing things they eat there as well.
Photo by Scientific Quilter/Flickr, screenshot by Jordan Valinsky