User profiles can now have a dominant image, much like the Facebook cover photo.
Twitter's CEO, Dick Costolo, revealed a new look for Twitter profiles during NBC's Today show Tuesday morning.
It has a Facebook-cover-style large photo, with a greater emphasis on images. A user's regular avatar, along with bio, location, and website link, are overlaid on top of the profile header.
Twitter's iPad app has also been redesigned and is being made available Tuesday. Here's a peek at the new profile: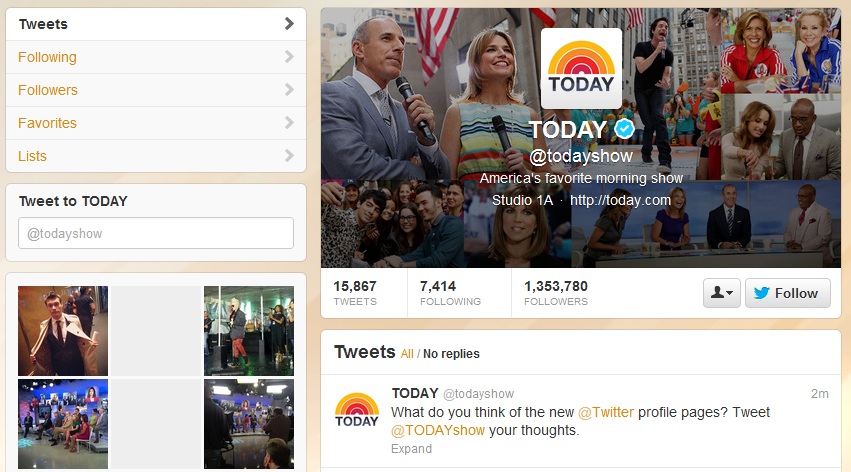 In a blog post, Twitter Product Manager Sung Hu Kim wrote:
Express yourself by adding a beautiful new header photo to your new profile. It appears consistently above your Tweets on iPad, mobile apps and twitter.com, and you can change it anytime. You can also remember the moments you've shared on Twitter by swiping through your photo stream on your profile or tapping photos to go fullscreen.
Much like Facebook did with its Timeline profile, Twitter will automatically switch everyone over to the new profile over the coming months, though you'll be able to access it starting today.
The new-look iPad app places greater focus on expanded tweets (which are clickable to display photos, videos, and previews of news articles), your conversations with others, and the Discover section (which aims to let you find news and content are relevant to you and new accounts to follow.
In a brief interview, Costolo said the main point of Twitter is that it "brings you closer."
When asked about what kinds of tweets he gets, he said, "In a global conversation, you get global feedback."
Costolo added that the company gets a lot of complaints about languages that aren't supported. He also touched on Twitter's place in the presidential election, saying the community provides real-time feedback.
Reactions to the announcement were mixed.
"It's really beautiful this design ! wow!" @sebzboutet commented on the new design.
On the other hand, Erica McClenny tweeted she was "a little let down…did it really need a @todayshow announcement?"
Today teased the announcement with a cryptic tweet Monday afternoon, which had some joking that NBC was buying Twitter "so no one can tweet spoilers at the next Olympics."
Photo via @LoobeyLoo/Twitter
Pure, uncut internet. Straight to your inbox.