Like that part of a Skrillex song when things just get craaaaaazy, Twitter is set to drop its dedicated music app sometime this weekend.
The app provides personalized suggestions to users based on a number of factors, including the Twitter accounts they follow. It lets users check out clips of songs via services like Soundcloud and iTunes, and watch videos through Vevo.
While it was initially reported the app was to hit the App Store today, it may happen later over the next couple of days as the Coachella festival in California takes place. 
Twitter apparently bought We Are Hunted, a service which "tracks the world's 99 most popular emerging songs on the social Web in real-time," last year. It has only just got around to confirming the purchase, and the team behind that has seemingly been working on the new app.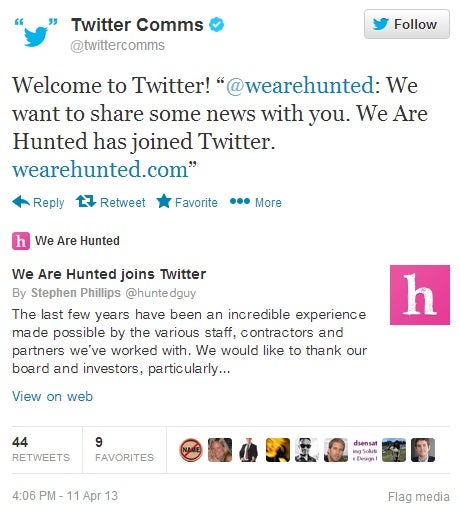 The app's already out in the open, to a certain degree. Ryan Seacrest annoyingly humblebragged about being one of the first to use it before its public debut.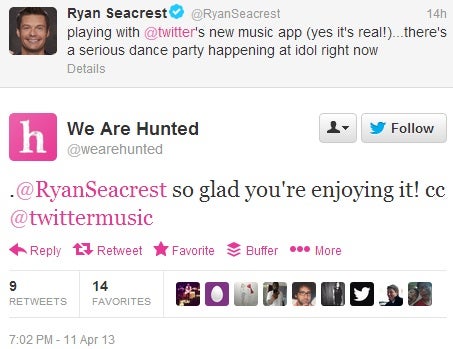 It's Twitter's latest move to expand its empire beyond the constraints of a 140-character burst of wit or knowledge. Over the last couple of years, it's added native photo-sharing abilities and more context to links in expanded tweets. More recently, it debuted video-sharing app Vine. 
To what end do we really need a Twitter music app, though? Vine is a logical move since it, like Twitter, is about creating and sharing bite-sized media. On the surface, the music app seems to be all about consumption.
There's more music services-with-a-social-slant out there than you can shake a rhythm stick at. Spotify has playlist sharing. Pandora creates radio stations on the fly based on your tastes.
If the app's all about discover and consumption, it'll have to bring something new to the table for it to really take off, even more so than using your Twitter social graph to find music you might be interested in. We'll give Twitter the preemptive benefit of the doubt: Vine is pretty terrific after all. We're just hoping whatever it brings to the turntable will raise the bar for music apps. To 11.
Photo by Mr. iMaax/Flickr