Sepp Blatter, president of soccer's global governing body, FIFA, has long been linked with corruption and bribery at the sport's highest table. On Monday, it appeared as though he was admitting to taking bribes himself.
But Blatter's Twitter account, along with that of the FIFA World Cup, had been compromised by the Syrian Electronic Army (SEA).
The SEA used the accounts to accuse Blatter of accepting a bribe from Qatar to host the 2022 FIFA World Cup in that country. The SEA, a group loyal to Syria's ruling Assad regime, suggested Blatter was stepping down to be replaced by Prince Ali Bin Al Hussein of Jordan. It added a sarcastic crack that a future World Cup will be held in Jordan.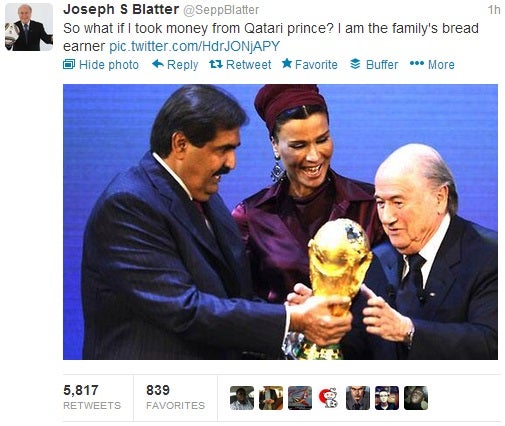 It was only after those tweets that those responsible for the attack on Blatter took responsibility.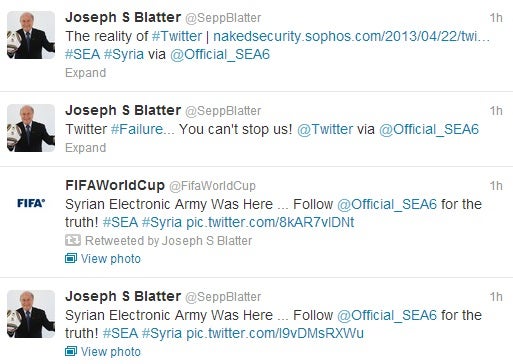 The SEA recently targeted the Qatar Foundation, a non-profit which receives much of its funding from the Qatar government. Earlier this year, the country sent $100 million in aid to Syrian rebels. It also recognized the Syrian resistance as that country's legitimate government. But the foundation only has 60,000 followers. Attacking Blatter and FIFA, whose verified accounts have more than 500,000 followers between them, may have been a more effective means of drawing attention to the SEA's feud with Qatar.
The Syrian civil war has claimed more than 70,000 lives, according to the United Nations.
The SEA has most famously targeted the Twitter and Facebook accounts of media outlets such as Al Jazeera, France 24, BBC Weather, NPR, and, just this weekend, CBS News. It accused many of those of presenting news coverage in favor of rebels.
Twitter responded by suspending the SEA's own official Twitter account Monday, but a new one popped up just before the group took over Blatter and FIFA's accounts.
In November, an investigation started into corruption allegations regarding Qatar's successful bid to host the World Cup. But with FIFA itself carrying out the investigation, the SEA might again be able to levy accusations of bias against a powerful organization.
Photo via @SeppBlatter/Twitter