One of humankind's best examples of science intersecting with art has disappeared from the Internet, and it's due to a copyright agreement.
On Tuesday, retired Canadian astronaut Chris Hadfield sounded the alarm that his now-famous rendition of David Bowie's "Space Oddity," recorded within the International Space Station, will be taken down from YouTube because the video was only licensed for one year. The video has amassed more than 22 million views since being posted on May 12, 2013.
Hadfield, who has become a celebrity largely due to his considerable Internet savvy, posted about the video's impending removal to his millions of social media followers on Twitter, Facebook, Google+, and Reddit, and in doing so, sparked an outcry from the denizens of the Internet to save the video. 
On Reddit, Hadfield explained that his team was "working on renewing the license" for the video, but that "there are no guarantees when it comes to videos shot in space."
Fans of the video responded to the news by flooding Bowie's Facebook page and Twitter feed with pleas to extend the license.
Hey @DavidBowieReal PLEASE allow @Cmdr_Hadfield's Space Oddity to stay online, its a global inspiration to millions! https://t.co/vAjLFcxyDQ

— Caroline McGregor (@carolinemcgrgr) May 13, 2014
Hadfield's post was upvoted into the top three on the front page of Reddit, and the video controversy cracked the top 10 trending subjects on Facebook. The following graph shows a spike in people tweeting at Bowie's official account on Tuesday.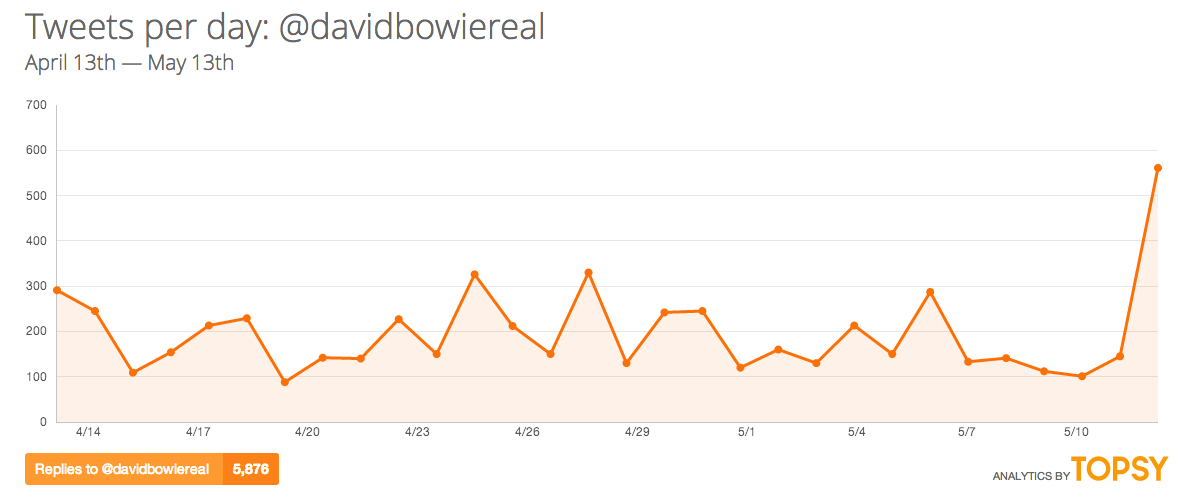 It is not clear what's impeding the deal to extend the license. Neither party has spoken about an agreement directly. As of publishing time, inquiries sent to Bowie's public relations agency have gone unanswered.
Though he was not explicitly lobbying for public support, some have suggested that Hadfield's posting was a subtle yet well-crafted call to action.

With the video's fate up in the air, there's no better time to enjoy it. It could potentially be the last time. 
Update: The video is now gone. But here's the YouTube embed, just in case it comes back. Perhaps Major Tom and Ground Control will connect once more.
Photo via Chris Hadfield/YouTube