Tech

Tech

The gadgets, platforms, and software that make your digital life possible. If it bleeps, clicks or blinks, you'll find it here.

Internet Culture

Internet Culture

There's a community for everyone online.

Streaming

Streaming

News, reviews, and guides for the world of online entertainment.
Reply girls return: YouTube's attempts to stop suggestive spam have failed
Tittiepocalypse is back. With a vengeance.
The reply girls are back.  
Old hands and newcomers alike are cleverly using tags and breasts to spam YouTube again, suggesting the Google-owned site's attempts to arrest the broadly disapproved practice have failed.
A number of YouTube users caused a ruckus on the site earlier this year by replying to popular videos with spammy responses. Using the site's tags and featuring aggressive cleavage allowed otherwise content-free videos to dominate related video queues. The practice, intended to generate advertising revenue for the reply girls, upset a lot of YouTubers at the time, and the reply girls' return is sure to be highly unpopular.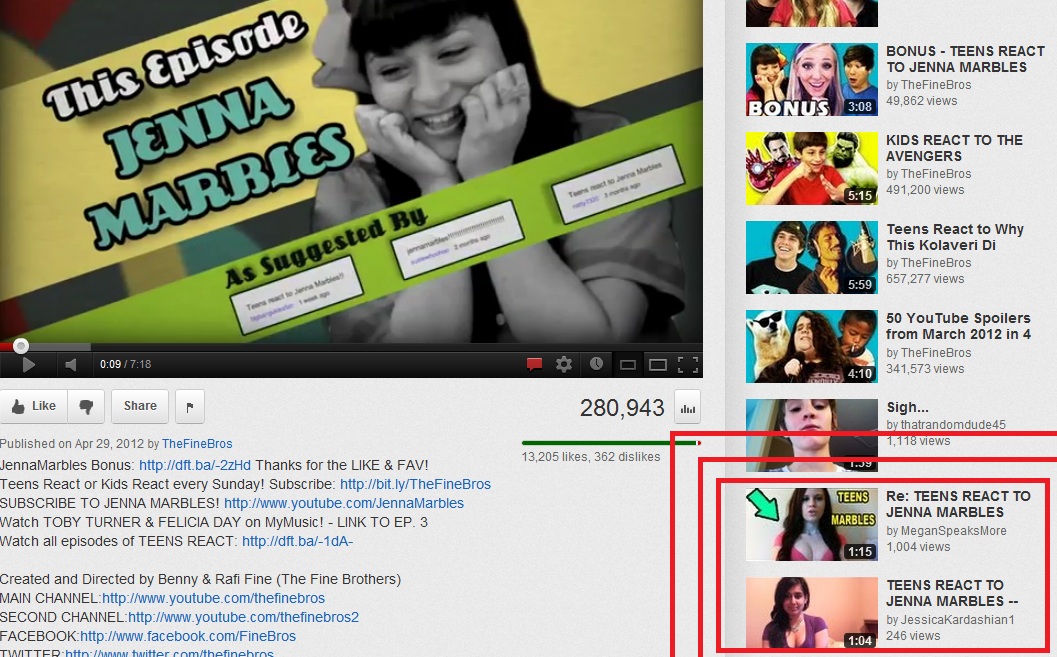 YouTube responded to the community's rage in mid-March, updating the related-video algorithm in order to combat the reply girl problem. YouTube also labeled the reply girls' videos as "spam." The new algorithm was supposed to suggest videos that contributed to "a longer overall viewing session rather than how many clicks an individual video receive[d]."
The new algorithm doesn't appear to be working. While Alejandra Gaitan, a.k.a. thereplygirl, is having a hard time getting her reply videos noticed, other reply girls are not.
The two reply girls—and their ample, in-focus bosoms—currently showing up on trending videos are Megan Lee Heart and a two-week-old newcomer who calls herself "Jessica Kardashian." Both women say their channels are "parody" or "mockery," but those justifications did little to placate the YouTube community previously.   
Heart, for those unfamiliar, was the one of the original reply girls and claimed her video responses were a year-long troll. In the wake of the reply girl controversy (and other conflicts with YouTubers), Heart said she was taking a YouTube hiatus through the end of the semester, which she appears to have already broken. When contacted directly about her return, Heart refused to comment. Kardashian has yet to respond.
As Gaitan explained, the other reply girls are still appearing on the sidebar of popular videos because they are still manipulating YouTube's video tagging system.  
Heart, and now Jessica Kardashian, are "spam tagging": They "copy the title of the video more than once,"—many times more, in fact—in the videos' tags.  
Gaitan says she has opted out of "spam tagging" because she does not want to get kicked off YouTube:
"In the end, I think it's not worth it, because you will end up losing more."
Gaitan started the first reply girl channel as a way to get above the poverty line, but she has described her current economic status as a reply girl as "comfortably middle class."
According to Gaitain, YouTube gives notices to members violating tag rules, and once you get two strikes, "you will be forced to close your account."
Photos via YouTube
Fruzsina Eördögh was the Daily Dot's first YouTube reporter. In addition to working as a producer for the now-defunct digital channel TouchVision TV, Eördögh has been published by Vice, the Christian Science Monitor, the Guardian, Variety, and Slate.
© The Daily Dot, all rights reserved.
Represented by Complex Media, Inc. for advertising sales.