Reddit users have once again carried out their own brand of mob justice, this time making a Louisville, Ky., organization that dissuades women from having abortions the focus of its ire.
On Monday evening, redditor whatthefax submitted two images to r/WTF with the title "Fake abortion clinic in Louisville, KY– How is this legal?" The first was a photograph taken from afar of A Woman's Choice Resource Center, seen below.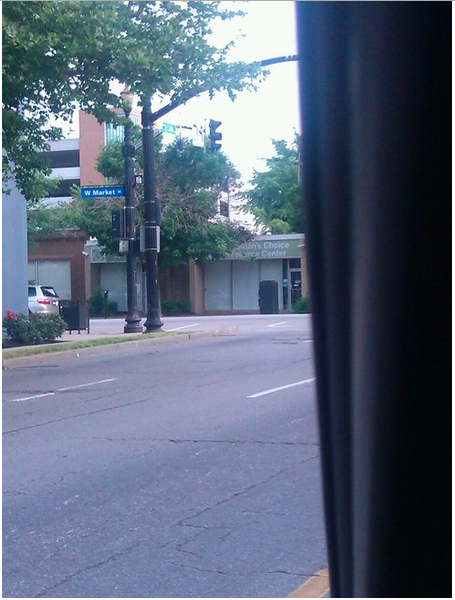 Photo via whatthefax/Reddit
Also on that Imgur link was a text image that explains how the nonprofit organization tricks unsuspecting pregnant women considering abortion into thinking they are at the correct location. Once inside, staffers allegedly force them to listen to a lecture on the evils of abortion. 
"There is no 'choice' at the Louisville 'Women's Choice' clinics," the image reads.  
"Just abuse, shame, and bigots who would rather undress a woman to make her feel vulnerable and then explain how awful of a person she is than let her make HER. Choice."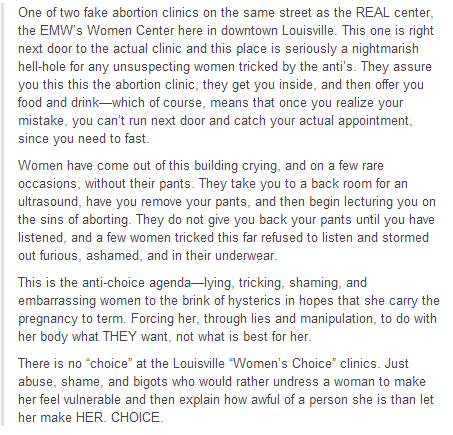 Photo via whatthefax/Reddit
The post received nearly 2,100 karma points, and was subsequently shared in other subreddits including r/rage and r/feminism. 
It has also collected 2,237 comments. While some of these express incredulous anger, a good portion of them opine on the legality of these alleged practices. Others advocate for extreme action against A Woman's Choice Resource Center.
"Burn it with the employees in it," suggested Pharakan_Space. "Set up a FAKE burn center outside and procede to lecture the victims on the sins of lying."
The anger against A Woman's Choice Resource Center naturally spread to the organization's Facebook page, where multiple redditors let their feelings be known.
"If even a quarter of this is true, you people can go straight to Hell," wrote Brandon Wyatt Martin, including a link to the original Imgur posting.
"It's amazing you haven't [been] shut down yet, you criminals." 
"Sick freaks… humiliating women to push your agenda is evil" added Courtney Ryan Dupre.
"What is the difference between anti-choice and this resource center," a Facebook user by the name of Bigblack Boykins rhetorically asked. "False imprisonment, sexual harassment, sexual assault, harassment." 
Unsurprisingly, A Woman's Choice Resource Center addressed the accusations that stemmed from Reddit with a Facebook post:
"For anyone lured by the falsehoods recently posted in a Tumblr miniblog [sic] about us, remember that old adage: you can't believe everything you read."
"If that post had a shred of truth, the police would be more than willing to investigate, because they come around the neighborhood on a regular basis. We have security video on the sidewalk and so does the abortion clinic next door. We know it is fun to perpetuate the false beliefs held by those who don't like us, but it doesn't really do anyone any good."
While redditors do have a point—the name of the organization does suggest that they're pro-choice, after all—this is yet another example of them believing one side of an argument and choosing to wield their pitchforks against the other. This isn't a new occurrence, of course. In March 2013, users of the social news site rallied against developer evangelist Adria Richards for exposing two men who were making sexual jokes at a conference. Richards was eventually fired because of the incident.
In that same month, Redditors angrily protested a woman who launched a Kickstarter campaign so that her daughter could go to coding camp and build her own role playing game. 
H/T @RyanPBroderick | Photo via whatthefax/Reddit