After having his car totaled and his back "pretzled" at a stop light, a Reddit user turned to the community to help find the alleged perpetrator. The driver has now been charged. 
A Reddit user was stopped at a red light when someone rear-ended him and drove off. His 2000 Buick LeSabre was busted, his back was "pretzled," and he had no idea how to find the person who hit him.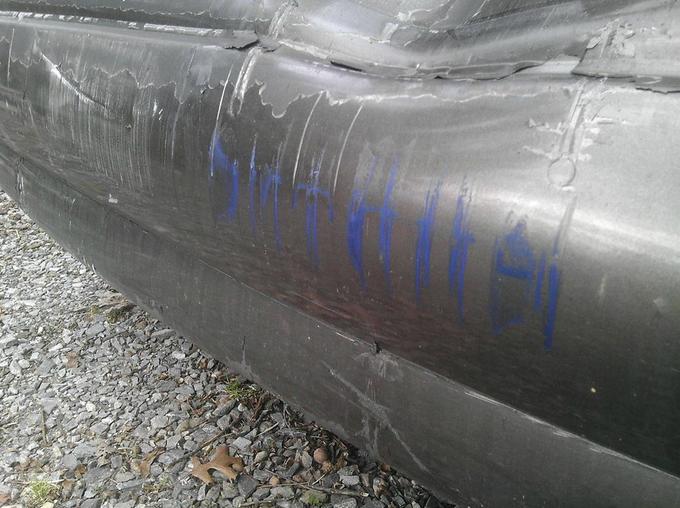 Thanks to a few Reddit sleuths, the perpetrator's license plate was deciphered last month using the marks left on the LeSabre. (The photos have been viewed more than 5.6 million times.)
And now the driver is being brought to justice.
"I just looked up the guy's name in the court website and found out that he's got a hearing coming up on the 14th. He was charged with 'Failure to Stop / Accident – MISD,'" wrote LeSabre owner and redditor BunsofAluminum late Wednesday night. "It says that it should be a Class 5 Felony. … punishable by a jail term of 1 to 10 years, or up to a year in jail and/or up to $2,500 in fines."
Since the accident BunsofAluminum has been working with Geico to get repairs made to the car and to sort out his medical bills. With no usable vehicle, he's had to share "a van with my wife and three kids, which is a pain when you need to get to work early," BunsofAluminum wrote.
But now everything seems to be picking up. BunsofAluminum finally got a rental car from Geico and has been told they will cover all his medical costs when treatment is completed. Geico totaled-out his LeSabre and offered to give him $2,800 for it.
"I'm not a car guy, but I remember him saying something along the lines of the 'rails' being warped and the quarterpanels being bowed out and some other things," he wrote. "They were just looking at body damage and it was over the value of the car (it's not counting the mechanical damage that was done). I have until Friday to determine if I want to accept the offer for the title."
BunsofAluminum's update shot to the top of Reddit's front page where more than 1,700 people told him to consult a lawyer, to press Geico for more cash, and how to get a cheap replacement vehicle.
BunsofAluminim is still deciding what he will do. But in the meantime, he's grateful to be alive.
"Still, it was exciting to hunt down the offender and at least get him to be held accountable for his prevarications and douchebaggery," he wrote. "Thank you for all of the help, reddit!"
Photos via Imgur
Pure, uncut internet. Straight to your inbox.