All 9-year-old Mackenzie Wilson needed was $829 so she could learn how to build her own role-playing game. But thanks to a Kickstarter campaign filled with cute kid talk, a tweet from a well-known game designer, and some positive press, Wilson raised more than $21,000 from 1,149 backers.
All that attention also inspired Reddit to raise its pitchforks in anger after the community discovered that Wilson's mother Susan is a self-proclaimed multimillionaire who once unsuccessfully tried to raise $20,000 on Kickstarter for capes and $10,000 on Indiegogo for a case that holds your phone, key, and credit cards. 
"Everyone please go to this [Kickstarter] page and report it," BassEXE commented on Reddit. "This is ridiculous and a scam, plain and simple."
The original Reddit post was made by Bro-jangles, who provided a detailed background of Susan Wilson's business dealings, Twitter habits, and media persona to try and prove how the Kickstarter project is a scam. Update: Gawker's Adrian Chen points out that the discussion originated on Reddit's men's rights hub and 4chan.
In 1998, Susan Wilson was a founding member and the executive vice president of a technology startup called liveprint.com. Between 1998 and 2000, liveprint.com "went on to become kinkos.com and was eventually sold to Kinko's in 2000" for $100 million, Wilson wrote on her blog. 
Wilson founded The Judgment Group in 2004 as an organization that works to make sure money judgments are paid. It is unclear how involved she is with the company today.
Wilson is also the founder and CEO of FundHer, a new organization which gives out scholarships "ranging from $500 to $5,000 directly to women to start and grow businesses." She's also an Entrepreneur in Residence at Georgetown University who was named one of Fortune magazine's Top 10 Most Powerful Female Entrepreneurs in 2009. 
Bro-jangles's Reddit post has since collected more than 1,000 comments from redditors urging the community to report the Kickstarter project for "exploiting her daughter and the feelings of the backers." One redditor has also created a fictitious Kickstarter campaign using Susan's name called "43 Year Old Using Kickstarter Scam to Prove People are Dumb!"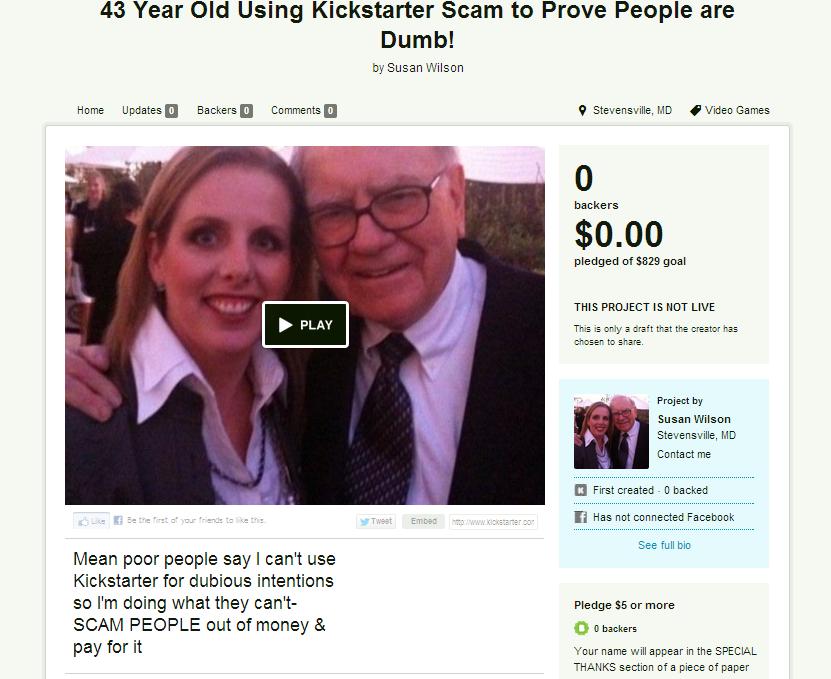 In an effort to grab Susan's attention, redditors have flooded the Kickstarter project's comments section with similar complaints.
"This is quite clearly a scam and Kickstarter abuse," Henrik commented on Kickstarter. "I'm all for women in game development and tech but supporting a (wealthy) mother begging for money for her NINE YEAR OLD CHILD is not the way to go about it. In fact, it is detrimental to the cause."
Allegations of scamming aside, one Kickstarter abuse Susan is guilty of is sending "unsolicited @-replies on Twitter" with links to the project. Susan has tweeted the likes of Ellen DeGeneres, Lady Gaga, Yahoo! CEO Marissa Mayer, and more than a dozen others.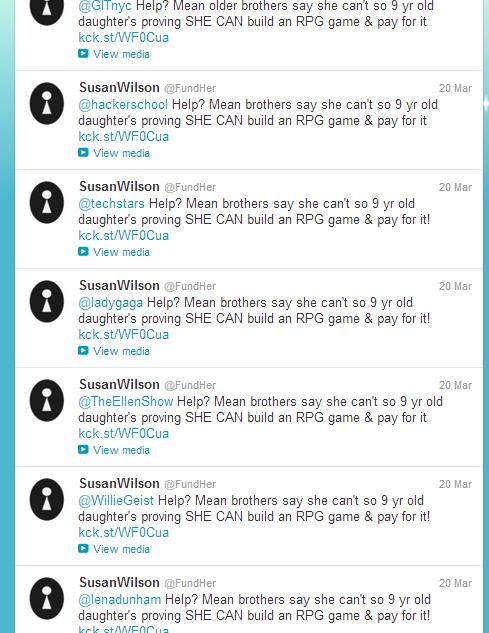 Furthermore, Kickstarter's guidelines prohibit "fund my life" campaigns that pay for tuition or go toward items like a new camera; the Wilson campaign sought $829 for summer camp tuition and "my Mom said I can put any extra toward a laptop."
Susan responded to some of the criticism Sunday afternoon. Regarding the project in general, Susan states that "Kickstarter reviewed and approved it and just let us know again how much they believe in it."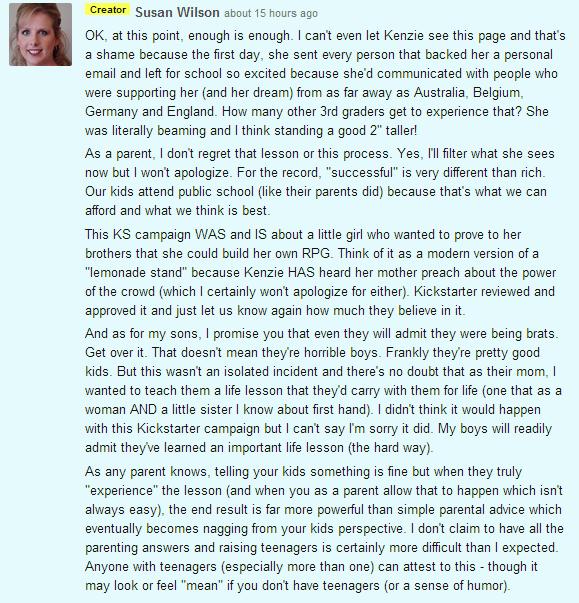 The Daily Dot has reached out to Susan Wilson for further comment.
Photo via Kickstarter