It's been only a few months since Reddit opened the floor to rapists and their stories. But the most recent Reddit disclosure may have upped the ante on unconventional confessionals—by using a cuddly picture of a bear to fess up to a grisly murder.
Late Saturday night, a user named Naratto posted a thread to Reddit's meme-loving AdviceAnimals subforum. "Finally have the guts to say it," read the thread title, which linked to a version of a popular image macro meme known as Confession Bear.
Many uses of Confession Bear are mild and often quite obviously false. This one, however, instantly divided the forum.
Was the thread-starter aiming for karma? Or had he just made the second-biggest mistake of his life?
"My sister had an abusive meth addict boyfriend," read the confession. "I killed him with his own drugs while he was unconscious and they ruled it as an overdose."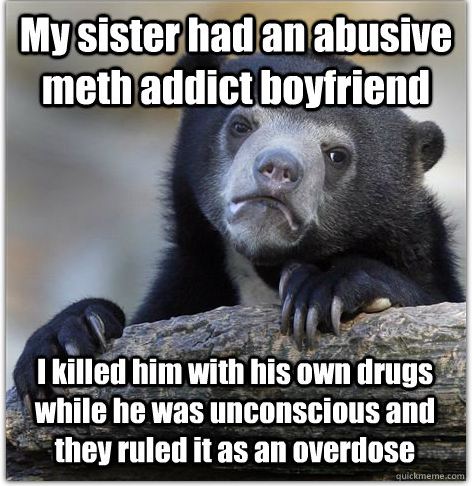 Photo via Quickmeme
As murder confessions go, it was fairly innocuous and unprovable, and the fact that it was made using Naratto's actual Reddit account, rather than a "throwaway" with no ties back to his previous posts or other personal details, made many people skeptical. Within moments of his posting, redditors, in now-deleted comments, unearthed "everything from name, DOB, jobs, location, FB, Twitter, Myspace, the whole deal," and debated began over whether his confession was serious enough to warrant reporting to authorities. 
Still, although most redditors just discussed the similarities between the confession and Dexter or Breaking Bad, others wondered whether Reddit could track your IP (it can), and whether any evidence would remain if the original poster were investigated. Redditors allegedly reported all available details of Naratto's confession, including his real name, to the FBI's tips website.
Alarmed, and perhaps realizing that this would not be the liberating experience he'd hoped for, Naratto made his only comment, now deleted, protesting that it was all a joke.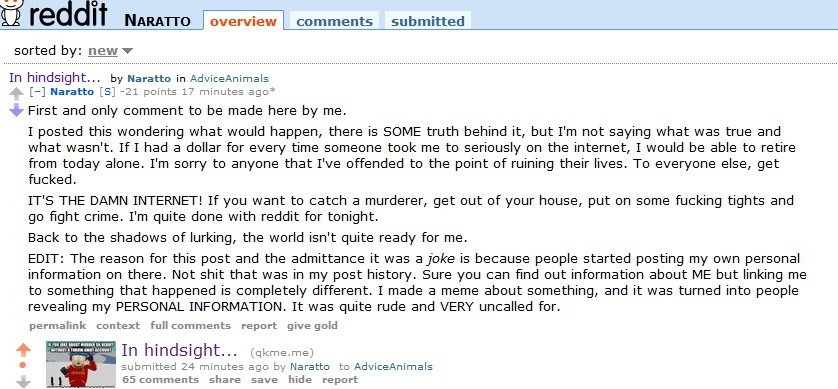 He also attempted to laugh it off with a second image macro, but when he followed the backpedaling by deleting his entire Reddit account, speculation grew that in fact he hadn't been joking at all.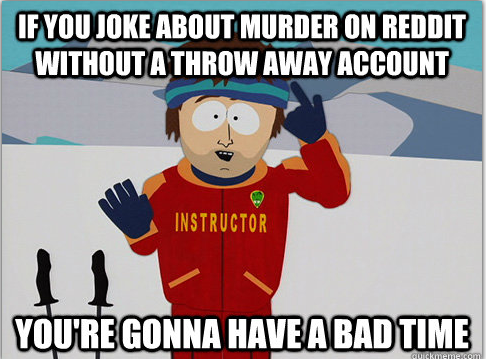 Photo via Quickmeme
If found to be true, Naratto's confession would hardly be the first time a murderer had spilled the beans via the Internet and then regretted it. But it would probably be the first time a serious investigation had arisen from such innocuous beginnings. After all, even redditors who thought he might be telling the truth seemed more interested in the method of his confession than the crime he may have committed.
"Ah Reddit," commented Twitter user crystalunicorn. "The only place where you have homicide confessions delivered via memes."
"Haha confessed to murder without even using a throw-away," said Mr_Burnside. "I think that takes more guts than the murder itself."
Even if true, the chances of Naratto being investigated over a flimsy connection to a hypothetical crime, tipped to officials by anonymous members of a Web forum, seems far-fetched.
But if it happens, it's likely that Reddit—with or without the aid of Confession Bear—will be the first to know.
Photo via Quickmeme