The hacker collective came up again and again this week—in part because of its nasty habit of infighting.
This week on The Daily Dot, the continuing saga of Anonymous again placed first in our weekly wordcloud.
AnonOps, long seen as the official network of Anonymous, was hacked Tuesday, leaving us to wonder, is anyone—even Anonymous itself—safe from Anonymous anymore?
Another member of the hacker collective, not so anonymous, is journalist turned Anonymous spokesperson Barrett Brown. Brown took center stage this week after an interview with our own Fruzsina Eördögh. The recipe for Brown's soul seems to be one part Internet troll shaken liberally with one part gonzo journalist.
His reported six-figure deal for a book on the inner workings of Anonymous may sound like a dream come true, but Brown has also become a punching bag for his ostensible cohorts lately. He's been "doxed," a term for the involuntary release of personal information, a favorite method of Anonymous vendetta. Whatever the case, none of us can wait to read his book.
NBA Commissioner David Stern laced up for a "full-court press" on Twitter this week as players rejected the most recent round of collective bargaining agreements. NBA players kept up their defense of the goal as well, airing grievances and leveraging support across social media platforms under the hashtag, #standunited.
Here's a wordcloud showing the relative frequency of words used on the Daily Dot this week.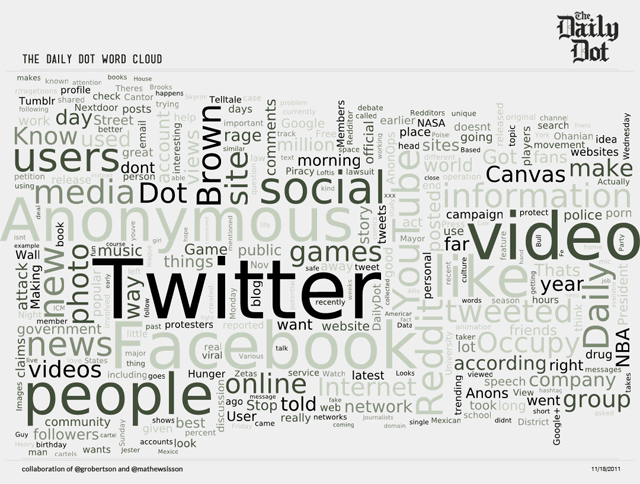 Pure, uncut internet. Straight to your inbox.