An Omegle post claiming that a missing 12-year-old had been killed is a hoax.
The post was made on Omegle, a free chat service often used by teenagers, sometime over the past day regarding Julissa Romero, a California girl who has been missing since April 23.
"I have a gift for you strangers," stated the message. "At [this] latitude and longitude is the body of 12 year old Julissa Romero stabbed 17 times, she has been missing for 5 months. Enjoy."
The message led Reddit and 4chan users on a digital and offline hunt for the missing girl.
The coordinates in the message matched up with 11029 Dublin Canyon Rd, Pleasanton, Calif.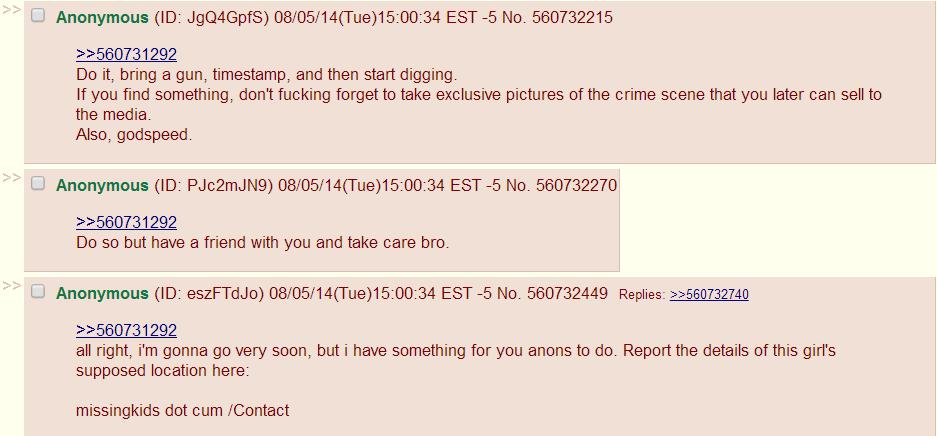 Other redditors were turned into amateur gumshoes.
"[I]f I were a cop investigating this, I'd ask google for a list of all [IP adresses] that looked up those coordinates," loki5456 commented. "[T]hen I'd look at the ones who were looking it up before that Omegle post."
Meanwhile, other 4chan users—who had quickly realized the entire message was a hoax around 8am Tuesday morning—decided to prank news organizations like CNN into reporting the information as fact.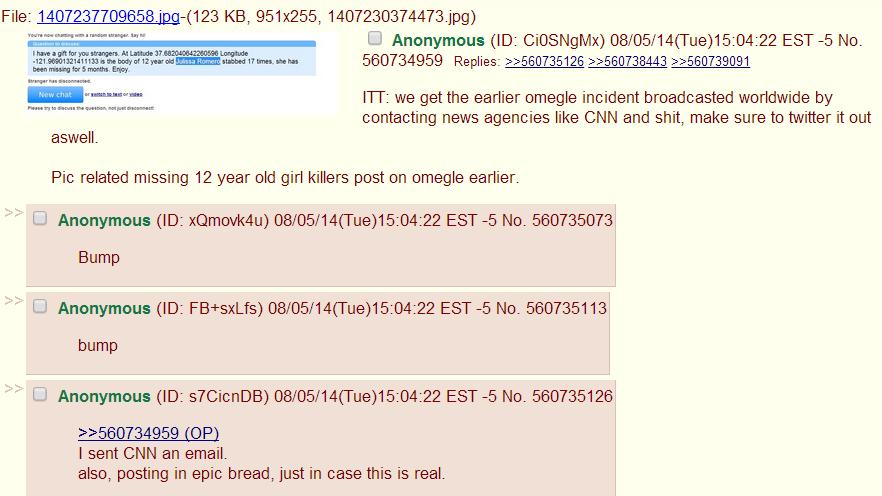 About two hours after 4chan's random imageboard /b/—a dark corner of the Internet where porn is posted, tortured turtles are avenged, and feminists are mocked—a CBS affiliate in California debunked the hoax.
"Commander Henry Gomez of the Salinas Police Department said Julissa Romero, 12, is alive," CBS reported. "Gomez said the department has received dozens of phone calls in regards to the post, which has been written about on several other websites and blogs."
Photo by reynermedia/Flickr (CC By 2.0)