Looks like the president has officially joined Pinterest.
Fake Barack Obama, our number one Pinterest source for presidential parody pinning, asks on his profile page: "What if the 44th President of the United States tried his hand at the newest social media craze?"
Now we know.
While President Obama opened up his official Pinterest account back in early Feb., today, the commander in chief has actually started pinning.
In just a few hours, Obama (or a spokespinner) on his campaign team has posted 32 pins to eight pinboards. The election-conscious president is keeping it safe by sticking to pins about campaign merchandise, recipes, and cute puppies.
Pinterest does not yet have a system in place for verifying brand and celebrity accounts, but two members of Obama's campaign team have offered confirmation through tweets.
Obama for America Digital Director Teddy Goff introduced a link to the page earlier today.
"You asked, we answered: introducing…pinterest.com/barackobama," he tweeted.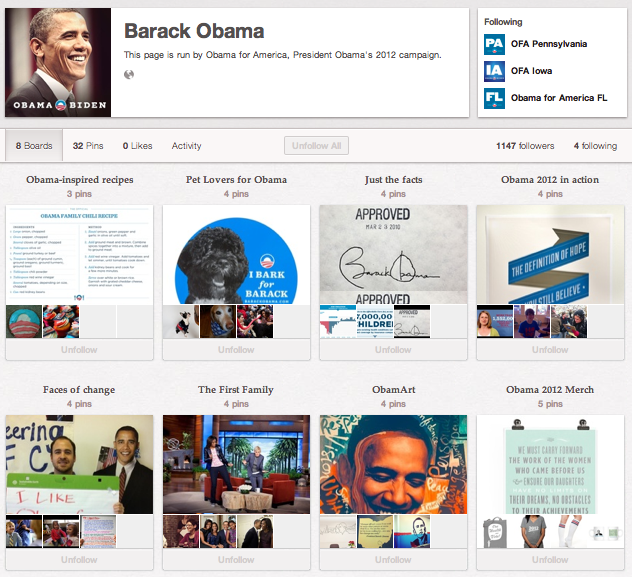 Right now, Obama is the first 2012 presidential election candidate on Pinterest. We predict the next candidate to join will be Mitt Romney. His wife, Ann, is already there. Plus, after Pinterest took down a Romney parody at the candidate's request, Romney's name is even open—it's being parked at Pinterest engineer Alonzo Gomez's profile for safekeeping.
We look forward to Election 2012, Pinterest edition.
Pure, uncut internet. Straight to your inbox.