Jarvis Britton may soon have plenty of time to contemplate some tweets he sent.
The 25-year-old Atlanta man pled guilty Monday to threatening President Barack Obama's life on Twitter, according to the Associated Press. Britton was indicted in September on charges of knowingly threatening to kill, kidnap, or inflict bodily harm on the president.
Britton sent a tweet on Sept. 14 that read: "Lets kill the president F.E.A.R." The acronym stands for Forever Enduring Always Ready, a group apparently with designs on assassinating Obama.
Similar messages appeared on the same Twitter account, @iTweet_Unspok3n, on Sept. 19: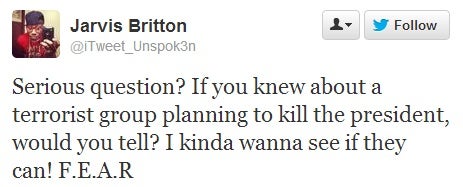 All of those tweets are still visible on the account, which has been inactive since Sept. 20.
Britton is scheduled to be sentenced June 20. He faces up to 10 years in prison, a $250,000 fine, and restricted Internet access.
A decade is a long time to ponder messages that took under 10 seconds to write.
Photo via @iTweet_Unspok3n/Twitter