New York is reeling from the death of a 43-year-old Staten Island man who made the mistake of arguing with the NYPD while black: Eric Garner, an asthmatic father of six, was killed under a crush of officers who pinned him to the sidewalk, employing a chokehold that the department had banned more than 20 years ago. The entire incident was filmed by an onlooker.
Garner's last words were, "I can't breathe."
Choke holds were banned by NYPD in 1993 https://t.co/f5Gmqg2MZ1 #EricGarner

— Anthony De Rosa (@AntDeRosa) July 19, 2014
how many news articles on Eric Garner mention NYPD's own patrol rules say "no chokeholds"? pic.twitter.com/qssXnc768I h/t @MXGMCopWatch

— Raven Rakia (@aintacrow) July 18, 2014
Daniel Pantaleo and Justin Damico, two of the five officers involved in the savage takedown, have been pulled off the streets and assigned to desk duty. Pantaleo, an eight-year veteran of the force, has previously faced lawsuits for false arrest and violating police procedures, the Daily News reported, with two African-American plaintiffs landing $15,000 settlements over being subjected to an illegal public strip search.
Eric Garner died after NYPD officers put him in apparent choke hold.He was stopped for allegedly selling untaxed cigarettes. He was unarmed.

— Sheldon Dutes (@SheldonDutes4NY) July 19, 2014
Eric Garner was selling cigarettes on the street…but his real crime was telling the nypd not to touch him…resisting occupation

— NYFAMOUS (@NYFAMOUSGANG) July 19, 2014
Trayvon died over skittles. Jordan died over loud music. Eric Garner died over some damn cigarettes. America never was America to me.

— The Real Segun Idowu (@RevrendDoctor) July 19, 2014
Onlookers day he was breaking up a fight "@TheCosby: Illegal cigarettes "loosies" RT "@TMikaMouse: So why was Eric Garner being arrested ?""

— Keyser Sobae (@ReekSkeezy) July 19, 2014
Claimed Eric Garner was selling cigarettes and all witnesses say he wasn't. Sounds like classic police harassment

— Megz Kelli (@gimmiekissmegz) July 19, 2014
Rev. Al Sharpton, who appeared with Garner's family at a rally this morning, said the slaying would present a true "test" for the city's current administration. Mayor Bill de Blasio, who campaigned on promises to mitigate the NYPD's racially fraught "stop-and-frisk" tactics, canceled a family trip to Italy, promised a thorough investigation, and expressed his sorrow over Garner's death.
On behalf of all New Yorkers, I extend my deepest condolences to the family of Eric Garner.

— Bill de Blasio (@BilldeBlasio) July 18, 2014
@BilldeBlasio don't apologize if you are not ready to reprimand those responsible!

— David (@BigShack171) July 18, 2014
@BilldeBlasio Fuck your apology. This shit happens every day and you could do more to stop it. Your condolence is on behalf of your PR team!

— anthony emezu (@aemezu) July 18, 2014
@BilldeBlasio Put the pigs in jail you fucking scumbag. Fuck these empty apologizes when you allow these cowards to kill our CITIZENS!!!

— Dudemon (@dreamwithnoexit) July 18, 2014
As Sharpton was speaking, new video of the circumstances surrounding Garner's death surfaced: here we see he remained handcuffed for several minutes after he stopped breathing, with no attempts at resuscitation. Finally, he's taken away on a stretcher. "Lets [sic] poke him and talk to him like he's alive, then everybody will believe he died later at the hospital," wrote one outraged YouTube commenter. "U hit nail on the head," another agreed. 
Even through a haze of raw emotion, newspaper columnist and commentator Clinton Yates parsed the tragedy with a sharp eye, explaining how far it was from an isolated case.
The young lady in that video knows dude is dead. The act they play out over a couple minutes to act otherwise is terrifying.

— Clinton Yates (@clintonyates) July 19, 2014
That video might end up being equally as important as Rodney King's on some level. Because we got to see the build up, finally.

— Clinton Yates (@clintonyates) July 19, 2014
Again, think about why dude is taping this situation at all? Because he KNOWS something unjust is likely to occur. That dude ain't Scorcese.

— Clinton Yates (@clintonyates) July 19, 2014
And to that point, as @WilbertLCooper pointed out, it's almost completely unreal that Spike Lee had this in a movie 25 years ago. Exactly.

— Clinton Yates (@clintonyates) July 19, 2014
Garner alludes to his constant harassment. The most chilling moment of the video, for me, is when he says "it ends today." He was right.

— Clinton Yates (@clintonyates) July 19, 2014
Eric Garner died the death that every parent of color in America has nightmares about.

— Clinton Yates (@clintonyates) July 19, 2014
Meanwhile, a message board for current, former, and aspiring police officers has been overrun with half-baked excuses and outwardly vile personal attacks. "Taking somebody by grabbing his neck and a chokehold are completely different," reads one post. "A more accurate headline would be 'Non Compliant Fat Bastard Gets Just Due In Resisting Law Enforcement Officers'" reads another. "He probably never worked a legit job," a third speculates. "The city will pay off the family and they will be in Nigggaaa heaven for the rest of their lives!!"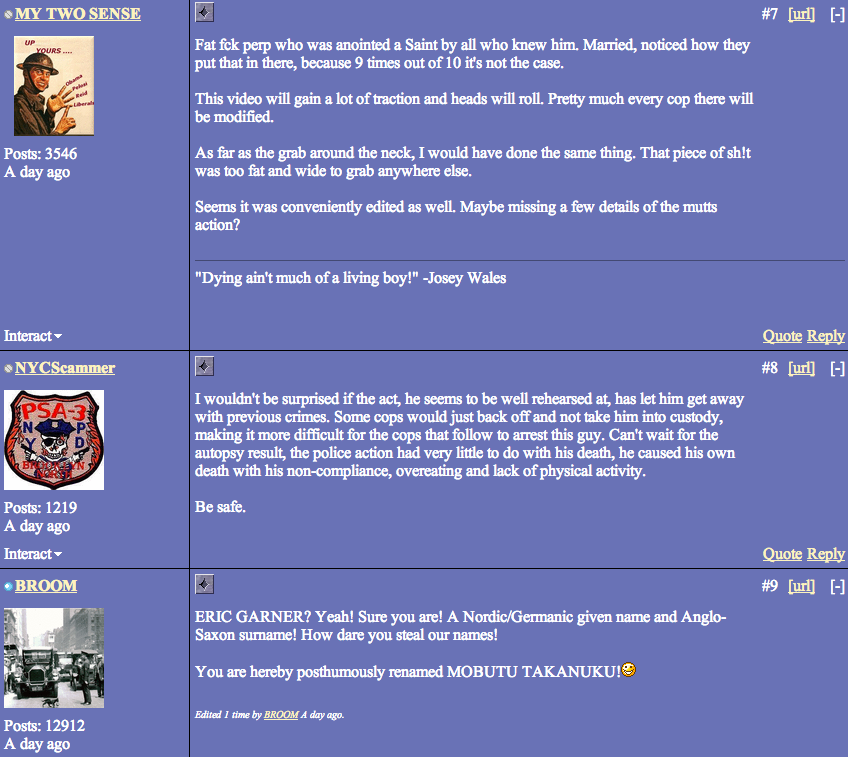 At no point does anyone entertain the idea that it's possible to restrain an obese or otherwise unhealthy suspect without killing them. In comments to the New York Post, police noted Garner's 30 previous arrests.    
Photo by Timothy Krause/Flickr (CC BY 2.0)