The most important moment in the Wednesday's decisive game five between the New York Knicks and Boston Celtics took place after the final buzzer sounded.
As the two teams crossed paths to their respective locker rooms, Celtics reserve Jordan Crawford and Knicks anchor Carmelo Anthony engaged in a brief scuffle that led to the two players being separated.
The altercation was quickly dismissed, chalked up to playoff tensions and lost in the countless storylines circling like vultures around the Knicks: the pre-game funeral attire, the return of Melo ball, the health of Tyson Chandler, J.R. Smith going M.I.A.
A Vine taken by Sean Dutton, however, revealed that the incident was more than mild trash talk. Poring over the six-second video, Dutton and many others concluded that Crawford told Anthony, "dat muhfucka fucked yo wife."
"Dat muhfucka" would be Celtics forward Kevin Garnett, who reportedly told Antony in a January game that his wife, MTV reality star La La Vazquez, "tastes like Honey Nut Cheerios." That led to a post-game, off-the-court confrontation that earned Anthony a one-game suspension.  
The stakes have never been higher for Anthony. The Knicks haven't made it past the first-round of the playoffs since 2000, and Anthony has been plagued with an unfair reputation of not being able to deliver in the post-season. The Celtics are hitting him where he's weakest—his ego—baiting and pushing him into a position where the MVP candidate wants to takeover games independently, falling into isolation offensive sets, dubbed Meloball.
The New Yorker used the incident to illustrate "how Vine could be a part of sports journalism."
 "[A] viewer, sitting at home, saw something dozens of broadcasters and journalists had missed. Vine provided a platform to share it, and eventually, it became a talking point for the national media. "
That's certainly true, but the same thing has been occurring with GIFs, albeit without sound, on Tumblr for years now. Rather, the incident underscores the changing nature of how we consume sports online, obsessing over highlights and small details, sharing moments looped ad infinitum.
It's another testament to Vine's versatility. The six-second videos have already been used as a testing ground for comedy and stop-motion animation,  incredible self-promotion, porn, and comic books.
While the score will ultimately be settled on the court tonight, Vasquez has already thrown the first punch, tweeting in regards to Crawford: "Try again. You on the bench for a reason." She also included the following Instagram photo: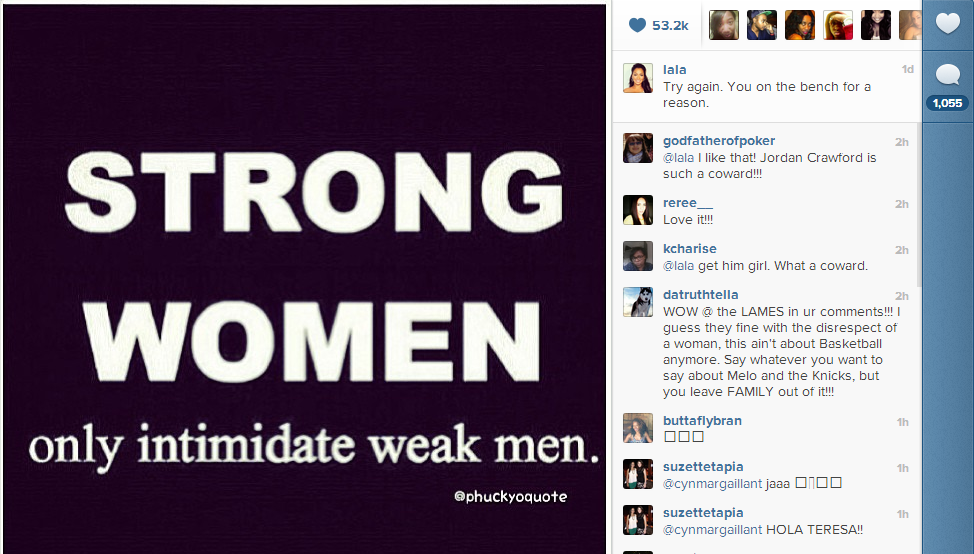 That's worthy of a Spike Lee RT. #KnicksTape.
Screengrab via Vine