Here at the Daily Dot, we swap GIF images with each other every morning. Now we're looping you in. In the Morning GIF, we feature a popular—or just plain cool—GIF we found on Reddit, Tumblr, or elsewhere on the Internet.
During the Vietnam War, American protesters carried flowers, often putting them inside the barrels of police officers guns. During China's Cultural Revolution, leftists mounted large posters with Chinese characters on their walls. And in the recent Egyptian protests, the laser pointer has brought citizens together.
Over the past five days, the entire country of Egypt has risen up in protest against President Mohamed Morsi, the country's first democratically elected leader. On the eve of his one year anniversary in office, millions of Egyptians took the street of Cairo and Tahrir claiming that Morsi's government "has tightened its grip on power, moving in an authoritarian direction," CNN reported. Some people have even compared Morsi to the former Egyptian Hosni Mubarak, who was ousted from his position during the Arab Spring uprisings.
At about 11am ET, the Egyptian military promised to dissolve the "Islamist-backed constitution, dissolve the Islamist-dominated legislature and set up an interim administration headed by the country's chief justice if Morsi fails to reach a solution with his opponents," USA Today reported. The live countdown can be viewed on Morsicountdown.com.
In Cairo, Egyptians have flocked to the streets with laser pointers to distract helicopters overhead in what has been compared to a scene from Jennifer Lopez's "Waiting for Tonight" music video. A similar scene has been observed in Tahrir, where it seems like even more lasers are in use, according to the following GIF posted on Reddit Tuesday.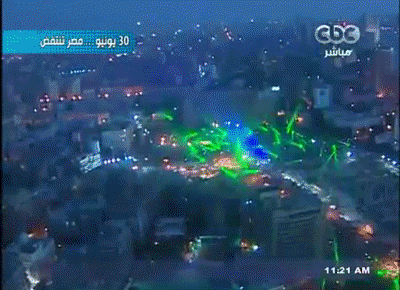 "Flew into/out of Cairo last week, and this is what it looked like from the plane," redditor staycreeves commented. "It was blinding my window on the plane over and over, and we were pretty low in the sky, about to land. Scared the shit out of me. I guess because these are constantly moving and not directly following planes it's not a problem for pilots, but I was seriously terrified."
H/T Reddit | Photo via @SafaJoudeh