Accused murderer Jodi Arias has found a new way to attack her critics, despite being behind bars: Twitter.
Arias, 32, is accused of killing her ex-boyfriend Travis Alexander in 2008, by stabbing him 29 times, slitting his throat, and shooting him at his Mesa, Ariz., home. She claims she acted in self-defence.
Since February, the 32-year-old has been tweeting by proxy. Her friend Donavan Bering claimed she talks with Arias about what to post on her Twitter account nearly every night, according to New York Daily News.
Bering has posted 20 tweets on Arias's behalf, as the latter stands trial in Phoenix. Rather than delivering her intended tweets by email, as jailed hacker Andrew "Weev" Auernheimer has been doing, Arias dictates her tweets over the phone.
Arias isn't shying away from her critics. After HLN host Nancy Grace tweeted a photo of Arias apparently flipping the bird, Arias tweeted "Actually, Nancy, that finger was for you. Have a nice day."
Her invective seemingly extends to prosecutor Juan Martinez. He's been on the offensive against Arias in court, and she looked to be poking fun at both his attitude and stature, suggesting he has "Little Man Syndrome."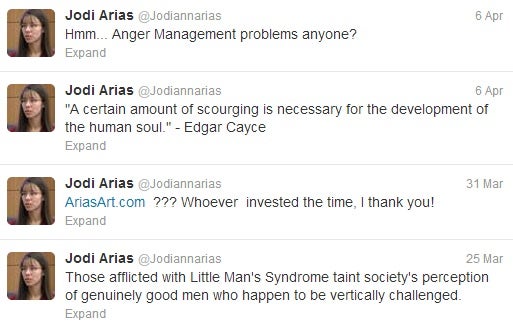 Arias has also been selling her art on eBay and her own site, some of which has been  for four-figure sums, thanks in part to her promotional efforts on Twitter.
The Maricopa County Sheriff's Office said it can't do anything about Arias's tweets since she's not actually sending them from jail.
"We do talk about the fact that Jodi seems to be able to reach out into the community in various ways and profit from her notoriety," a spokeswoman told New York Daily News. "We don't like it … but there is nothing we can do about it."
There's an entire culture of people who are tracking the trial online, sharing updates on Facebook and Twitter as it progresses.
One Facebook page in particular, titled Jodi Arias better get the Death Penalty, shares mocked-up images from principal characters in the trial amid updates on the proceedings. Arias, named "Hodi" by page admins is depicted as Hannibal Lecter, while Martinez is shown as a boxer (shown right).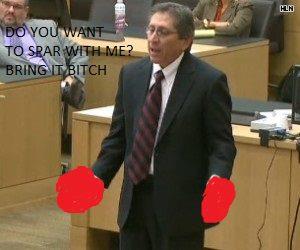 After Alyce LaViolette, a domestic-violence expert witness, took to the stand for the defense, her phone number was shared by critics, who also urged others to post negative reviews of her book on Amazon; It Could Happen To Anyone: Why Battered Women Stay has more than 540 customer reviews; 513 of those rate the book one out of five.
The harassment apparently drove LaViolette to the emergency room for anxiety attacks and palpitations, the Arizona Republic reported.
Intentional or not, there's a quote, attributed to The Newsroom creator Aaron Sorkin, among Arias' tweets that surprisingly encapsulates the online antics surrounding the case:
"Nothing has done more to make us dumber or meaner than the anonymity of the Internet."
Photo of Arias and Alexander via Jody Arias/Facebook