Israeli forces began a military campaign in the Gaza Strip Wednesday—after announcing the action on Twitter.
At 9:29am ET, the Israeli Defense Forces (IDF) sent a tweet from the @IDFSpokesperson account which read: "The IDF has begun a widespread campaign on terror sites & operatives in the #Gaza Strip, chief among them #Hamas & Islamic Jihad targets."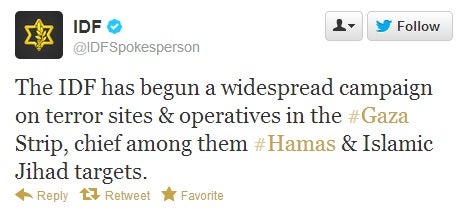 Fast Company noted the tweet was the first announcement of the operation, before the IDF called a press conference.
A few minutes before the IDF sent the tweet, IDF killed Hamas' military head Ahmed al-Jabari with a missile strike. Hamas' military wing confirmed al-Jabari's death on its @alqassambrigade Twitter account and the IDF posted a YouTube video that reportedly shows the attack.
The IDF said on its blog that al-Jabari was "directly responsible for executing terror attacks against the State of Israel in the past number of years."
The Israeli military said the action was a "surgical operation" for which it partnered with the Israeli Security Agency. A spokesperson later said it's part of a broader campaign against Hamas, Islamic Jihad (who said it would retaliate), and other groups in Gaza: Operation Pillar of Defence.
IDF said the dual aims were to "protect Israeli civilians and to cripple the terrorist infrastructure in the Gaza Strip" and said it was "ready to initiate a ground operation" if necessary in Gaza, which is governed by Hamas.
The BBC reported that militant groups fired hundreds of rockets from Gaza last weekend, and cited Hamas as suggesting that Israel had "opened the doors of hell."
The IDF's Twitter account provided further updates, claiming it had intercepted 17 rockets fired from Gaza and thatthe Israeli navy had struck terror sites in Gaza.
Worth noting, the IDF may have violated Twitter's terms of service with a tweet this afternoon. Twitter's rules state:"You may not publish or post direct, specific threats of violence against others."

Hamas didn't take that threat lightly.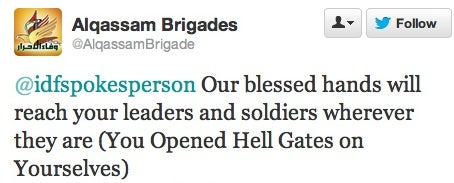 Elsewhere, the U.K.'s Foreign Office called on all involved to avoid a "dangerous escalation" of attacks.

Photo by @NalanSarraj/Twitter