Hacker Guccifer has struck again.
This time around, the hacker—best known for targeting high-profile political figures like George W. Bush and Colin Powell—has set his sights on author Candace Bushnell.
If the name doesn't ring a bell, you're likely more familiar with her work. Bushnell is the author of the 1997 novel Sex and the City, which served as source material for the hit HBO television series of the same name. She also wrote Lipstick Jungle (turned into a short-lived series by NBC), and The Carrie Diaries (now a show on the CW).
On Monday afternoon, Bushnell's official Twitter account sent out a tweet advising her 9,200 followers that they could read the first 50 pages of her new novel, Killing Monica. The message also contained a link to a public Google Drive account that delivered on its promise. Except that it wasn't Bushnell giving away a good chunk of her book for free. It was Guccifer.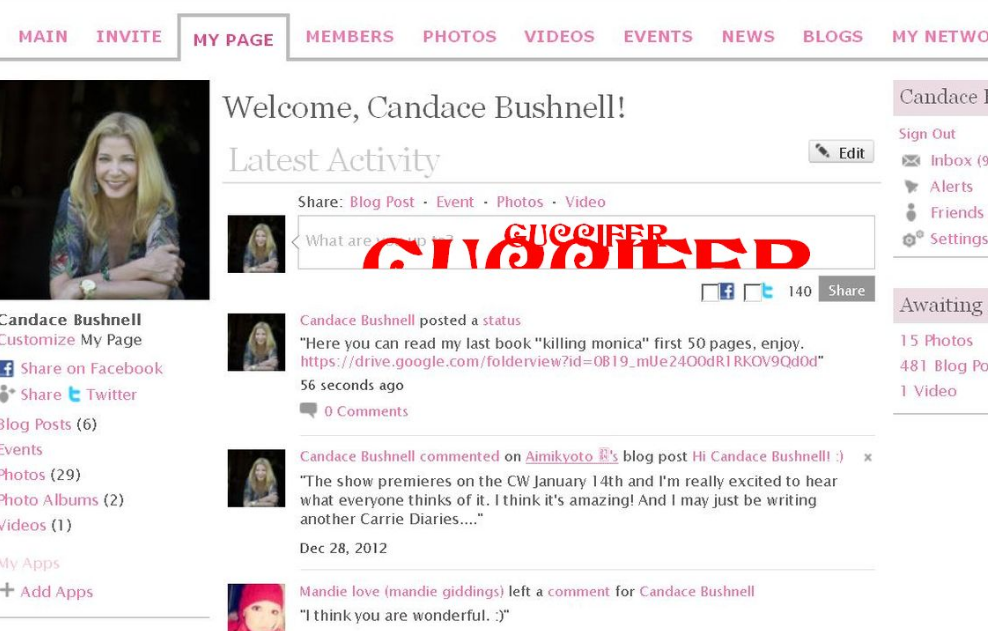 Photo via Guccifer/Google
The tweet was subsequently deleted, but a screengrab of it was uploaded to the Google account for posterity.
It wasn't just Bushnell's Twitter account that Guccifer took over, either. He has posted screenshots of the author frantically emailing her agents to inform them that part of Killing Monica is living online.
"[The] beginning of the new book is now online for free. Right now, it's only on twitter but could spread easily," Bushnell wrote in one email.  "I just talked to Kevin Crotty in the ICM LA office, so he will be trying to get in touch with you as I wasn't able to reach you guys by phone. Oh dear, this is terrible."
Her agent's response is equally hilarious, if only because of the lack of Twitter know-how displayed.
"Am in a very noisy place and can't call… but i know NOTHING about this but my husband things you can cancel a tweet but doesn't know how to do it," the agent replies. "Should i email our online person and ask him???"
As of this writing, the pages are still available online (in image form).
Photo via Joao Carlos Magagnin/Flickr