For International Women's Day the company is offering discounts on weight-loss pants and mops. Twitter users don't find it funny.
Groupon has come under fire for some tasteless deals it's offering on International Women's Day.
An email sent out to Groupon customers in Canada on Thursday had "International Women's Day" as its subject. It offered deals on items such as weight-loss pants and a vibrating fitness platform. The Dutch version of the site, meanwhile, appears to be offering a deal on mops.
It's supposed to be a joke, but many Twitter users don't find it funny.
"Groupon just offered me weight-loss pants and IPL treatment vouchers for International Women's Day. You're so considerate, Groupon," Lana Polansky commented.
"Did @groupon seriously just use International Women's Day to sell weight loss products? Shameful!"  drunkgirlTO wrote.
"upset that 4 women's day Groupon is offering me weight loss programs. Shouldn't women's day be about embracing women as they are? #iamwoman," tweeted Steph Sirois.
Other tweeters called the deals "disgusting" and "unbelievable." Referring to the Dutch mop deal, lilywanderlust tweeted, "how tacky!"
Groupon tasteless deals today obscure the good things the company has done for women and mothers in the past. Through its Groupon Malaysia subsidiary, the company has partnered with the United Nations World Food Programme to provide meals for mothers and children throughout Asia.
Groupon has apologized to at least one Twitter user so far, though it seems the company will have to do much more than that.
We suggest a deal: Groupon, you can save face with one honest apology to each woman you emailed.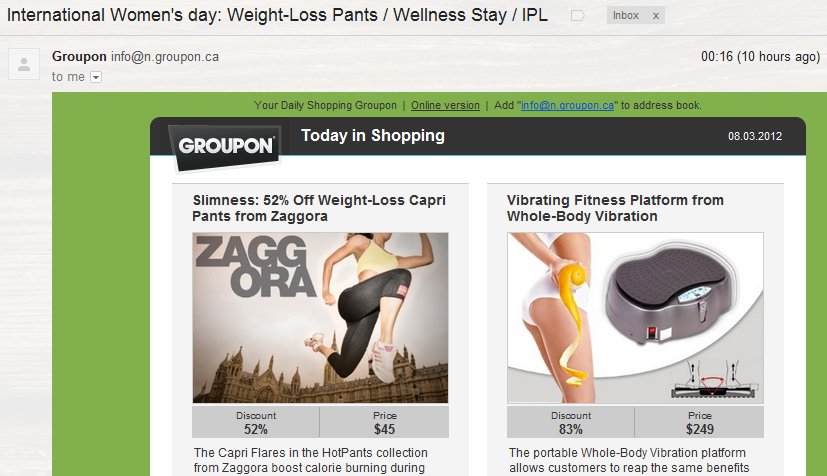 Photo by normanack
Pure, uncut internet. Straight to your inbox.