Tech

Tech

The gadgets, platforms, and software that make your digital life possible. if it bleeps, clicks or blinks, you'll find it here.

Internet Culture

Internet Culture

There's a community for everyone online.

Bazaar

Bazaar

The Bazaar specializes in the stuff you don't actually need…but you really, really want.
YouTube's "Fat Aussie Barstard" sentenced for charity scam
The "Barstard," real name Pete Finn, allegedly pocketed all $6,500 he raised by selling one of his teeth online for charity.
Never trust a tooth fairy who calls himself "the Fat Aussie Barstard."
Australian YouTuber Peter Michael Finn was convicted yesterday of unlawfully appealing for charitable support and converting the money for his own use.
The mustachioed man was sentenced to 200 hours of community service and ordered to repay the proceeds of his YouTube-hosted auction—wherein he sold one of his molars for $6,543—to Brisbane's Royal Children's Hospital.
"I believe that I'm guilty of stupidity," Finn told Australia's Today Tonight. "The way the situation started and the way it finished, I would certainly do it differently if I had the opportunity."
An affable personality whose robust YouTube vlogging channel has over 1,600 videos and 35,900 subscribers, Finn's saga began last June when he decided to put a decayed molar up for sale on eBay. As he wrote on the auction's listing, "ALL money raised goes to CHARITY."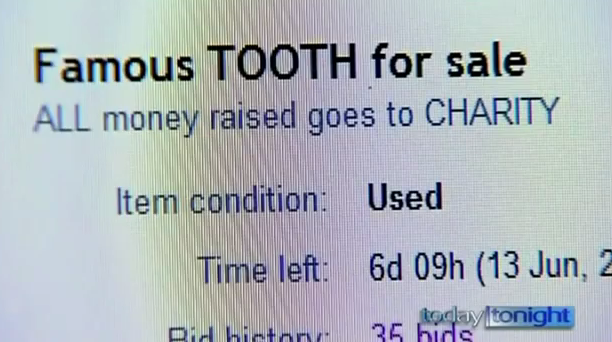 Finn had hoped to raise $30,000 through the auction and was "certainly well on our way to achieving that," he told Today Tonight before eBay intervened, shutting down the auction on account of the fact that the site's Terms of Service forbid the sale of human body parts.
Finn then turned to YouTube, rerunning the auction and promising to personally deliver the tooth to whoever closed out as the highest bidder.
In a since-deleted video, Finn announced that a Sydney resident had pledged $6,543 for the tooth. He'd travel the 13 hours from Noosa to Sydney and deliver the tooth. Then he'd return and deliver the money raised to the Royal Children's Hospital in nearby Brisbane.
But there was a catch to Finn's good deed, one that he wasn't sharing with others. As part of his donation, Finn had planned to deduct any costs he incurred during the fundraising portion of the campaign. That accounted for "100 hours of his time, answering comments, editing videos, shooting videos, liaising with the bidders" as well as money he spent on travel costs to get from Noosa to Sydney, according to The Brisbane Times.
At the end, the money Finn deducted from the total tally amounted to $5,000. He had $1,500 left to give to the Royal Children's Hospital.
That's when things start to get a little hairy.
According to Today Tonight, Finn tried to take the $1,500 to the Royal Children's Hospital but was denied the opportunity to donate the cash because he insisted on filming the event.
After getting turned down, Finn reported that he took to the Brisbane streets and handed the money to homeless people in $50 increments.
The Brisbane Times reported that Finn took to the streets directly, and that he did not videotape any of his acts of charity "out of respect for the privacy concerns of the people he was helping."
Finn did not respond to the Daily Dot's request for comment.
When probed, the Royal Children's Hospital told law officials that Finn had made no effort to contact the hospital, leaving Finn to explain how his charity fundraiser was actually intended to help a charity.
He couldn't, and pled guilty to unlawfully appealing for support and converting the money for his own use, and was ordered to perform 200 hours of community service.
Finn was also ordered to pay the $6,543 he raised directly to the Royal Children's Hospital and received a six-month suspended prison sentence.
We'll leave you with this video Finn posted to YouTube three years ago, one called "POLITICIANS can kiss my HAIRY FAT ARSE!"
It seems to sum up the situation pretty well.
Photo via YouTube
Correction: A previous version of this story stated that Finn was unable to donate the money to the Royal Children's Hospital because he was not part of a registered charity. In actuality, he was denied because he asked to film the event.
Chase Hoffberger reported on YouTube, web culture, and crime for the Daily Dot until 2013, when he joined the Austin Chronicle. Until late 2018, he served as that paper's news editor and reported on criminal justice and politics.
© The Daily Dot, all rights reserved.
Represented by Complex Media, Inc. for advertising sales.