Thousands have shared the image of a Brazilian tribal leader weeping supposedly over the contruction of a massive hydroelectric dam and signed an online petition to support him. 
Every day, the Daily Dot finds something that people on Facebook are sharing and, in turn, shares it with you—with a little explanation. Here's today's share.
Tens of thousands of people are using Facebook to sympathize with a Brazilian tribal leader who's standing up to the construction of a massive hydroelectric dam in the Amazon.
More than 40,000 people—at least 3,000 on Wednesday morning alone—have shared a photo of the leader, Chief Raoni of the Kayapó people, crying. He's helpless "before the advance of capitalist progress, modern predatory civilization," according to the Facebook caption.
The Belo Monte dam, on a tributary of the Amazon river, has only been under construction since last year, though it's been proposed since the late 1970s. It will displace between than 20,000 and 40,000 people, according to various sources.
The share also links to a petition to stop the dam, which is actively nearing its goal of 750,000 online signatures. The language of the petition seems outdated, though. "Construction could start next month," it says, though it actually began in March of 2011.
While the dam and the displacement it's causing are real, the truth of the photo is a little hairier.
Chief Raoni indeed actively campaigns against the dam. However, as he told the blog AmazonWatch.org in June, he's crying in that photo because he'd just been reunited with a family member.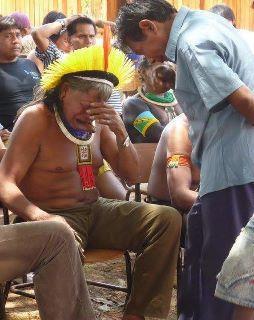 Photo from Facebook
Pure, uncut internet. Straight to your inbox.