The greatest threat to the United States is cyberwarfare, according to a recent Defense News poll of 352 defense, military, and national security leaders. Digital threats outranked terrorism, China, Iran, climate change, and North Korea, across all respondents.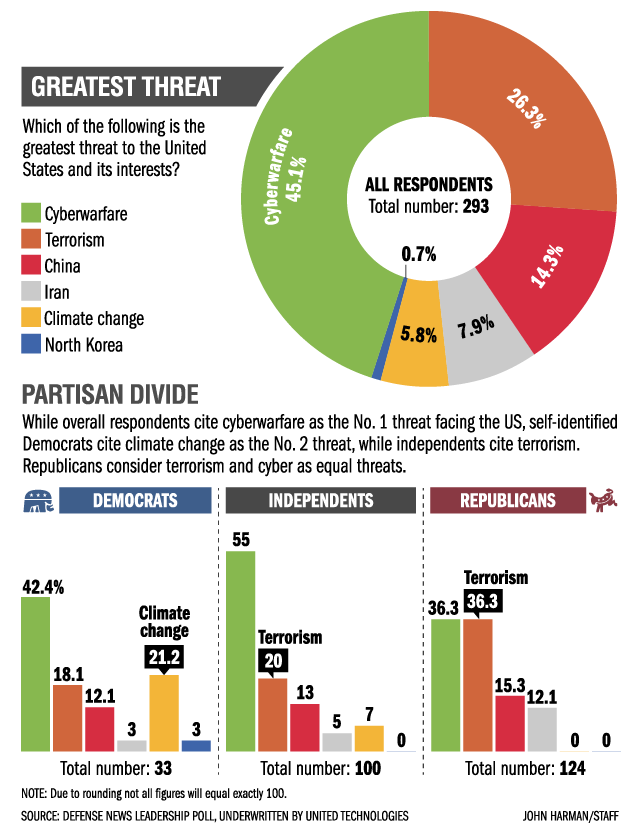 Image via Defense News
While Democrats and Independents found common ground on cyberwar, Republicans were more worried about terrorism than the other political groups.
The U.S. military has been shifting resources in recent years to prepare for the digital warfare, beginning in 2010, with the creation of the U.S. Cyber Command under General Keith Alexander, who also serves as the director of the NSA. The U.S. has since spent billions of dollars on the unit as well as hundreds of cyberoperations.
Security researcher Bruce Schneier only sees the environment escalating: "We are in the early years of a cyberwar arms race," he told the Daily Dot.
How exactly that race plays out is one of the greatest military questions facing the world today.
H/T Al Jazeera | Photo by Greg West/Flickr