The Hamburglar has finally gotten away with it.
Only instead of delicious McDonald's hamburgers, he's captured Burger King's official Twitter account.
The verified account @BurgerKing was hacked within the last hour and has had its logo, profile page background, and account name tagged with the branding of rival fast food chain McDonald's.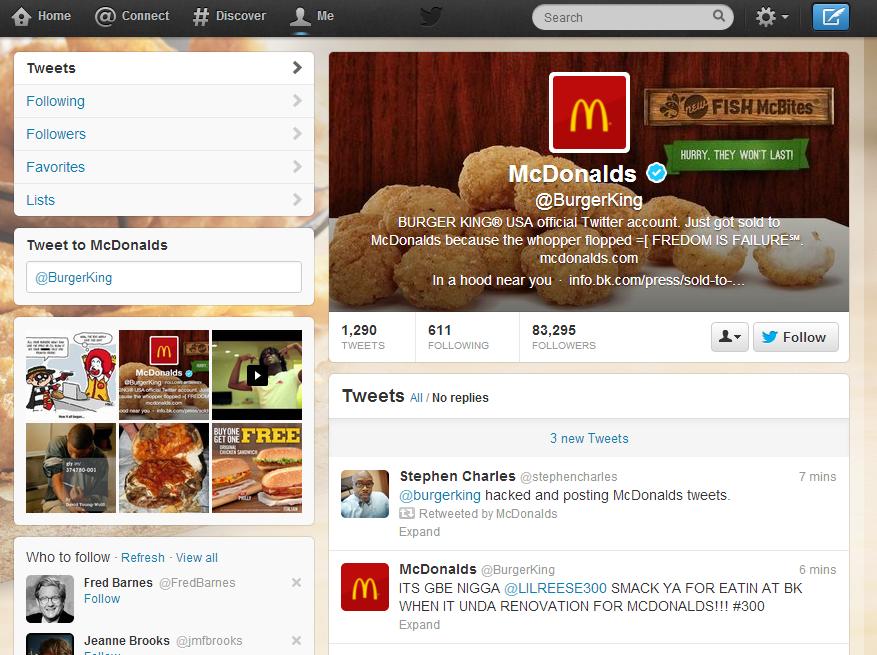 The hacked account has sent out more than 20 tweets and retweets already,  making fun of the fast food giant to its 98,000 followers (a number that has been growing rapidly since the account was taken over). The hashtag #OpMadCow has also been included in a handful of tweets.
The group claiming credit for this latest hack, @DFNCTSC (short for "Defonic Team Screen Name Club"), was also responsible for hacking Paris Hilton's cell phone in 2005, and releasing nude photos of the star online.
One of the group's alleged members, 17 years old at the time, pleaded guilty to participating in the hack. In Sept. 2005, he was sentenced to 11 months in a juvenile facility, plus 2 years of supervised release, where he was banned from using the Internet. Because he was a juvenile at the time, the hacker was never publicly named.
"The juvenile in question was part of a loosely organized group of about eight to 12 hackers, called the Defonic Team Screen Name Club, which hacked into a number of computer networks, according to a security expert who was contacted by the group," according to Network World.
Numerous Twitter users and reporters have tried to alert Burger King and McDonald's to the hack, but neither company has responded on Twitter. Whoever hacked @BurgerKing still appears to be in control of the account.
UPDATE: At around 10:15am PT, the @burgerking account was suspended by Twitter. It was restored late Monday night but without its verified badge. 
Photo by Minale Tattersfield Roadside Retail/Flickr