Early Wednesday morning, a video emerged on an extremist website showing the Taliban handing over U.S. prisoner of war Sergeant Bowe Bergdahl to U.S. Special Forces.
In the long video that is accompanied by a soundtrack of Islamic prayer, an emaciated Bergdahl is seen sitting in a silver pickup truck and surrounded by armed fighters wielding RPGs and carrying a white flag.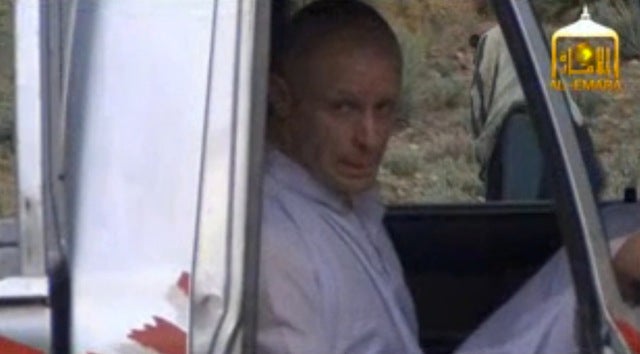 Screenshot via Shamat
At around the 10 minute mark, a lone Black Hawk helicopter lands and men who appear to be U.S. Special Forces soldiers in civilian clothes shake hands with the Taliban. After quickly patting down Bergdahl they escort him to their helicopter. The end of the video is then made up of video of what appears to be the prisoners who were traded to Qatar in return for the erstwhile Sergeant.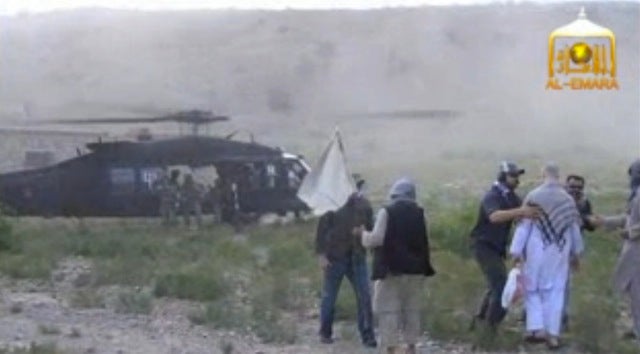 Bergdahl seen in white robes carrying a plastic bag containing his belongings. Screenshot via Shamat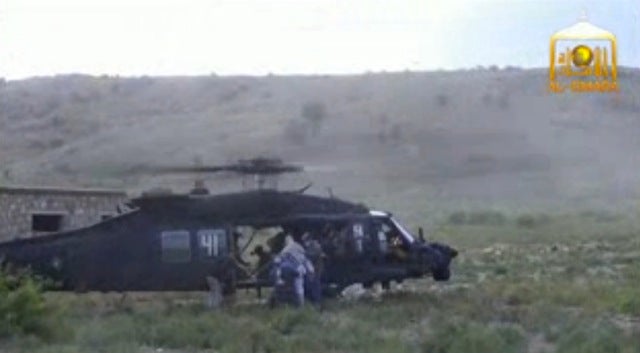 Sergeant Bowe Bergdahl is patted down by U.S. soldiers before being helped onto the helicopter. Screenshot via Shamat
The Pentagon has seemingly confirmed the video is real, stating that there is "no reason to doubt authenticity." Spokesman Rear Adm. John Kirby went on to say that "we know the transfer was peaceful and successful, and our focus remains on getting Sgt. Bergdahl the care he needs."
Bergdahl is reportedly recuperating in a U.S. military hospital in Germany. The Sergeant, who was captured by the Taliban in June 2009 in Afghanistan, was released on May 31 in a deal that involved the handover of five prisoners from Guantanamo Bay. Bergdahl's exchange has not been without controversy, and a petition to the White House to have him punished for desertion has now reached almost 15,000 signatures.
Photo via United States Army/Wikipedia