Hours after two simultaneous explosions rocked Boylston Street near the finish line of the Boston Marathon, the Facebook page of the race's organizers became a place to share information and condolences.
The explosions happened at around 2:50pm, four hours after the legendary race began. As of Monday evening, three people were confirmed dead and more than 140 were reported injured. The investigation into who was behind the attack had been turned over to the FBI.
Early on Monday, the Boston Marathon page was happily recording the day's events: photos of people getting ready for the race and then images from the post-race press conference, before the explosions. But soon after, the Boston Athletic Association posted this:
"There were two bombs that exploded near the finish line in today's Boston Marathon. We are working with law enforcement to understand what exactly has happened."
It didn't take long for the official marathon page to become a gathering spot of condolences and grieving—a digital version of a roadside memorial. Dozens and then hundreds of messages appeared on the page, most starting with "God bless you," "thoughts and prayers to everyone involved" and "I feel so sorry."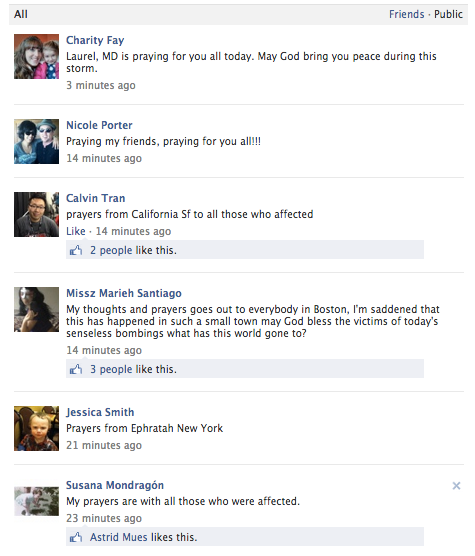 The messages continued throughout the night.
"Oh my heart cries out for you Boston! Prayers, my prayers are for you ~ all of heaven come down!" wrote Vicki Tester.
"There are no words to express the true sadness of this tragedy. Our thoughts and prayers are with all of you in Boston and all of your families," wrote Rachel Moore.
More than five hours after the blast, the Boston Athletic Association released this statement, which started: "The Boston Athletic Association extends its deepest sympathies to all those who were affected in any way by todays events. Today is a sad day for the City of Boston, for the running community, and for all those who were here to enjoy the 117th running of the Boston Marathon. What was intended to be a day of joy and celebration quickly became a day in which running a marathon was of little importance." It was shared and liked thousands of times within a few hours and, like the rest of the page, became an outlet for people to voice their concerns and fear. 
Photo via Boston Marathon/Facebook