When it comes to Snapchat, even the most casual user should be well aware of the risks: No matter how fleeting a snap may seem, you never know who might screenshot it. So it should go without saying that right up there with NSFW pics and evidence of a felony, you probably shouldn't Snapchat something horribly racist. 
Rush week drew to a close at the University of Alabama this week. Sorority bids went out to more than 2,000 women. Remarkably, for the first time, Alabama sororities formally invited black women to join. And one new Chi Omega member apparently took it upon herself to send out a snap of herself and two friends posing for a selfie, with the caption "Chi O got NO n****s!!!!!"—followed by four emoji that were definitely not racially politicized prior to this event.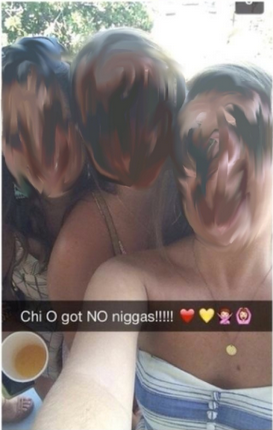 Chi Omega's national chapter quickly took action, sharing in a Facebook post that the errant snapper was removed from the Alabama chapter, and reiterating that Chi Omega is inclusive of those from "all walks of life."
UA President Judy Bonner also condemned the snap, releasing a statement reading, "We are all extremely disappointed when any student uses language that is disrespectful or offensive to any segment of the UA community. … We are especially sad that this incident occurred on a day that was an exciting and happy one for the young women who participated in fall recruitment." The school will also be investigating the incident and taking disciplinary actions as well.
Alabama's student newspaper, the Crimson White, reported on the snap, which quickly went viral. Website Total Frat Move shared the actual snap, with the girls' faces blurred out. TFM now asserts that the snap was doctored, even providing a graphic designer's analysis:
Whoever edited the image took the 'g' from 'got' and moved it into the 'nj' in 'ninjas' (the story update actually makes perfect sense). If you zoom in and check the kerning of the letters then you can see that the first 'g' in 'n****s' was stretched the make up for the wide empty space where the 'n' used to be and that the second 'g' was kept at the original dimensions.
This isn't the first public struggle with racism the UA Chi Omegas have faced. Just last year, the chapter was one of four UA sororities whose alumnae blocked two black women from pledging the sorority. 
The irony of it all—well, besides that it's 2014 and racist stunts like this continue to happen—is that UA's chapter of Chi Omega did offer two bids to African-American women this fall—and both women accepted.
Photo via alwright1/Flickr (CC BY 2.0)