Kaitlin Jackson is the Internet's preeminent troll hunter.
From her home in Aberystwyth, Wales, the 45-year-old has invested more than 6,000 hours on Facebook and Twitter reporting cyberbullies and trolls who disseminate inflammatory content. 
She has taken down 500 people to date.
But now, after two years, the hunter has become the hunted.
Since early Tuesday morning, 4chan's notorious random imageboard, /b/, has tracked down Jackson's physical address, email address, phone number, and business address and has implored the community to give her a "taste of her own medicine." 
The following image—which also includes social media info for Jackson's son, daughter, and granddaughter—was created by a /b/ user to trick people into thinking Reddit was behind the doxing. 

"This bitch needs trolled more," one anonymous user wrote. "Call her asking if she does anal."
4chan's /b/ imageboard, which is infamous for its trolling ways and elaborate vote rigging schemes, set its sights on Jackson after the Mirror ran a story on her Sunday. In it, Jackson explains how started to treat troll hunting like a full-time job after discovering her children being relentlessly bullied on social media.
"The comments my daughter had sent to her were horrendous," Jackson said. "I messaged these anonymous people myself and told them I had printed every message and had taken them to the police. They stopped. But there are children out there who have nowhere to turn to."
Aside from Jackson's personal information, /b/ also tracked down the names and numbers of 11 different restaurants near her home so people could order food to her home. (This juvenile tactic is one /b/ has used countless times over the years to intimidate its victims and anyone who reports on them.) /b/ has also created an obscene Craigslist ad and dating profile using one of Jackson's photos: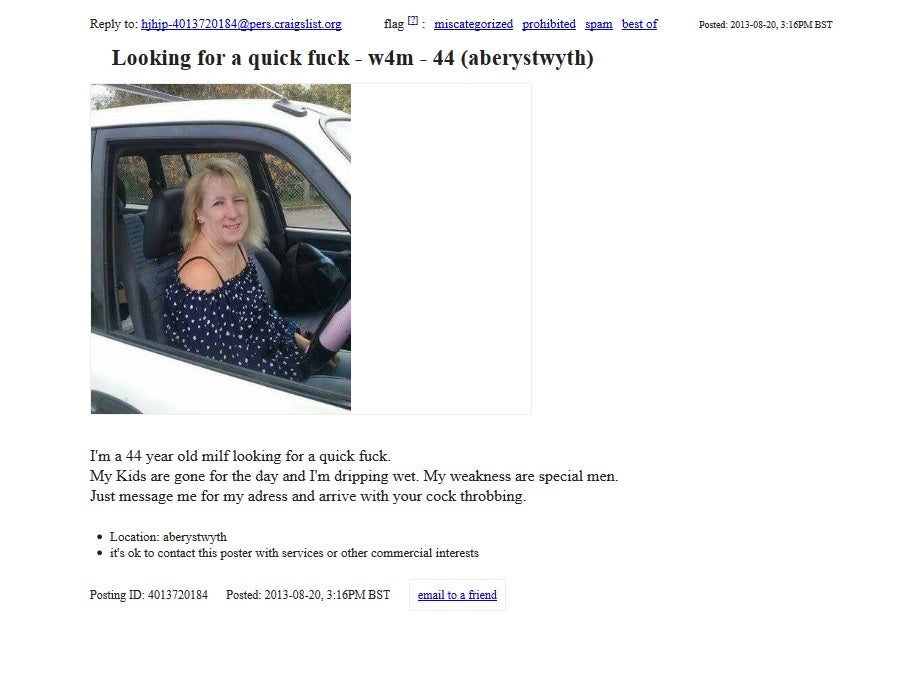 While cyberbullying has been around since the dawn of the Internet, the consequences of such actions have become catastrophic. Over the past seven months, seven teenagers have committed suicide after they were brutally cyberbullied on Ask.fm, a question and answer site. Hannah Smith, 14, was the most recent teenager to taker her life after she was tormented with messages like "every1 will be happy if u died," "drink bleach," and "go die." Following Smith's death, /b/ raided her Facebook remembrance page with equally disturbing messages. On Monday Ask.fm announced that it will make its report abuse button more visible and add a "bullying/harassment" category to the site.
Jackson is a member of a private Facebook group called Stop cyber-bullying and Trolls where member "share links to profiles and pages that are being targeted by ­bullies," the Mirror added. 
"No one is willing to be responsible for policing these sites," Jackson said. "Someone needs to find these trolls who are abusing people anonymously and lock them up."
Illustration by Jason Reed