YouTube gave a strike to the Alex Jones-led Infowars channel after it posted a conspiratorial video this week that accused Marjory Stoneman Douglas High School students of being actors, according to CNN.
YouTube deleted the video titled "David Hogg Can't Remember His Lines In TV Interview" that accused Hogg, one of the most outspoken of the Parkland shooting survivors, of being a "crisis actor." The video topped the site's trending page before YouTube took it down because it violated the harassment and bullying policies.
Before it was deleted, the video had been viewed more than 200,000 times, and other conspiracy videos littered YouTube's trending page.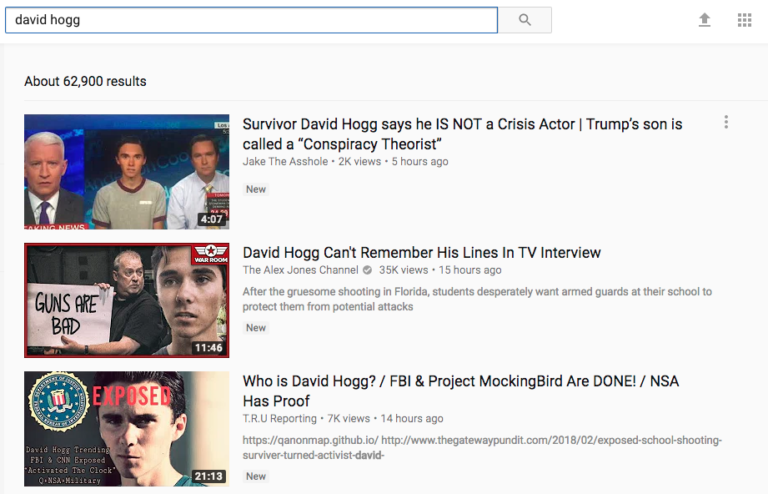 According to YouTube's guidelines, a channel that receives three strikes in a three-month span gets deleted. If the Alex Jones channel receives one more strike in the next three months, it will be suspended from posting new content for two weeks.
"Last summer we updated the application of our harassment policy to include hoax videos that target the victims of these tragedies," a YouTube spokesperson told CNN. "Any video flagged to us that violates this policy is reviewed and then removed."
The Alex Jones channel, which frequently pushes right-wing conspiracy theories, has more than 2.2 million subscribers.
Update 11:03am CT, Feb. 27: The InfoWars channel received a second strike on Tuesday, this one over a Parkland, Florida video. One more and it will be banned.
InfoWars got another strike on their YouTube account for a Florida shooting video, now one strike left before they get banned. pic.twitter.com/onfHR4vIOO

— Will Sommer (@willsommer) February 27, 2018