President Donald Trump weighed into the conversation on Wednesday afternoon surrounding ABC's cancellation of Roseanne Barr's show–but not in the way you'd probably expect.
While some people speculated the president would bring up Barr–whose show was canceled after she tweeted racist things about Valerie Jarrett, a former aide to Barack Obama–during a rally on Tuesday night in Tennessee, Trump decided to dip his toe into what has become a fraught debate among conservatives online.
However, instead of offering a defense of Barr, Trump decided to make the situation about himself.
In fact, he seems to think he is entitled to a phone call from ABC apologizing for the "HORRIBLE statements" made about him on the channel.
"Bob Iger of ABC called Valerie Jarrett to let her know that 'ABC does not tolerate comments like those' made by Roseanne Barr. Gee, he never called President Donald J. Trump to apologize for the HORRIBLE statements made and said about me on ABC. Maybe I just didn't get the call?" the president wrote on Twitter.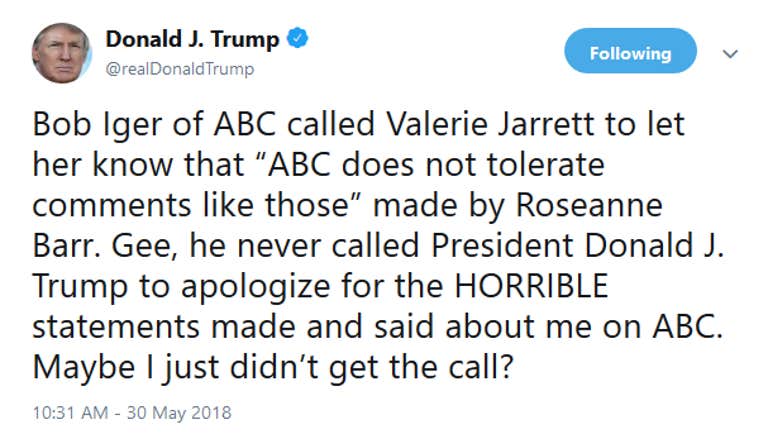 Following Barr's tweet, ABC said her tweet—where she compared Jarrett to an ape—was "abhorrent, repugnant, and inconsistent with out values."
Barr apologized for the racist remark in a separate tweet.
Trump did tweet on Tuesday that he needed to "start focusing my energy" on other things besides the Russia investigation.
Maybe he meant complaining about not getting a phone call?
READ MORE: