A North Carolina high school has drawn the ire of many parents after it took back several yearbooks that contained senior quotes it deemed controversial or inappropriate.
Richmond Early College High School near Rockingham, North Carolina, took back the yearbooks after discovering some of the quotes written by seniors under their yearbook photos, according to the Charlotte Observer.
After the yearbook was published, officials in the school district found several of the quotes to be inappropriate—including a "Build that wall" quote credited to President Donald Trump, the Observer reported.
"We regret that this incident has occurred and are currently working with the yearbook's publisher to make corrections," the school said in a Facebook post. "As a district, we do not and will not tolerate inappropriate conduct toward any of our students."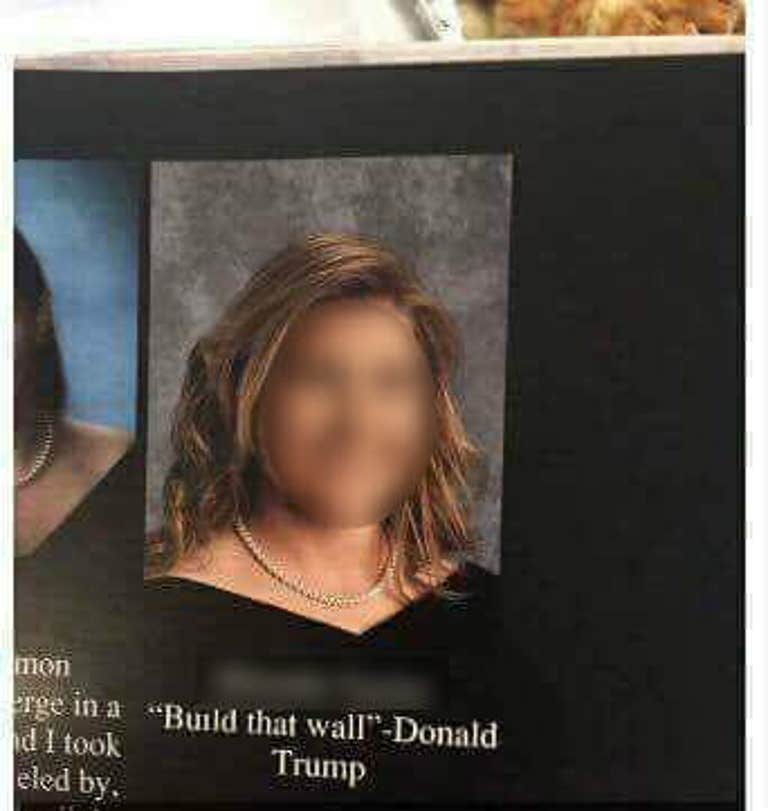 The Facebook post quickly became a back-and-forth between people who approved and disagreed with the school's decision, with one person accusing the school of "indoctrination and censorship of today's youth."
"When did the first amendment become inappropriate?" one commenter wrote.
"Protecting the nation you live in is a negative thing?" another said.
Of course, one person simply wrote: "MAKE AMERICA GREAT AGAIN!!! BUILD THE WALL!"
Other people seemed to agree with the school's decision to take back the yearbooks.
"If it was your race you wouldn't be saying stop being sensitive," one person wrote, sparking a thread of less-than-savory remarks.
One commenter tried to put the whole situation in perspective.
"What I'm even more upset over is the fact that this is the best she could do in choosing a powerful quote that captures the essence of her character," they wrote. "Seriously?! I would be embarrassed to know that my defining moment in the yearbook was advocating for Trump's divisive agenda."
Only 22 yearbooks had been pre-ordered and only a few were given out before the quotes were found by the administration, the Observer reported.
No students were disciplined for the incident, according to the newspaper.