Gingrich may not be leading in the polls, but he's the first Republican presidential candidate to join the hot image-sharing site.
President Obama isn't the only Pinterest-savvy candidate for 2012. Now Republican Newt Gingrich has joined the image-sharing network, too.
Pinterest does not yet have a system in place for verifying celebrities apart from impersonators. However, Gingrich's board connects to his verified Twitter account, a connection only somebody with his Twitter password could make. Since it hasn't been hacked, it's safe to guess that's him or somebody on his team.
Unlike with Obama's boards, you won't find typical Pinterest recipe- and cute animal-fare on the former House speaker's page. The GOP candidate is all business with boards that collect campaign-trail snapshots, Instagrams of speaking engagements, and pictures of books he's authored. Gingrich even has a board dedicated to his latest long-shot political promise—his vow to get gas prices under $2.50.
(At the time of this article, Gingrich's profile has also been added to a group board, The Celebrity Bucket List. Adding marquee names to collaborative boards is a common tactic for free publicity. We're guessing his spokespinner may want to delete that.)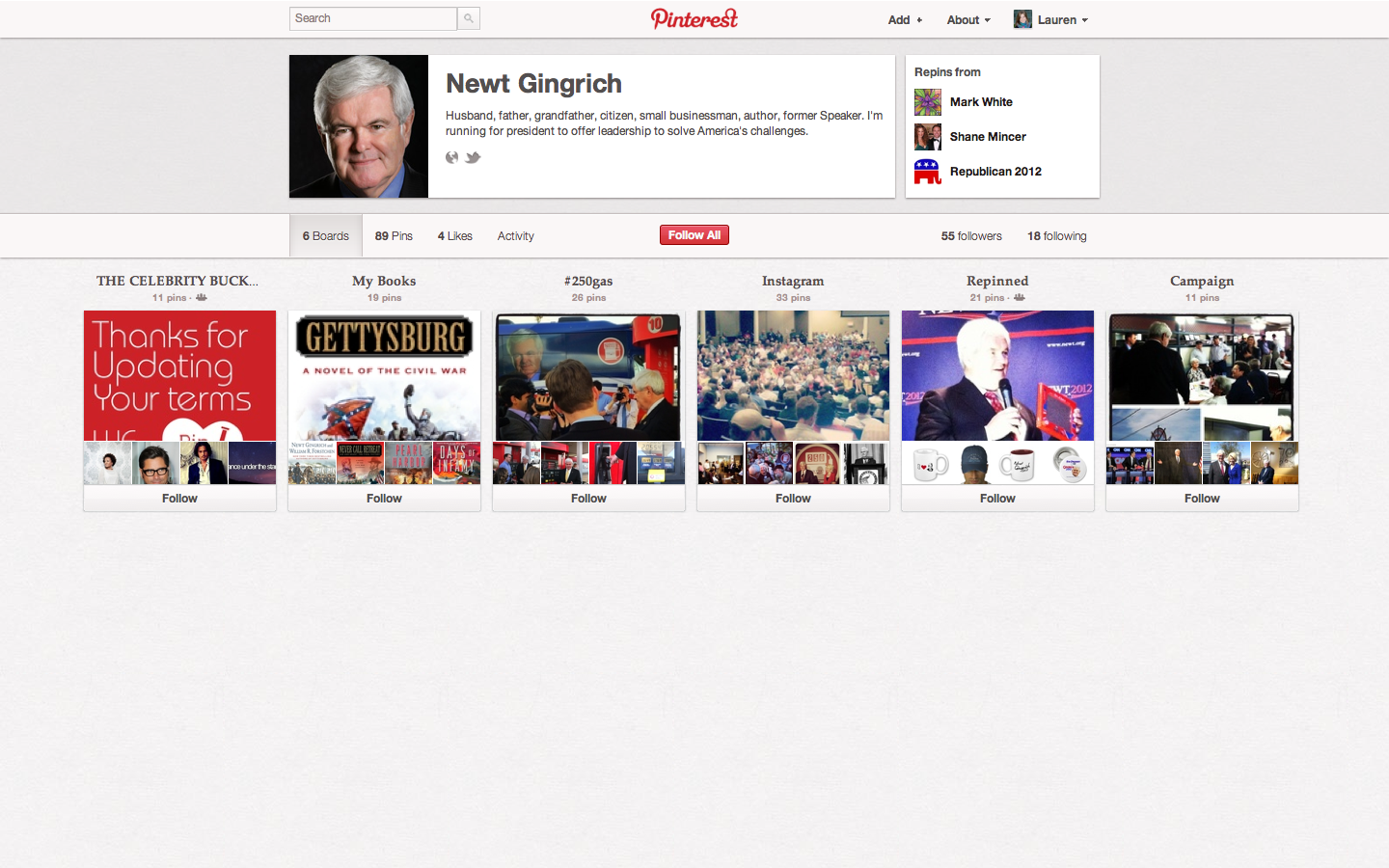 Gingrich is the first Republican presidential candidate on Pinterest, but that doesn't mean he can't use Pinterest to read up on the competition.
Newsweek has a board dedicated to documenting Rick Santorum's ubiquitous sweater vests. The board is so popular that it has 3,000 more followers than Newsweek itself.
Mitt Romney also may not be on the service himself, but his wife, Ann, is a member. Romney is also the subject of a Think Progress board that documents his expenses. At one point, a Pinterest parody account impersonated Romney, but the candidate's team worked with Pinterest to redirect it to Fake Mitt Romney.
In order to avoid any more parody accounts, two Pinterest engineers have redirected Mitt Romney's and Rick Santorum's usernames to their own accounts. When either politician pops up on Pinterest, it'll be sure to be the real thing.
It's worth repeating: In 2012, you have to pin it to win it. 
Image via Newt Gingrich's Pinterest
Pure, uncut internet. Straight to your inbox.